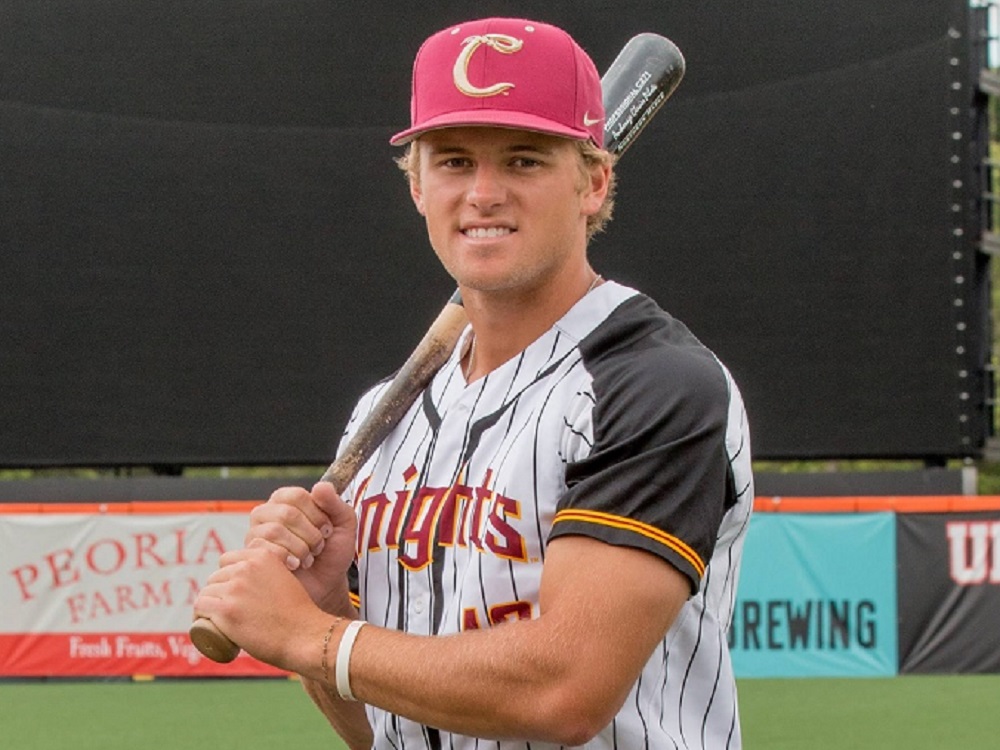 Chandler Anderson Powers Knights Past Pickles to Even Key Series
PORTLAND – Center fielder Chandler Anderson (pictured, above) homered, doubled and drove in three runs  to lead the Knights to a 6-3 victory over Portland in a West Coast League game at Walker Stadium.
A rising senior at Utah, Anderson's heroics enabled the Knights (26-18-1, 23-16 WCL, 7-5 second half) to snap a three-game losing streak. They also moved into second place in the second-half South Division playoff race, 1.5 games behind the Pickles and one-half game in front of Walla Walla.
Second baseman Chad Stevens (Portland) doubled twice and scored three times and shortstop Beau Philip (Oregon State in 2018-19) slammed a two-run homer for the Knights. Seven of their 11 hits went for extra bases.
Stanford right-hander Brendan Beck allowed one earned run and seven hits in six innings, his longest outing of the season. He struck out four, did not issue a walk, threw 68 strikes in 99 pitches and got the decision to improve to 2-1.
Reliever Abbott Haffar (UC Riverside) went 1.2 scoreless innings to close it out for his first save. He ended the game with a strikeout with the tying run at the plate.
The Knights jumped ahead 1-0 when the opened the game with successive doubles by Stevens and Cole Cabrera (Cal Poly). Anderson's solo homer and Philip's two-run shot after a double by Zak Taylor (OSU) made it 4-0 in the third.
Portland drew within 4-2 in the home third but Anderson's two-out RBI double scored Stevens to make it 5-2 in the fourth. Anderson's safety squeeze in the ninth plated Stevens with the sixth run in the ninth.
The series concludes at 7:05 p.m. Monday. Lefty Aaron Shoup (3-2, 3.41) of St. Martin's is the Knights' probable, opposed by UC Irvine righty Michael Frias (1-0, 4.58).
Corvallis begins a four-game homestand on Tuesday with a 6:30 p.m. matchup with Kelowna.