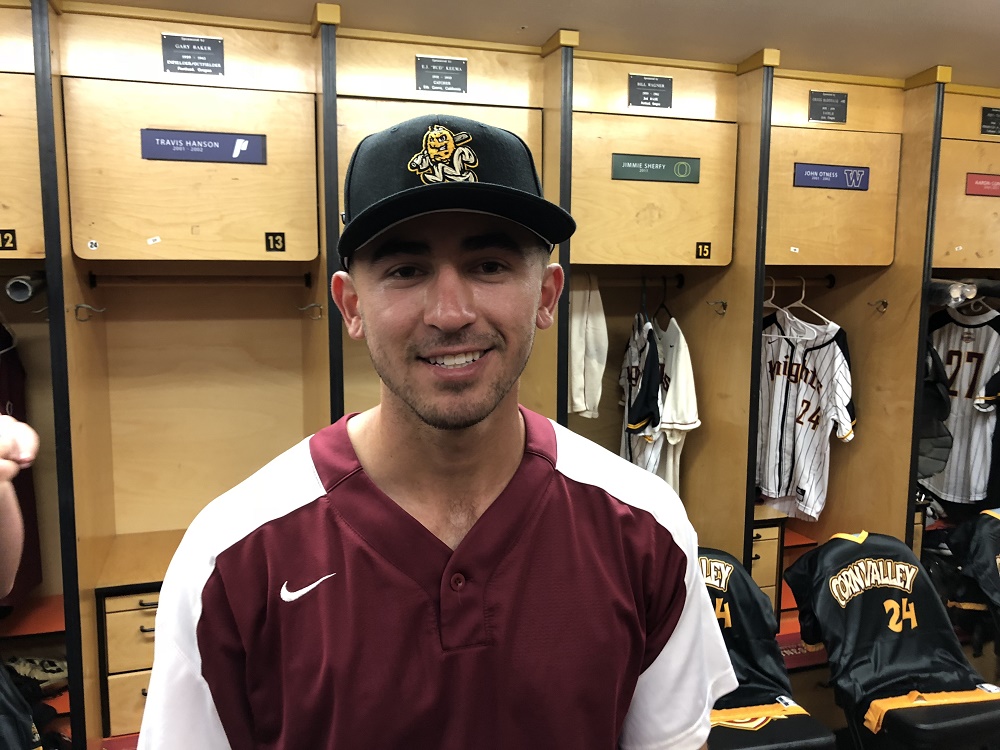 Philip Has Three Hits, Scores Twice But Knights Drop Series Finale
VICTORIA, B.C. – Oregon State rising junior shortstop Beau Philip (pictured, above) had three hits, two runs, an RBI and a walk for the Knights in a 15-6 loss to Victoria at Royal Athletic Park.
He is hitting .400 (12-30) in his last eight games, raising his average 39 points to .295. He has five multi-hit games in that span and has scored eight times.
The Knights (25-17-1, 22-15 WCL, 6-4 second half) led 4-1 early but Victoria hammered starter Connor Knutson (Portland) for six runs in the fourth inning to take a 7-4 lead. They added four more runs off reliever Jacob Fricke (Western Oregon) in the next two innings to break the game open.
Corvallis relievers surrendered four homers and eight runs. Victoria scored 14 unanswered runs in its final five at-bats before the Knights scored twice in the ninth.
Victoria won the series 2-1. Corvallis took the opener on Thursday, but Victoria prevailed 11-5 on Friday and then won convincingly again on Saturday.
Catcher Cole Hamilton (Linn-Benton CC) had a two-run double. Trace Tammaro (Portland in 2018-19) added an RBI single; Ben McKay (Wenatchee Valley CC) doubled; Chandler Anderson (Utah) had an RBI single and Cole Cabrera (Cal Poly) had an RBI.
The Knights open a three-game series against the Portland Pickles at Walker Stadium at 7:05 p.m. Saturday. All-star starter Landen Bourassa of San Francisco gets the ball for Corvallis.
The series continues at 5:05 p.m. Sunday and concludes at 7:05 p.m. Monday. Corvallis begins a four-game homestand on Tuesday with a 6:30 p.m. matchup with Kelowna.