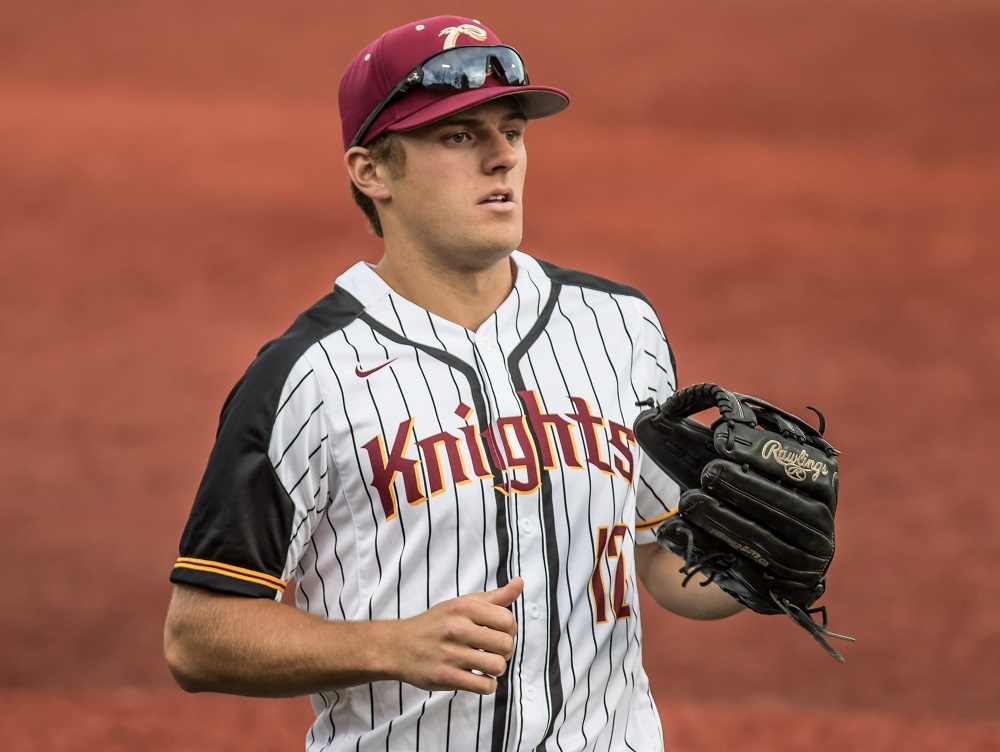 Anderson Has Three Hits but HarbourCats Top Knights, Even Series
VICTORIA, B.C. – Center fielder Chandler Anderson (pictured, above), a senior-to-be at Utah, had three hits, two stolen bases, two runs and an RBI but the Knights fell 11-5 to Victoria at Royal Athletic Park.
The Knights (25-16-1, 22-14 WCL, 6-3 second half) had won four games in a row overall, and six straight against Victoria over the past two seasons, before Thursday.
Anderson has 10 multi-hit games in 16 starts in July, raising his average from .281 to .347. He now ranks fourth in the WCL batting race.
Beau Philip (OSU in 2018-19) and Cole Hamilton (Linn-Benton) each had two hits and an RBI for Corvallis. Hamilton, first baseman Zak Taylor (OSU) and right fielder Austin Feist (St. Martin's) all doubled; new addition Ben McKay of Wenatchee Valley College singled as a pinch-hitter in his first at-bat.
Corvallis was within 6-4 after scoring twice in the sixth, but the bullpen allowed five runs over the final two innings, aided by six walks and a hit batsman.
The series concludes at 6:35 p.m. Friday. The projected starters are Connor Knutson of Portland (3-0, 3.45) for the Knights and Landon Anderson of Cal State-Fullerton (0-0, 3.50) for Victoria.
The Knights play at Portland this Saturday, Sunday and Monday. Their next home game is Tuesday vs. Kelowna.