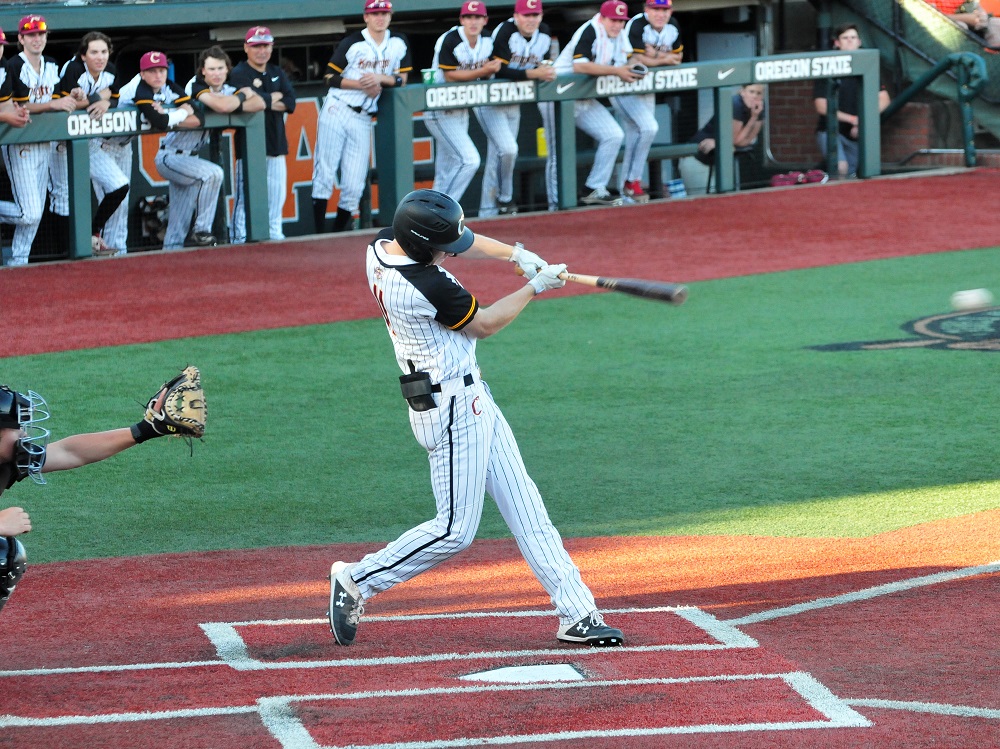 Pickles prevail 5-1, snap Knights' 10-game winning streak
PORTLAND – The Pickles defeated Corvallis 5-1  before a team-record crowd of 3,013 at Walker Stadium, salvaging the finale of the South Division West Coast League series.
The loss snapped the Knights' 10-game winning streak; it was the first win for the Pickles against Corvallis in six games this summer. The Knights (38-8, 30-8 WCL, 9-2 second half) had not lost since a 6-3 setback at Port Angeles on July 9.
Portland hit three straight homers in the home sixth to break a 1-1 tie. The Knights brought the tying run to the plate with two outs in the eighth but could not get a big hit to ignite a comeback,
Texas Rio Grande Valley center fielder Andy Atwood (pictured, above) had two hits and an RBI to lead the Knights, who had just four safeties overall and struck out 11 times. Zach Moeller (Utah) and Jake Harvey (Oregon State) each doubled.
The Knights open a three-game South Division set at Bend at 6:35 p.m. on Saturday; the probable starter for both teams is TBA. The series resumes on Sunday and Monday in Bend and the teams meet again at Goss Stadium on July 30-Aug. 1.
The Knights clinched the first-half South Division title on July 6, earning an automatic playoff berth and home-field advantage in the best-of-3 divisional round, which begins on Aug. 13. The best-of-3 Championship Series begins on Aug. 17.
They have qualified for the playoffs every season since the current divisional postseason format began in 2007. They have won six championships, the last three in a row.