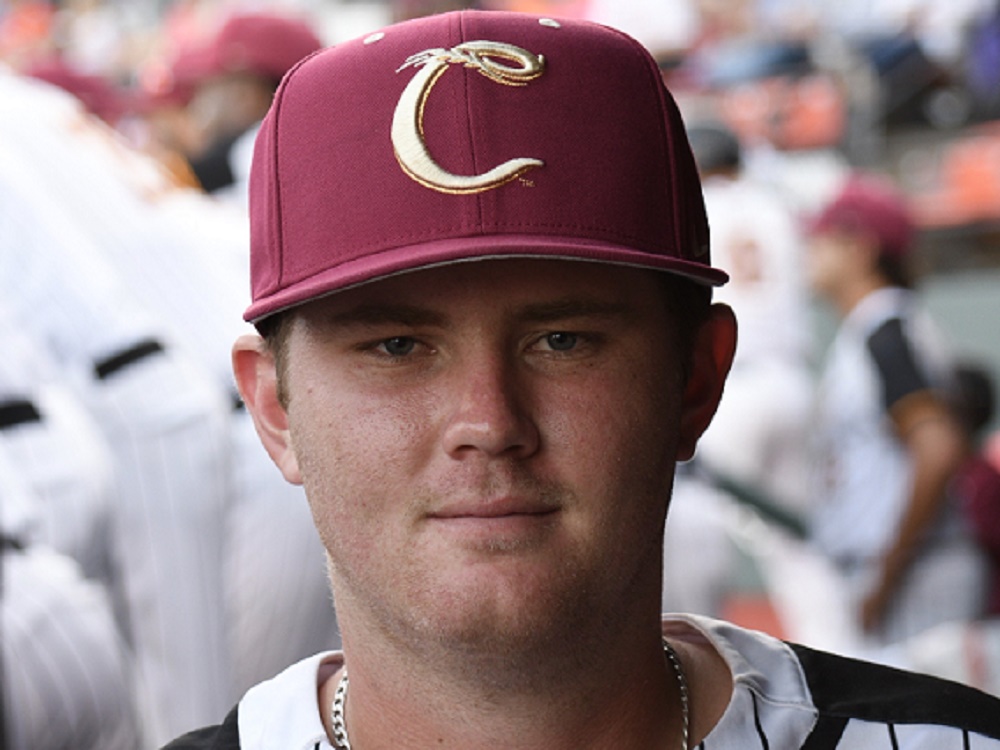 Newcomer Tristan King, Kempner lead Knights over Pickles, 4-3
Newcomer Tristan King (pictured) homered and had a sacrifice fly to lead the  Knights to a 4-3 victory over Portland before a crowd of 1,624 at Goss Stadium, giving the Knights a West Coast League series victory over their South Division rivals.
The Knights (38-7, 30-7 WCL, 9-1 2nd half) stretched their winning streak to 10 games in a row. They are 28-1 in their last 29 games.
A redshirt junior at Texas Rio Grande Valley from Perth, Australia, via Palomar JC and Northern Illinois, King joined the Knights on July 20 and made an immediate impact in his first start. His homer leading off the third tied the game 1-1; his sacrifice fly in the fourth drew the Knights within 3-2.
"I hadn't hit a home run in about two years so that was definitely unexpected," King said. "I took a first-pitch fastball, then got a little too aggressive and swung at a slider down," to fall behind 0-2. "I then took a two-strike approach and tried to hit something hard the other way.
"I ended up getting a cutter of hanging slider, got barrel and good things happened," as he drove the ball 350 feet over the taller left-field fence.
Corvallis went ahead 4-3 in the sixth on a double steal and an RBI single by Nick Yovetich (San Francisco). He was the only Knight with more than one hit.
Relievers Eric Hill (LBCC) and William Kempner (Gonzaga) combined for 3.2 scoreless innings to protect the lead. Kempner retired the final six Pickles in order for his first save. He has an 0.91 ERA in 11 games, with 23 strikeouts in 19.2 innings.
"They throw strikes and that's the way you win games," King said. "All the pitchers here are dominant with their fastball and have command of a second and sometimes a third pitch. It keeps hitters off-balance and they work well. It's fun catching games with these guys."
King started the summer with Walla Walla but was released even though he hit .273 with five RBIs in eight games. After contacting Corvallis coach Brooke Knight to inform him of his availability, he then landed a gig in the San Diego summer league, waiting for a roster spot to open in Corvallis, hoping to rejoin his UTRGV teammate Andy Atwood.
That came last week. Knight called him on July 19 and he flew out of San Diego on July 20, joining the Knights for the recent Walla Walla series. He was 0-for-2 in two games before Thursday.
The series concludes in Portland at 7:05 p.m. Friday; Utah's David Watson (4-0, 3.78) will start for Corvallis. The Knights play at Bend on Saturday, Sunday and Monday. Their next home game is Tuesday against Bend.
The Knights clinched the first-half South Division title on July 6, earning an automatic playoff berth and home-field advantage in the best-of-3 divisional round, which begins on Aug. 13. The best-of-3 Championship Series begins on Aug. 17.
They have qualified for the playoffs every season since the current divisional postseason format began in 2007. They have won six championships, the last three in a row.
Thursday's crowd of 1,624 raised the season total to 40,964 in 26 openings. That's an increase of 2,323 over last year though a corresponding number of dates.