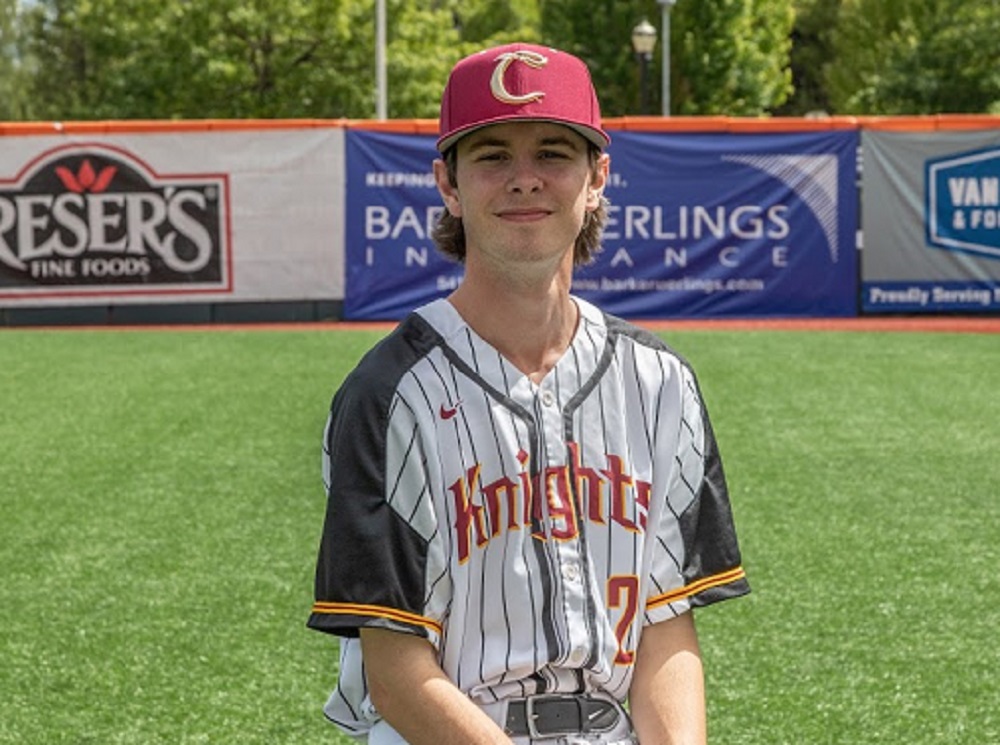 Knights edge Portland Pickles 2-0 in 12-inning classic
PORTLAND – The Knights edged Portland 2-0 in 12 innings in the opener of a three-game South Division West Coast League series at Walker Stadium in Portland.
The Knights (37-7, 29-7 WCL, 8-1 second-half) stretched their winning streak to nine games in a row. They are 27-1 in their last 28 games.
Singles by Michael Dixon (San Diego) and Jake Holcroft (Portland) and a walk to Andy Atwood (Texas Rio Grande Valley) loaded the bases with one out in the 12th inning.
Brooks Lee's (Cal Poly) hard shot to shortstop was misplayed into short center field and Dixon and Holcroft scampered home to break the scoreless tie. Portland Pilots' closer Connor Knutson (pictured, above) then shut the Pickles down in the home half for his third save.
Lee had three hits and Dixon two to lead the Knights offense. Corvallis left 11 runners on base.
Knights' starter Jackson Arnsdorf (Corban) allowed no runs and four hits in five innings in a quality start. He struck out five, walked just one, and was not involved in the decision.
Relievers Connor Redmond (TBA), Jacob Dobmeier (UC San Diego) and Kevin West (UC Riverside) then combined to keep the Pickles off the board for six more innings until Knutson sealed the deal in the 12th.
The series resumes at Goss Stadium at 6:30 p.m. on Thursday and concludes back in Portland at 7:05 p.m. Friday. The Knights play at Bend on Saturday, Sunday and Monday.
On Tuesday, seven Knights played for the South Division in a 14-1 loss to the North Division in the WCL All-Star Game, played before a crowd of 2,284 at Vince Genna Stadium in Bend.
Lefty Tim Josten (Cal State Fullerton) pitched a scoreless inning of relief; he was the only Knights' pitcher to appear.
Holcroft was 1-for-4; catcher Zack Moeller (Utah) and second baseman Michael Curialle (UCLA) were 1-for-2; Atwood was 0-for-3; Lee was 0-for-4 and pinch-hitter Briley Knight (Utah) was 0-for-1.
Lee was named the game's Top Prospect by the MLB scouts in attendance. The future Cal Poly Mustang was ranked as the No. 37 overall prospect going into the 2019 MLB Draft by MLB.com. He was drafted by San Francisco in the 35th round but did not sign.
Bellingham outfielder Jack Machtolf (Gonzaga) earned MVP honors. He was 4-for-5 with four RBIs.
The Knights clinched the first-half South Division title on July 6, earning an automatic playoff berth and home-field advantage in the best-of-3 divisional round, which begins on Aug. 13. The best-of-3 Championship Series begins on Aug. 17.
They have qualified for the playoffs every season since the current divisional postseason format began in 2007. They have won six championships, the last three in a row.