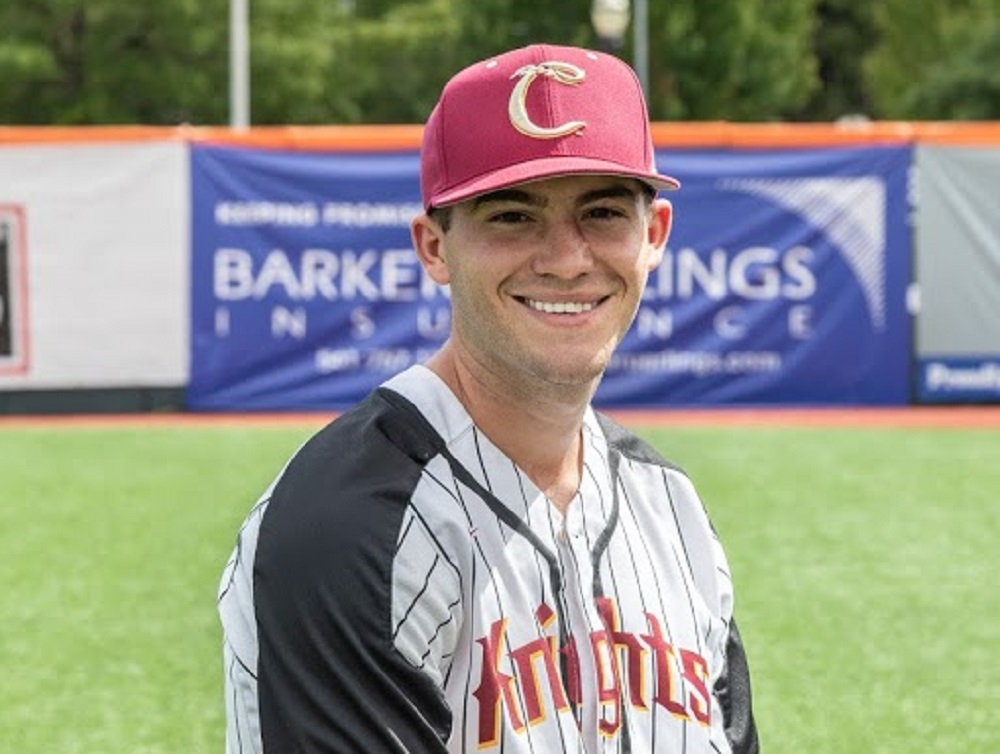 Moeller has two doubles, four RBIs in 6-0 victory
Catcher Zack Moeller (pictured, above) hit a pair of two-run doubles to lead Corvallis over Wenatchee 6-0 before a Goss Stadium crowd of 3,025.
A rising senior at Utah, Moeller blooped a two-run double with two outs in the third to give the Knights a 3-0 lead. In the fifth, he crushed a two-out blast to the left-center gap to drive home two more runs for a 6-0 Knights' advantage.
Moeller earned Washington Park Advisors Player of the Game honors. It was Moeller's first multi-RBI effort since knocking in two at Ridgefield on July 7; he had just three RBIs in his ensuing 18 games before Friday.
"It felt good," Moeller said. "My hand has been bothering me but coach [Brooke] Knight has been good about resting me when he can. It feels good to be seeing the ball well going into the playoffs."
Moeller's second double broke the game open in the fifth inning. It came on a 2-1 pitch and one-hopped the fence in deep left-center field.
"[The pitcher] couldn't land any off-speed so I was looking for a fastball, looking to get on top of something," Moeller said. "I knew a fastball was coming and it felt good to be on time."
Starter David Watson, Moeller's teammate at Utah, blanked the AppleSox on two hits over 5.2 innings and got the win, improving to 5-1. He struck out three, walked one, hit another and threw 39 strikes in 61 pitches.
"His slider was really good," Moeller said. "He had fastball command and we worked off that. David has gotten better this summer and has impressed the heck out of me.
"Our pitching has been super-consistent. We haven't had to worry about that aspect of the game."
Sean Fekete (Sacramento State) went 2.1 scoreless innings, spacing three hits while stranding five. Closer Connor Knutson (Portland) toiled a scoreless ninth.
The Knights (48-12, 40-12 WCL, 19-6 second half) won their fifth game in a row. They are 7-1 since losing the rubber game of a home series to Bend on Aug. 1. They upped their franchise record for most WCL victories in a season to 40; they broke the old mark of 38, established in 2009, by defeating Bellingham on Aug. 8.
The series continues at 7:05 p.m. Saturday. LBCC righty Eric Hill (1-0, 3.15) is the probable for the Knights. The series finale is set for 3 p.m. Sunday; recent signee Cole Wilkinson, a lefty from LBCC, will make his Corvallis debut.
The Knights clinched home-field advantage throughout the upcoming West Coast League playoffs on Aug. 8. They would host Game 2 and Game 3 of the WCL championship series on Aug. 19-20, should they advance that far.
They earned home-field advantage for the best-of-3 South Division playoff series against Walla Walla by winning the first-half championship. It starts Tuesday in Walla Walla; Game 2 and Game 3 (if necessary) will be at Goss Stadium on Wednesday and Thursday.
The Knights have qualified for the playoffs every season since the current divisional postseason format began in 2007. They have won six championships, the last three in a row.
Friday's crowd of 3,025 raised the season total to 50,336 in 30 openings, an average of 1,678 per date. That's an increase of 6,149 over last year though a corresponding number of dates.