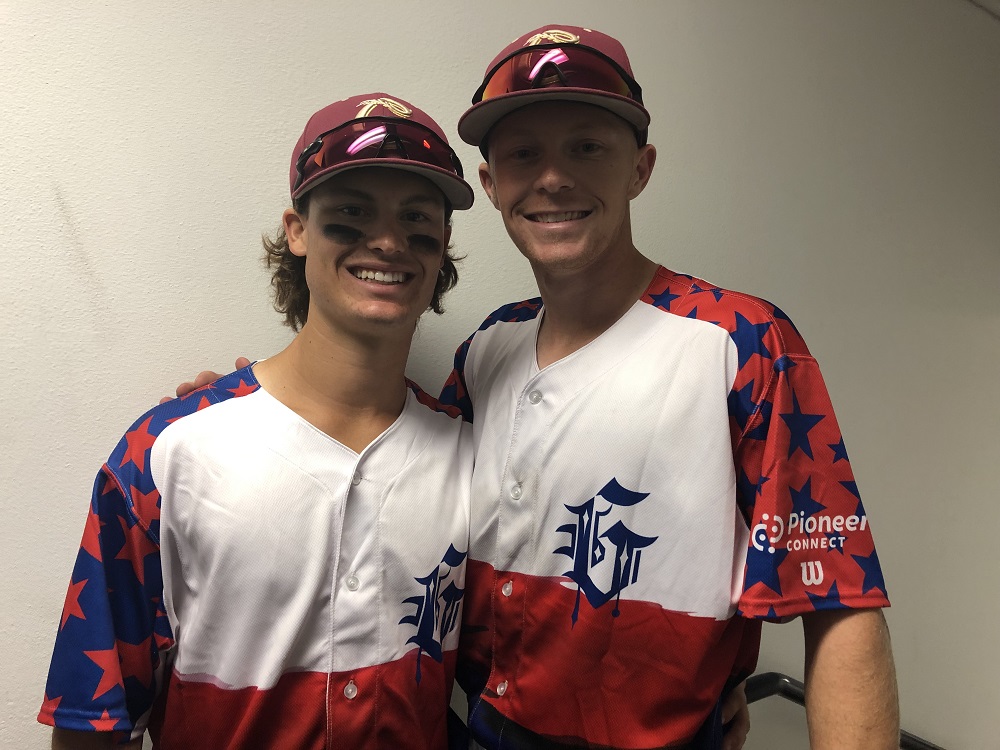 Holcroft sets WCL hits record in 11-3 win over AppleSox
Left fielder Jake Holcroft set the West Coast League record for hits in a season to lead the Knights to an 11-3 victory over Wenatchee before a Pioneer Fireworks Night crowd of 2,756 at Goss Stadium.
A redshirt freshman at the University of Portland, Holcroft (pictured with Andy Atwood) went 3-for-5 with four RBIs, raising his team-leading average to .365 and increasing his season hit total to 80. Gonzaga's Mitchell Gunsolus of Wenatchee (2012) and Florida International's Austin Shenton of Bellingham (2017) shared the old hit mark of 79.
Holcroft earned Washington Park Advisors Player of the Game honors.
"I didn't even know how much I was going to play this summer," said Holcroft, who missed his freshman year at UP with a broken jaw and broken wrist suffered in a preseason outfield collision with a teammate. "I just stuck with an approach, and got the job done.
"I tried to stay simple, staying the other way, and taking what the defense gave me," he added. "If they were back, I'd bunt, anything to get on base, especially in the leadoff spot."
Matthew Gretler (Oregon State) and Andy Atwood (Texas Rio Grande Valley) each homered and drove in two runs. Atwood, Michael Curialle (UCLA) and Tracye Tammaro (Portland) each scored twice.
Atwood set a WCL record in the first inning with his seventh triple. The old standard was shared by major-leaguer Keston Hiura of Wenatchee (2015) and Chad Stevens of Corvallis (2018).
Starter Eric Hill (LBCC) pitched into the sixth and got the victory. He gave up one run on four hits and struck out five. William Kempner (Gonzaga), Kevin West (UC Riverside) and Marques Johnson (Riverside City College) finished up.
The Knights (49-12, 41-12 WCL, 20-6 second half) won their sixth game in a row and set a WCL record for most wins in a season. Victoria set the old mark (40) in 2017, the season the HarbourCats lost to the Knights in the Championship Series.
The series and regular-season finale is set for 3 p.m. Sunday. Newcomer Cole Wilkinson of LBCC will pitch for Corvallis, opposed by Cameron Smith of Yakima Valley College in a matchup of hurlers making their WCL debuts.
The Knights earned home-field advantage for the best-of-3 South Division playoff series against Walla Walla by winning the first-half championship. The Divisional Series starts Tuesday in Walla Walla; Game 2 and Game 3 (if necessary) will be at Goss Stadium on Wednesday and Thursday.
They also clinched home-field advantage for the WCL Championship Series, should they advance that far.
The Knights have qualified for the playoffs every season since the current divisional postseason format began in 2007. They have won six championships, the last three in a row.
Saturday's crowd of 2,756 raised the season total to 53,092 in 31 openings, an average of 1,713 per date. That's an increase of 6,812 over last year though a corresponding number of dates.