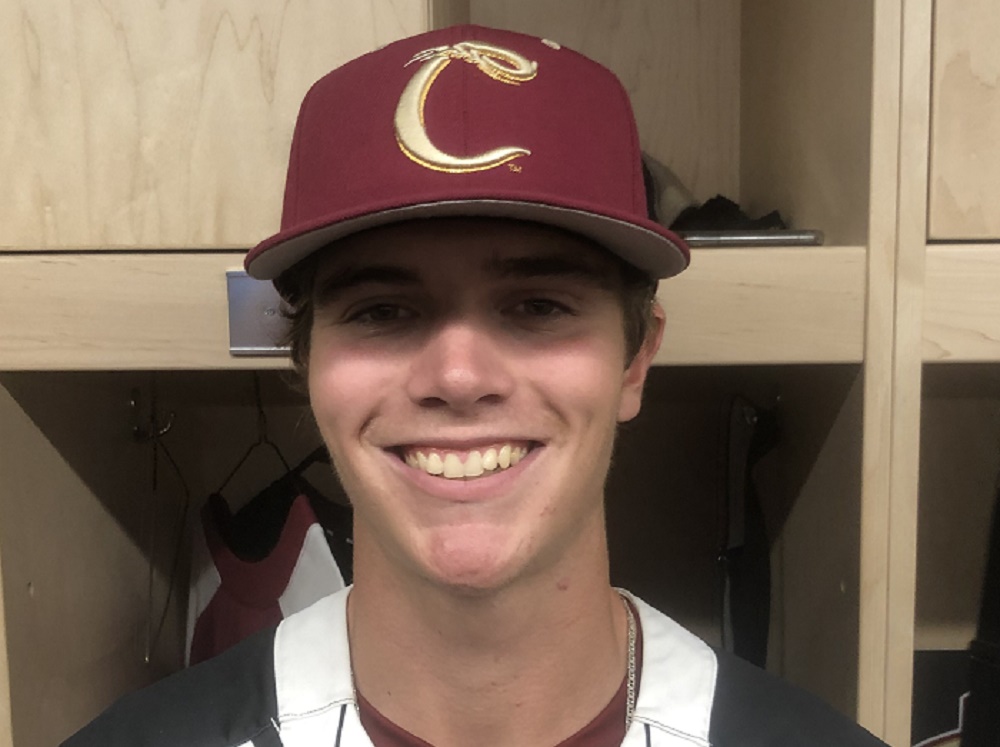 Wilkinson stymies Wenatchee 3-0 in stellar debut with Knights
Pitcher Cole Wilkinson shone in his Corvallis debut as the Knights blanked Wenatchee 3-0 at Goss Stadium in their West Coast League regular-season finale.
Wilkinson is a left-hander from Churchill High in Eugene who joined the club for the final weekend series. He is transferring to Linn-Benton CC for his sophomore season.
He struck out 10, walked two, hit two, and allowed just three hits while throwing 64 strikes in 100 pitches. He will not be eligible for the upcoming playoffs, as he did not appear in five games.
"It felt great, the team atmosphere is unreal, the best I've ever seen," Wilkinson said. "It's been so fun being with the team these three days and I enjoyed it even more" after earning Washington Park Advisors Player of the Game honors for his standout performance.
Wilkinson played American Legion baseball and worked in Eugene for most of the summer before joining the Knights on Aug. 9.
"Now I wish I had been here the whole summer," he said. "If the opportunity arises next year I would take it."
Southpaw Nick Caviglia (Utah) tossed two scoreless innings and lefty Colton Meyer (Linfield) pitched a perfect ninth for his first save. The Knights shut out Wenatchee twice and outscored them 20-3 while sweeping the series.
Jake Holcroft (Portland) scored from second on an infield single by Briley Knight (Utah) to give the Knights a 1-0 lead in the fifth. Andy Atwood's (Texas Rio Grande Valley) sacrifice fly and Brooks Lee's (Cal Poly) RBI single drove in the final two runs in the seventh.
Holcroft was 2-for-4 and extended his WCL season-record for hits to 82; he clinched the WCL batting title with a .368 average. Knight (.357) and Lee (.342) took second and third, respectively.
The Knights (50-12, 42-12 WCL, 21-6 second half) won their seventh game in a row and extended their WCL record for most wins in a season. Victoria set the old mark (40) in 2017, the season the HarbourCats lost to the Knights in the Championship Series.
Corvallis will travel to Walla Walla on Tuesday for Game 1 of the WCL's South Division playoffs. Dixie State lefty Tevita Gerber (7-1, 2.20) is the Knights' projected starter.
Game 2 and Game 3 (if necessary) will be at Goss Stadium at 6:30 p.m. on Wednesday and Thursday. The team's split the regular-season series, each winning three games at home.
Corvallis has also clinched home-field advantage for the WCL Championship Series, should it advance that far.
The Knights have qualified for the playoffs every season since the current divisional postseason format began in 2007. They have won six championships, the last three in a row.
Sunday's crowd of 2,286 raised the season total to 55,072 in 32 openings, a regular-season record and an average of 1,721 per date. That's an increase of 6,812 over last year though a corresponding number of dates.