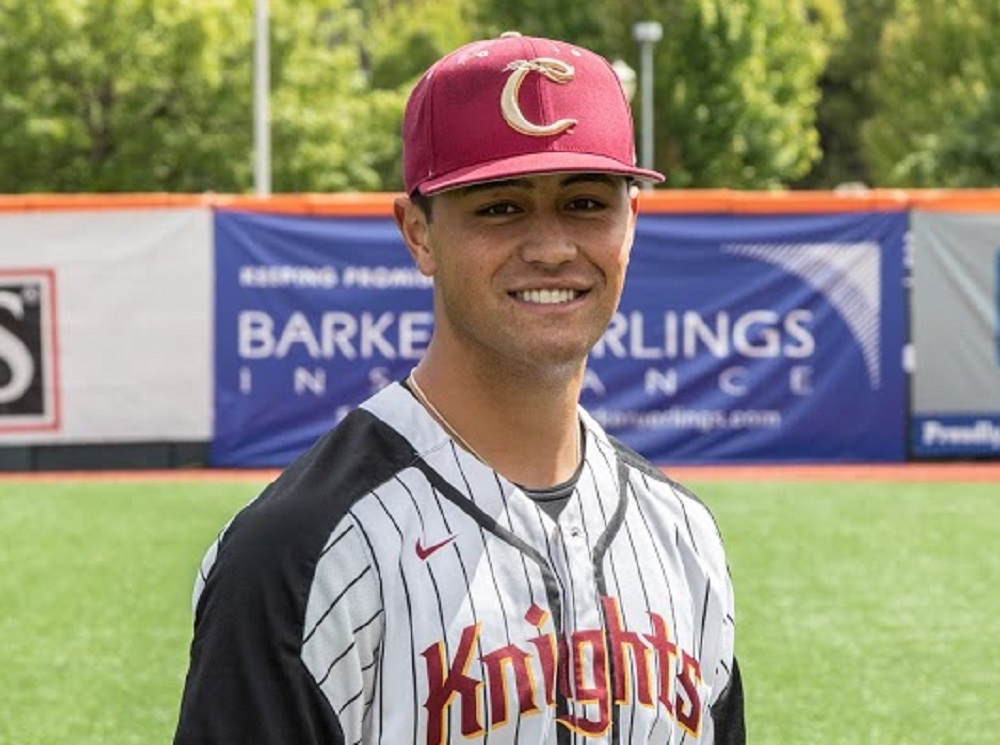 Gerber, Holcroft lead Knights over Sweets in playoff opener
WALLA WALLA, Wash. – Corvallis starter Tevita Gerber of Dixie State (pictured, above) spaced four hits and allowed two runs over 6.2 innings to lead the Corvallis Knights to a 6-3 win over Walla Walla in Game 1 of the West Coast League's South Division playoffs.
He struck out eight, walked two, and improved his overall record to 8-1 with his eighth victory in a row. It was his second win of the summer over the Sweets; he also got the decision in a 3-2 win at Goss Stadium on July 21.
The Knights (51-12) can clinch their fourth consecutive berth in the WCL Championship Series by defeating the Sweets in Game 2 or Game 3 of the best-of-3 series. Game 2 is set for 6:30 p.m. Wednesday at Goss Stadium. The Knights are the three-time defending WCL champs.
Left fielder Jake Holcroft (Portland) had three hits, two RBIs and a run.  The WCL's leading hitter this summer with a .368 average, he led off the game with a double and scored on Andy Atwood's (Texas Rio Grande Valley) single to give the Knights a quick 1-0 lead.
He added a two-out, two-run single in the second inning to increase the lead to 3-0. A sacrifice fly by Briley Knight (Utah) made it 4-1 in the fifth and Jake Harvey (Oregon State) clubbed a two-run homer in the sixth for a 6-1 advantage.
Walla Walla scored twice in the seventh to pull within 6-3. Reliever Abbott Haffar (UC Riverside) pitched a scoreless eighth and closer Connor Knutson (Portland) locked it down with a 1-2-3 ninth inning for his sixth save. The four Knights' pitchers combined for 10 strikeouts.
Corban right-hander Jackson Arnsdorf (5-1, 1.70) will start for Game 2 for Corvallis; Walla Walla's starter is TBA. Game 3 (if necessary) would be at 6:30 p.m. Thursday.
The South Division winner will play the winner of the North Division playoffs in the best-of-3 WCL Championship Series. The starting date of that series will be determined once the finalists are set.
Corvallis stretched its winning streak to eight games in a row. The Knights won their final seven games of the regular season and are 10-1 in their last 11 outings.
Wenatchee topped Victoria 5-1 at Wenatchee on Tuesday in Game 1. Game 2 is Wednesday at Victoria; Game 3 (if necessary) will be in Victoria on Thursday.
The schedule for the CHampionship Series will be set after the finalists are determined. Corvallis clinched home-field advantage by posting the league's best regular-season record.
The Knights have qualified for the playoffs every season since the current divisional postseason format began in 2007. They have won six championships, the last three in a row.