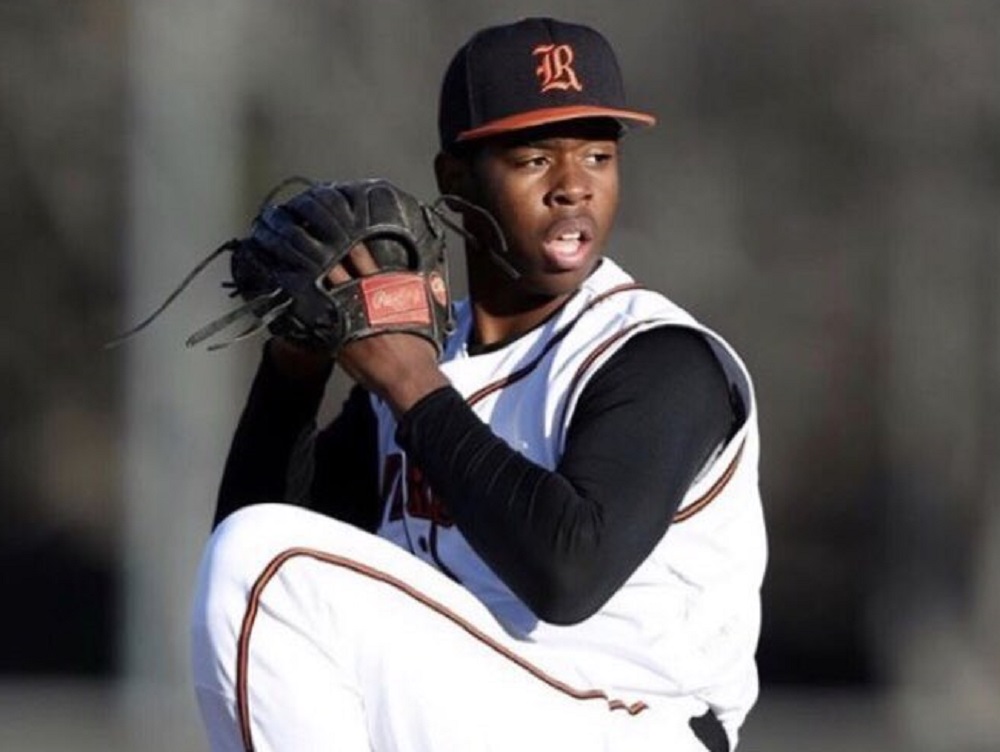 Marques Johnson saves Knights' comeback win at Bellingham
BELLINGHAM, Wash. – Reliever Marques Johnson earned his second save and the Knights rallied to edge Bellingham 5-4 in a West Coast League game at Joe Martin Field.
Corvallis scored the winning run in the ninth without a hit. Andy Atwood (Texas Rio Grande Valley) walked, went to second on another walk, took third on a passed ball and scored on a wild pitch.
A rising sophomore at Riverside City College who joined the team on July 17, Johnson (pictured, above) gave up a one-out single but then retired the Bells without incident in the ninth. He also saved a game at Cowlitz on Aug. 3, and has not allowed a run in six innings over his last five appearances.
The Knights (45-12, 37-12 WCL, 16-6 second half) went ahead 1-0 in the fourth on an RBI single by Tristan King (Texas Rio Grande Valley). Bellingham answered with a three-spot in the bottom half and maintained a 3-1 lead heading into the seventh.
However, Michael Dixon (San Diego) reached third on a single and two-base error to open the seventh. He scored on Brooks Lee's (Cal Poly) two-out infield single to trim the deficit to 3-2.
Matthew Gretler (Oregon State) then hit a fly ball that was lost in the lights. The ball bounced over the center-field fence for a ground-rule double, stopping Lee at third base.
Lee then came home on a wild pitch to tie the game. Gretler then scored the go-ahead run on a balk, but the Bells used two doubles to pull even 4-4 in the home eighth.
The series continues at 6:35 p.m. Wednesday and Thursday. The Knights' projected starters are right-handers Jackson Arnsdorf of Corban (5-1, 1.43) and Abbott Haffar of UC Riverside (1-0, 1.80), respectively.
The final regular-season homestand begins on Friday with the series opener against Wenatchee. Utah's David Watson (4-1, 4.57) will start the 6:30 p.m. for Corvallis.
The Knights clinched the first-half South Division title on July 6, earning an automatic playoff berth and home-field advantage in the best-of-3 divisional round, which begins on Aug. 13. The best-of-3 Championship Series begins on Aug. 17.
They have qualified for the playoffs every season since the current divisional postseason format began in 2007. They have won six championships, the last three in a row.