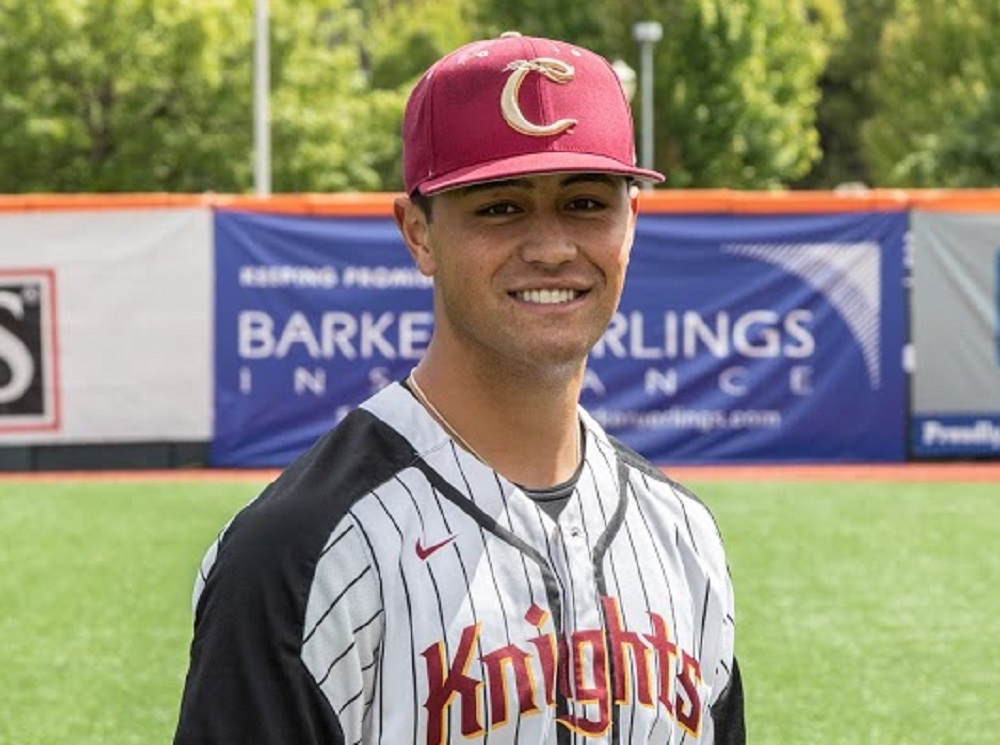 Gerber fans 14 in dominant performance at Port Angeles
PORT ANGELES, Wash. – Dixie State lefty Tevita Gerber (pictured, above) struck out 14 and allowed just two hits and two unearned runs in 5.2 innings to lead the Knights to an 11-3 West Coast League victory over Port Angeles at Civic Field.
Gerber has now won seven straight decisions. He leads the WCL with seven wins; his 50 strikeouts rank fourth and he has allowed one or fewer earned runs in seven of his last eight starts.
The 14 strikeouts are a personal-best and 2019 team best. He lowered his ERA from 2.49 to 2.20 on Monday, and has not allowed an earned run in his last 11.1 innings.
Nick Yovetich (San Francisco) had sacrifice flies in the first and fifth innings and added a two-run single in the sixth, when the Knights scored three times for a 7-2 lead, breaking the game open. Andy Atwood (Texas Rio Grande Valley) and Michael Dixon (San Diego) homered in the seventh.
Tracye Tammaro (Portland) added a two-run double and Briley Knight (Utah) had three hits and scored twice. The game was a makeup for a July 10 postponement.
The Knights (44-12, 36-12 WCL, 15-6 second half) begin their final regular-season road series of the summer at Bellingham at 6:35 p.m. Tuesday. Connor Redmond (0-1, 2.02) is their projected starting pitcher.
The series continues at 6:35 p.m. Wednesday and Thursday. The Knights' projected starters are right-handers Jackson Arnsdorf of Corban (5-1, 1.43) and Abbott Haffar of UC Riverside (1-0, 1.80), respectively.
The final regular-season homestand begins on Friday with the series opener against Wenatchee. Utah's David Watson (4-1, 4.57) will start the 6:30 p.m. for Corvallis.
The Knights clinched the first-half South Division title on July 6, earning an automatic playoff berth and home-field advantage in the best-of-3 divisional round, which begins on Aug. 13. The best-of-3 Championship Series begins on Aug. 17.
They have qualified for the playoffs every season since the current divisional postseason format began in 2007. They have won six championships, the last three in a row.