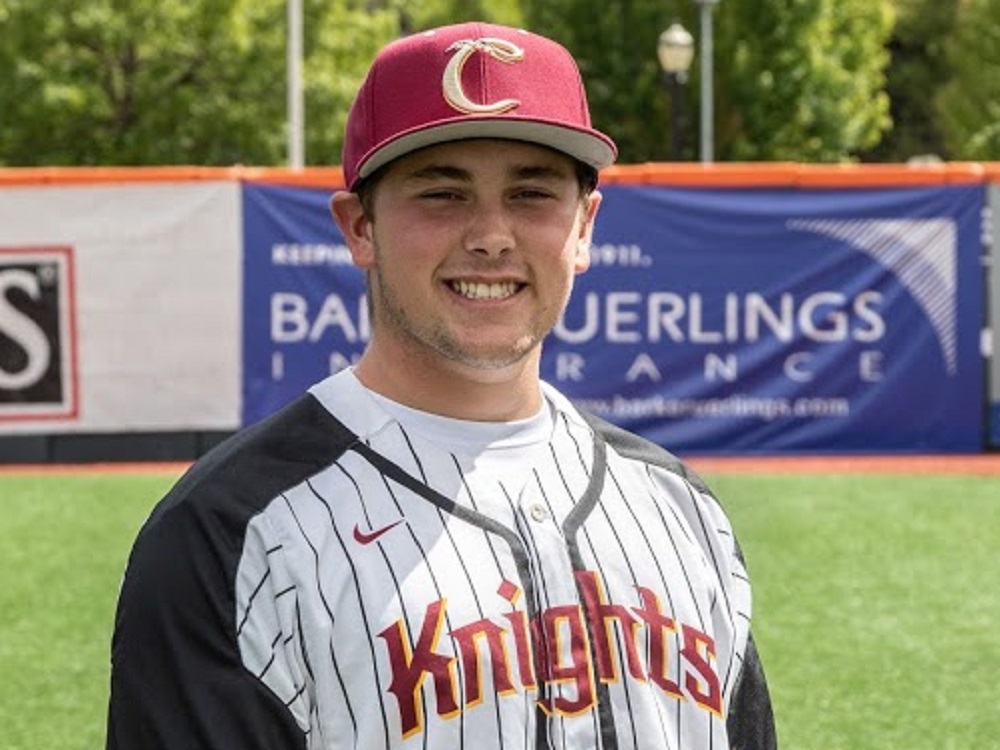 Kempner saves win over Bells; Knights clinch second-half title
BELLINGHAM, Wash. – The Knights clinched the South Division's second-half championship by defeating Bellingham 5-4 in a West Coast League game at Joe Martin Field.
Corvallis (46-12, 38-12 WCL, 17-6 second half) leads second-place Portland by four games with four to play. The Knights – who also won the first-half title to clinch a playoff berth – own the tie-breaker over the Pickles.
Future Gonzaga pitcher William Kempner (pictured, above) pitched 1.2 scoreless innings for his second save. He has a 0.65 ERA in 15 appearances, with 33 strikeouts in 27.2 innings, with 10 consecutive scoreless innings over his final five outings.
Corvallis erased a 3-2 deficit with three runs in the eighth inning. Michael Curiallie (UCLA) drove in the tying run with an RBI single. A bases-loaded walk to left fielder Michael Dixon (San Diego) made it 4-3 and Nick Yovetich's (San Francisco) sacrifice fly knocked in the eventual winning run.
Defensive lapses enabled the Bells to score one run in the eighth, trimming the lead to 5-4. But Dixon gunned down the tying run at the plate to end the inning, and Kempner stranded the tying run at second in the eighth and at first base in the ninth to preserve the win for reliever Trace Hokkanen (Mt. Hood).
The Knights took a 2-0 lead in the sixth on a two-run homer by Briley Knight (Utah). It was eighth round-tripper this summer, tying him for second in the WCL. He also ranks second in RBIs (40).
Corvallis starter Jackson Arnsdorf (Corban) went 5.2 innings and left with a 2-0 lead and two runners on base. However, he was not involved in the decision as reliever Eric Hill (LBCC) threw a wild pitch and then gave up a game-tying double.
The Knights thus took the series, as they also prevailed 5-4 on Tuesday. They won their final eight WCL road series after being swept at Walla Walla to open the season.
The series concludes at 6:35 p.m. Thursday. Abbott Haffar of UC Riverside (1-0, 1.80) is the projected starter for Corvallis.
The final regular-season homestand begins on Friday with the series opener against Wenatchee. Utah's David Watson (4-1, 4.57) will start the 6:30 p.m. for Corvallis.
The Knights clinched the first-half South Division title on July 6, earning an automatic playoff berth and home-field advantage in the best-of-3 divisional round, which begins on Aug. 13. The best-of-3 Championship Series begins on Aug. 17.
They have qualified for the playoffs every season since the current divisional postseason format began in 2007. They have won six championships, the last three in a row.