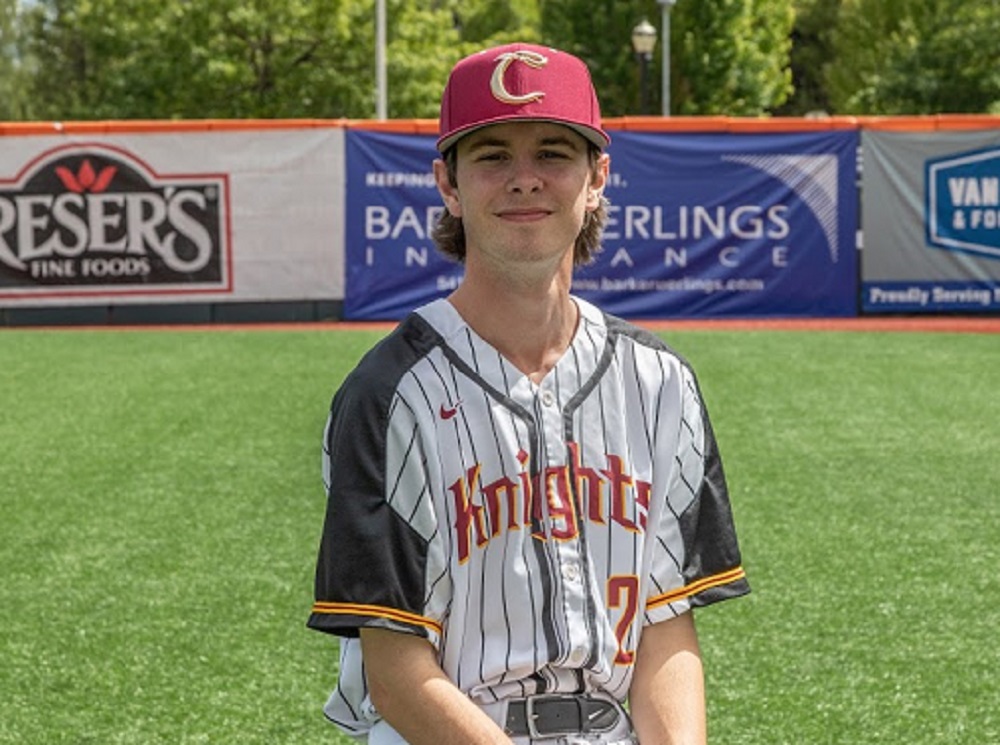 Knutson dominates Cowlitz, saves 6-4 victory for Knights in opener
LONGVIEW, Wash. – Closer Connor Knutson (pictured, above) struck out all six hitters he faced for a two-inning save and the Knights defeated Cowlitz 6-4  in the opener of a West Coast League South Division series at Story Field.
A rising senior at the University of Portland entered the game in the eighth. He threw 21 strikes in 26 pitches while setting Cowlitz down in order in the eighth and ninth to notch his fifth save. He lowered his ERA to 0.96, with 15 strikeouts in 9.1 innings over eight appearances.
Portland teammate Jake Holcroft hit a two-run homer and added a go-ahead sacrifice fly. Another Pilot, Tracye Tammaro, had a game-tying two-run double in a four-run sixth inning.
The Knights (42-11, 34-11 WCL, 13-5 second half) had four doubles, a homer and nine hits to bounce back from being one-hit in a 7-0 loss to Bend on Thursday night. Matthew Gretler (Oregon State) and Zack Moeller (Utah) each had two hits.
The Knights trailed 4-0 after four innings but began their comeback in the fifth when Holcroft slammed a two-run homer, his first of the summer.
Tammaro's two-run double pulled the Knights even in the sixth. Holcroft then knocked in the go-ahead run on a sacrifice fly, and a throwing error on the play enabled Elliot Willy (Oregon State) to score to make it 6-4.
Eventual winning pitcher William Kempner (Gonzaga) relieved starter David Watson (Utah) with the bases loaded, no outs and two runs already in in the fourth inning. Two inherited runners scored, aided by an error, but Kempner then shut out Cowlitz over the next 3.2 innings, with seven strikeouts.
Trace Hokkanen (Mt. Hood) got the final out of the seventh on a strikeout, then gave way to Knutson. Corvallis pitchers did not allow a hit after the fourth innings; then struck out the final seven and 10 of the last 11 Cowlitz batters, and 17 overall.
The series resumes at 6:35 p.m. Saturday at Story Field; the starting pitchers have not been determined. The series concludes at 3:05 p.m. Sunday; Brodie Cooper-Vassalakis of Grand Canyon (4-0, 3.82) will start for Corvallis, opposed by Pacific's (Calif.) Dylan Pottgieser (0-1, 6.85).
Corvallis will makeup a July 10 rainout at Port Angeles on Monday. It concludes its final road trip at Bellingham on Tuesday-Thursday.
The Knights clinched the first-half South Division title on July 6, earning an automatic playoff berth and home-field advantage in the best-of-3 divisional round, which begins on Aug. 13. The best-of-3 Championship Series begins on Aug. 17.
They have qualified for the playoffs every season since the current divisional postseason format began in 2007. They have won six championships, the last three in a row.