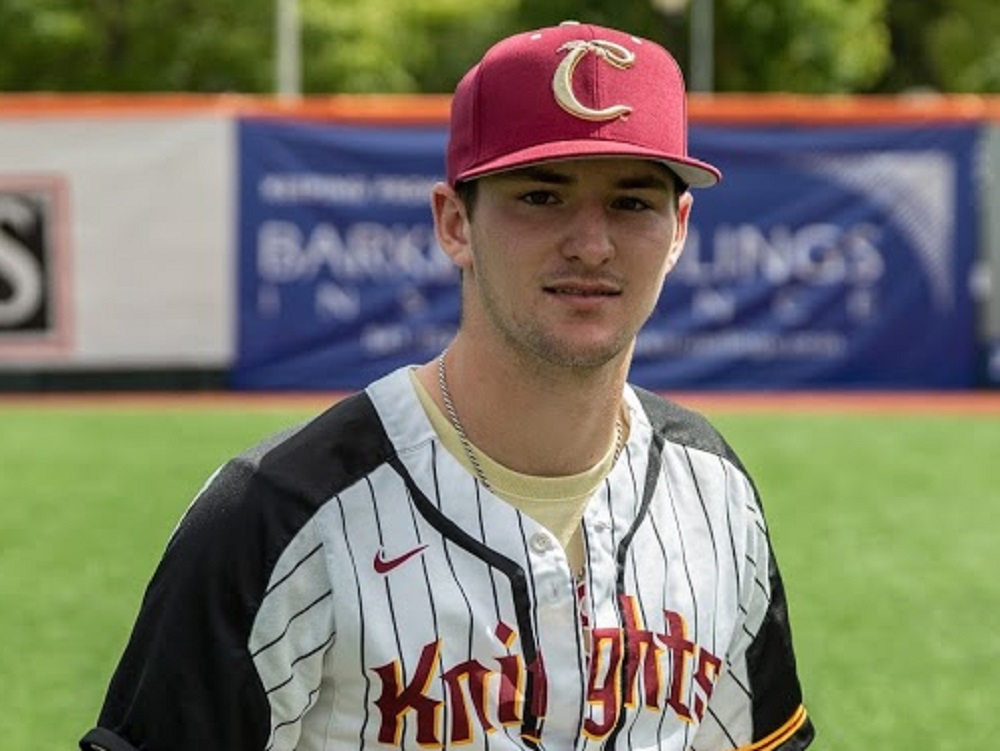 Gretler homers, doubles, drives in three in 7-4 win at Cowlitz
LONGVIEW, Wash. – Second baseman Matthew Gretler (pictured, above) homered, doubled and drove in three runs to lead the Knights over Cowlitz 7-4  in Game 2 of a West Coast League game at Story Field.
A rising sophomore at Oregon State, Gretler's two-run double gave the Knights a 6-1 advantage in the seventh inning. He then added a solo homer in the ninth, his first of the season, for a much-needed insurance run after Cowlitz had closed to within 6-4 with three runs in the seventh.
Right fielder Nick Yovetich (San Francisco) hit a two-out, bases-loaded single in the third to send the Knights ahead for good, 3-1. Center fielder Jake Holcroft (Portland) had three hits, raising his average to .363.
Left fielder Michael Dixon (San Diego) and third baseman Michael Curialle (UCLA) also had RBIs for the Knights. Curialle had two hits and DH Briley Knight (Utah) scored twice.
Starter Eric Hill (Linn-Benton) allowed one run in 3.2 innings. Reliever Trace Hokkanen (Mt. Hood) struck out four in 2.2 innings before being pulled when he walked four straight batters to force in a run in the seventh.
Marques Johnson (Riverside CC) allowed two inherited runners to score after a two-out error prolonged the inning. He then shut the Black Bears down over the next two innings, with four strikeouts.
The Knights (43-11, 35-11 WCL, 14-5 second half) have now won two games in a row after dropping a home series to Bend. They will try to sweep the South Division series at 3:05 p.m. Sunday; Brodie Cooper-Vassalakis of Grand Canyon (4-0, 3.82) will start for Corvallis, opposed by Pacific's (Calif.) Dylan Pottgieser (0-1, 6.85).
Corvallis will make up a July 10 rainout at Port Angeles on Monday; there will be no radio broadcast. It concludes its final regular-season road trip of the summer at Bellingham on Tuesday-Thursday.
The Knights clinched the first-half South Division title on July 6, earning an automatic playoff berth and home-field advantage in the best-of-3 divisional round, which begins on Aug. 13. The best-of-3 Championship Series begins on Aug. 17.
They have qualified for the playoffs every season since the current divisional postseason format began in 2007. They have won six championships, the last three in a row.