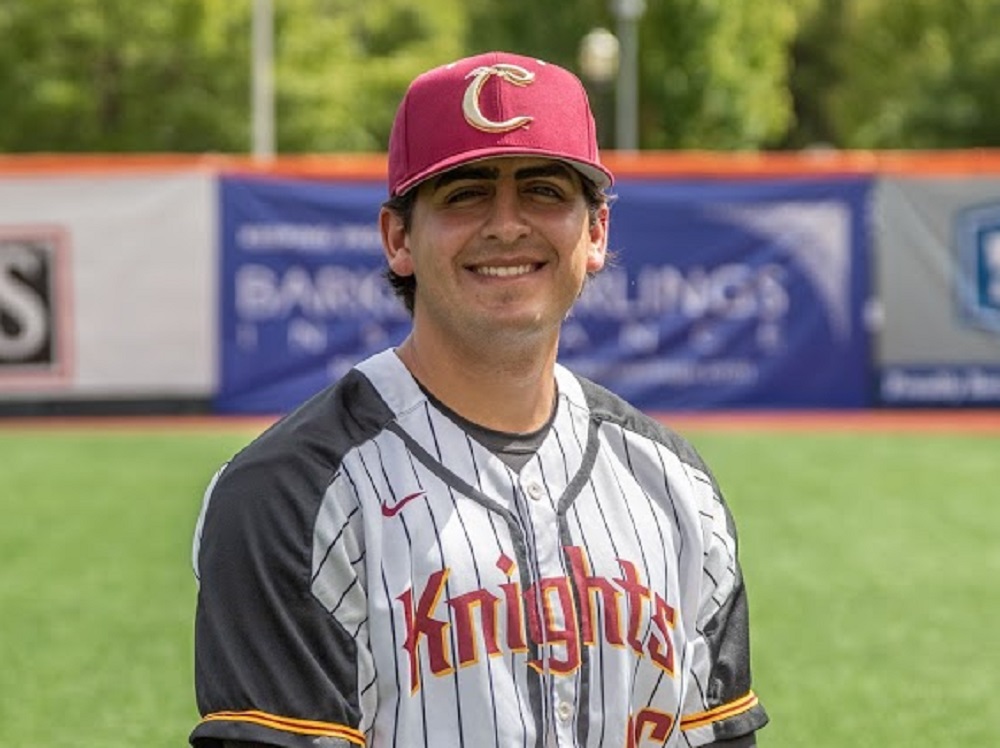 Haffar shines in shutout loss to Bend Elks
Bend blanked the Knights 7-0 in the rubber game of the West Coast League South Division series before a Goss Stadium crowd of 2,088.
The Knights (41-11, 33-11 WCL, 12-5 second half) were held to one hit, a first-inning single by designated hitter Briley Knight (Utah). It was the first time this summer the Knights were shut out.
Starter Abbott Haffar (pictured, above) of UC Riverside allowed just one hit in five innings and faced only 16 hitters, one over the five-inning minimum. He had four strikeouts and got the final two outs of the fifth to strand a runner at third base.
'I was just throwing strikes, doing my thing, competing for my team, doing my job and it worked out," Haffar said after his longest outing of the season. "Fastball, curveball and changeup, coach [Kellen] Camus called the pitches and did a good job of keeping the hitters off balance."
Haffar's previous longest outing was four innings against Portland on July 25. He was on a pitch count and threw 40 strikes in 64 pitches.
"I felt fine, could have kept going but they were just being cautious," he said. "I just did my job and executed."
Bend broke a scoreless with six runs on six hits in the eighth inning. The Elks had just one hit to that point.
Corvallis opens a three-game series at Cowlitz at 6:30 p.m. Friday. Utah righty David Watson (4-1, 3.99) is scheduled to start the opening game of a seven-game road trip that also includes an Aug. 5 makeup game at Port Angeles and an Aug. 6-8 series at Bellingham.
Thursday's crowd of 2,088 raised the season total to 47,311 in 29 openings, an average of 1,631 per date. That's an increase of 5,058 over last year though a corresponding number of dates.
The Knights clinched the first-half South Division title on July 6, earning an automatic playoff berth and home-field advantage in the best-of-3 divisional round, which begins on Aug. 13. The best-of-3 Championship Series begins on Aug. 17.
They have qualified for the playoffs every season since the current divisional postseason format began in 2007. They have won six championships, the last three in a row.