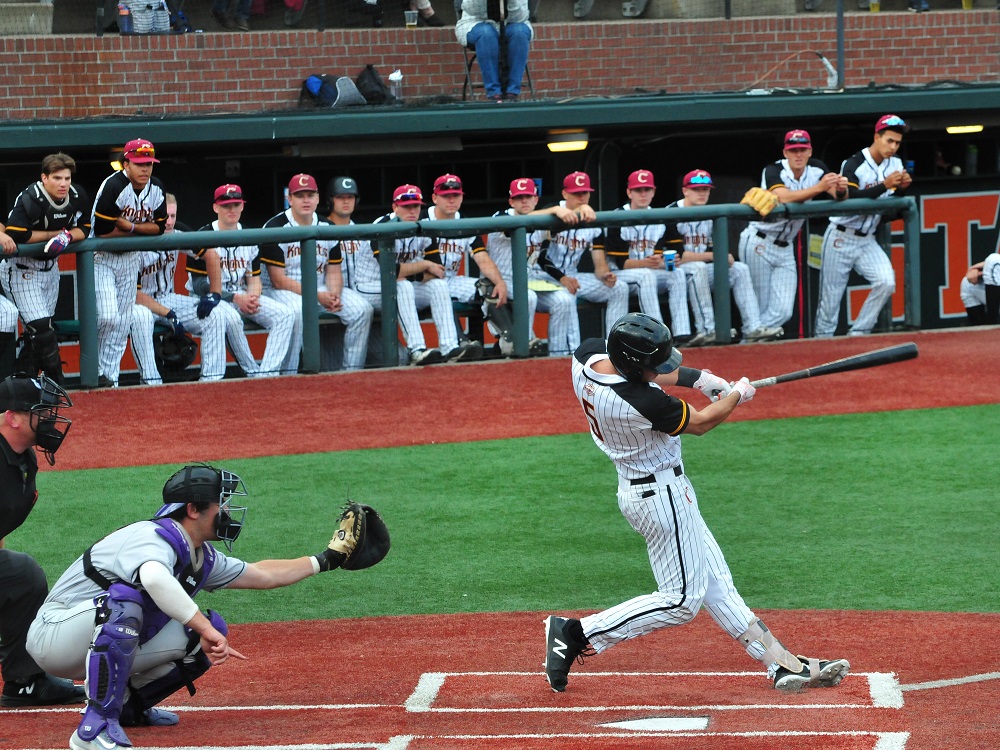 Knights Start Fast, Down Kelowna 17-6, Take 1-0 Lead in WCL Finals
KELOWNA, B.C. – The Knights moved to within one win of their third consecutive West Coast League title by routing Kelowna 17-6 in Game 1 of the WCL Championship Series.
Corvallis (43-20-1) can wrap up the best-of-3 series by taking Game 2, set for 6:30 p.m. Thursday at Goss Stadium following a travel day on Wednesday. Game 3 (if necessary) would be at 6:30 p.m. Friday.
The Knights sent 13 batters to the plate, scored eight times in the first inning and were never challenged in defeating the Falcons for the seventh consecutive time this summer.
Austin Feist (St. Martin's) began the rally with a bases-loaded sacrifice fly and Zak Taylor (Oregon State) followed with a two-run single.
Future OSU shortstop Beau Philip (pictured, above) added another RBI single for a 4-0 advantage. Trace Tammaro (Portland in 2018-19) then capped the outburst with a towering three-run homer to center field.
Brenden Beck (Stanford) doubled and scored the final run on a single by Chandler Anderson (Utah). The Knights kept adding on as the first-ever playoff game between the two WCL charter members progressed.
Philip had four hits, two runs and two RBIs; Stevens had a double, three singles, scored twice and drove in one, and Taylor doubled twice, singled, scored three times and drove in two. Tammaro added a two-run single in the ninth and finished with three its and five RBIs.
Beck and Anderson had two hits apiece as every player in the starting lineup had a hit, an RBI or a run scored. The Knights pounded out 21 hits and reached double figures against the Falcons for the second time in 2018; they won 16-7 at Kelowna on June 6 in their season-opener.
Corvallis starter Kolby Somers (Oregon) scattered eight hits over five innings, allowed two runs and earned the win. He struck out five and stranded five Falcons over his final three innings.
Reliever Jacob Fricke (Western Oregon) ended a bases-loaded jam in the eighth with a 6U, 6-3 double play and then closed out the Falcons in the ninth to end the three-hour, 43-minute marathon with 1.2 scoreless innings.
The Knights are seeking their sixth WCL championship; they also won in 2008, 2011, 2013, 2016 and 2017. They lost the Championship Series in 2007, 2009, 2012 and 2014.
The Falcons last appeared in the WCLCS in 2015 vs. the Bend Elks, when they lost in two straight games. This is Kelowna's second appearance in the WCLCS.