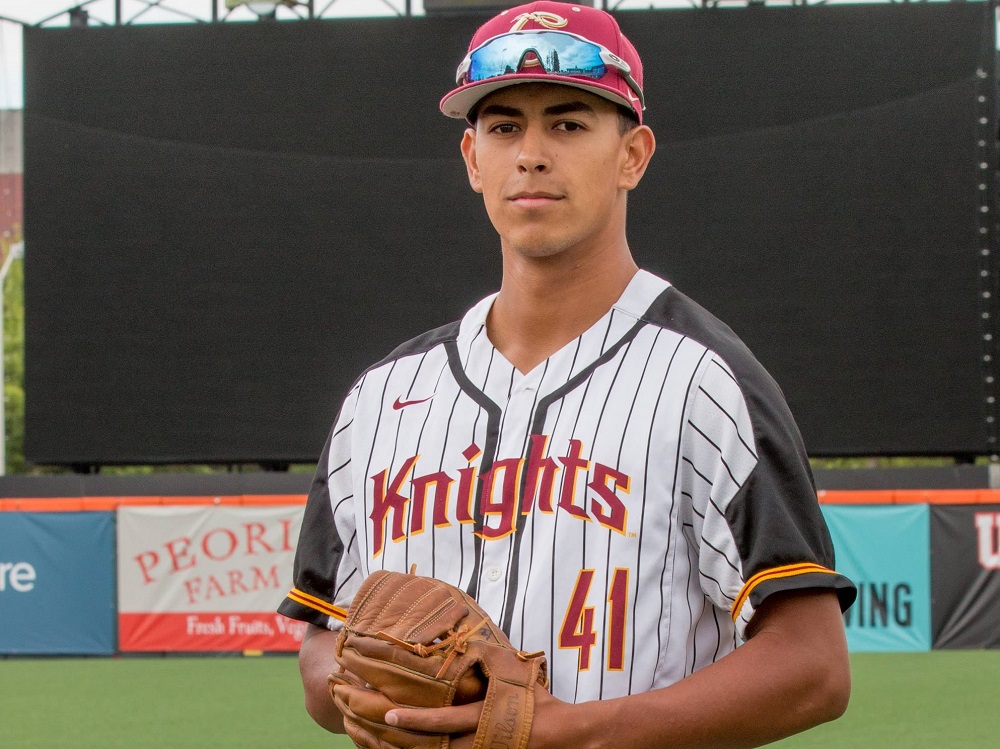 Knights Oust Pickles 4-1 in 11 Innings, Advance to WCL Finals
PORTLAND – The Knights eliminated the Portland Pickles 4-1 in 11 innings to sweep their West Coast League South Division playoff series and advance to the WCL Championship Series for the third year in a row.
The Knights (42-20-1) scored three times in the 11th to break open a tense, thrilling game. Rising San Diego junior  Louie Crow (pictured, above) then struck out the side in the home half to keep alive the Knights' quest for a WCL championship three-peat.
Corvallis will enjoy home-field advantage in the best-of-3 finals, which start Tuesday at either Kelowna or Bellingham. Host Bellingham tied their North Division playoff series 1-1 on Saturday by edging the Falcons 4-3 in 12 innings. They will play the rubber game on Sunday.
The Knights were held to one hit through 10 innings before finally busting loose in the decisive 11th. Leadoff batter Trace Tammaro (Portland in 2018-19) was hit by a pitch; Brendan Beck (Stanford) sacrificed and both runners were safe at third and second on a throwing error on the play.
Chad Stevens (Portland) then drilled a two-run double for a 3-1 advantage. Cole Hamilton (Linn-Benton) followed with a bunt single, moving Stevens to third. Chandler Anderson (Utah) doubled Stevens home to send the Knights ahead 4-1.
The winner in Game 1 on Friday night, Crow relieved Abbott Haffar (UC Riverside) to start the 11th and struck out the side to give the Knights their third straight victory at Walker Stadium. They also took the final two games of a July 21-23 set in Portland; Corvallis was the only team to win a series in Portland all season.
The Knights had just one hit, a fifth-inning single by catcher Zak Taylor (Oregon State), through the first 10 innings. He was sacrificed to second, moved to third on a fly out and scored on a wild pitch to tie the game 1-1. He was their only baserunner to advance past first base until the 10th.
Portland went ahead 1-0 in the first but did not score again and did not threaten until the ninth and 10th innings. In the ninth, Haffar escaped a bases-loaded, one-out jam with a 1-2-3, inning-ending double play; in the 10th, Portland had runners at first and second with no outs but they could not advance.
Corvallis starter Landen Bourassa (San Francisco) pitched brilliantly and allowed one run on four hits over eight innings. He struck out seven, did not issue a walk and retired 13 Pickles in a row over one stretch.
Bourassa allowed just one run and had 12 strikeouts in 13 innings in two starts in Portland this summer. However, the Knights scored just one run while he was on the mound and he had two no-decisions.
Saturday tied the record for the longest game in Knights' playoff history. They edged Wenatchee 6-4 in 11 innings on Aug. 16, 2008, in Game 1 of the Championship Series. They defeated the AppleSox two days later to sweep the series and win the title.
The Knights are seeking their sixth WCL championship; they also won in 2008, 2011, 2013, 2016 and 2017. They lost the Championship Series in 2007, 2009, 2012 and 2014.