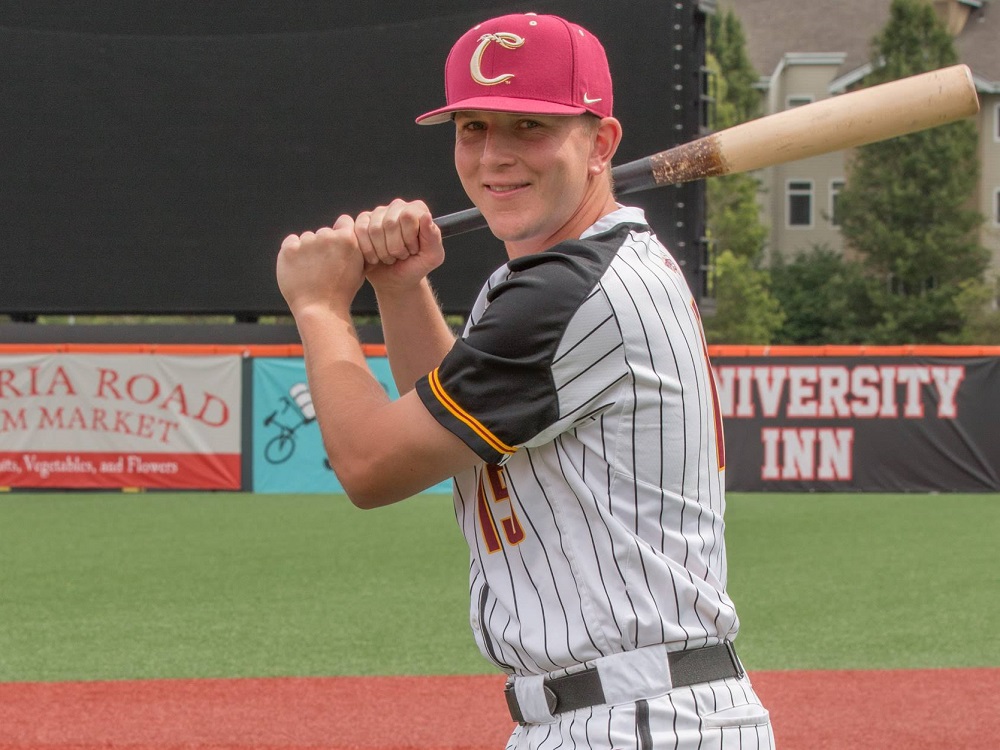 Knights Nab 3-2 Victory, Take 1-0 Lead in South Division Finals
The Knights edged Portland 3-2 at Goss Stadium in Game 1 of the South Division playoffs to move within one victory of advancing to their third straight West Coast League Championship Series.
A two-out infield single by catcher Zak Taylor (pictured, above) of Oregon State in the bottom of the 10th scored Chandler Anderson (Utah) with the winning run, ending a tense three-hour battle in dramatic fashion.
Game 2 of the best-of-3 series is set for 7:05 p.m. at Walker Stadium in Portland. San Francisco right-hander Landen Bourassa (5-1, 1.95) will start for Corvallis, opposed by Portland lefty Brad McVay (5-0, 1.15).
Game 3, if necessary, will be at 5:05 p.m. Sunday in Portland.
The Knights loaded the bases with one out in the 10th on two walks sandwiched around Anderson's infield single. Taylor then did not offer on an attempted squeeze play with a 1-1 count; the runner coming home was out in a rundown but Anderson moved up to third base.
Taylor then hit a high chopper that a charging Portland third baseman Daniel Lopez could not field while trying to make a do-or-die bare-handed play. The ball bounced away and Anderson sprinted home with the decisive tally.
"We had a squeeze on and I got a little confused," Taylor said. "I didn't get it down of course, but just knowing with two strikes I have to put a ball in play" and Lopez was unable to make a difficult play when he did.
Chad Stevens (Portland) scored on a passed ball to give the Knights a 1-0 lead in the first inning. He scored again on a sacrifice fly by Austin Feist (St. Martin's) in the sixth to send the Knights ahead 2-1.
The Pickles tied the game 1-1 in the sixth and 2-2 in the eighth. They then stranded a runner at third in the eighth and runners at the corners in the ninth and 10th innings.
Corvallis starter Connor Knutson (Portland) allowed one run in 5.2 innings. Reliever Cameron Haskell (Arizona) held the Pickles to one run over the next four innings, and Louie Crow (San Diego) got the final out in the 10th.
Shortstop Beau Philip (OSU in 2018-19) doubled and singled twice and Anderson had two hits for the Knights. Feist and Trace Tammaro (Portland in 2018-19) also doubled.
The Knights (41-20-1, 1-0 playoffs) are the two-time defending WCL champions. They will have home-field advantage if they make the Championship Series, which starts Tuesday at either Kelowna or Bellingham.
Host Kelowna won Game 1 of the North Division playoffs 4-2 on Friday night. That series now moves to Bellingham for Game 2 and Game 3 (if necessary).
The Knights are seeking their sixth WCL title; they also won in 2008, 2011, 2013, 2016 and 2017. They lost the Championship Series in 2007, 2009, 2012 and 2014.
Attendance for Friday's game was 1,086. Our total attendance this year stands at 47,336 for 32 dates, an average of 1,480 per opening.