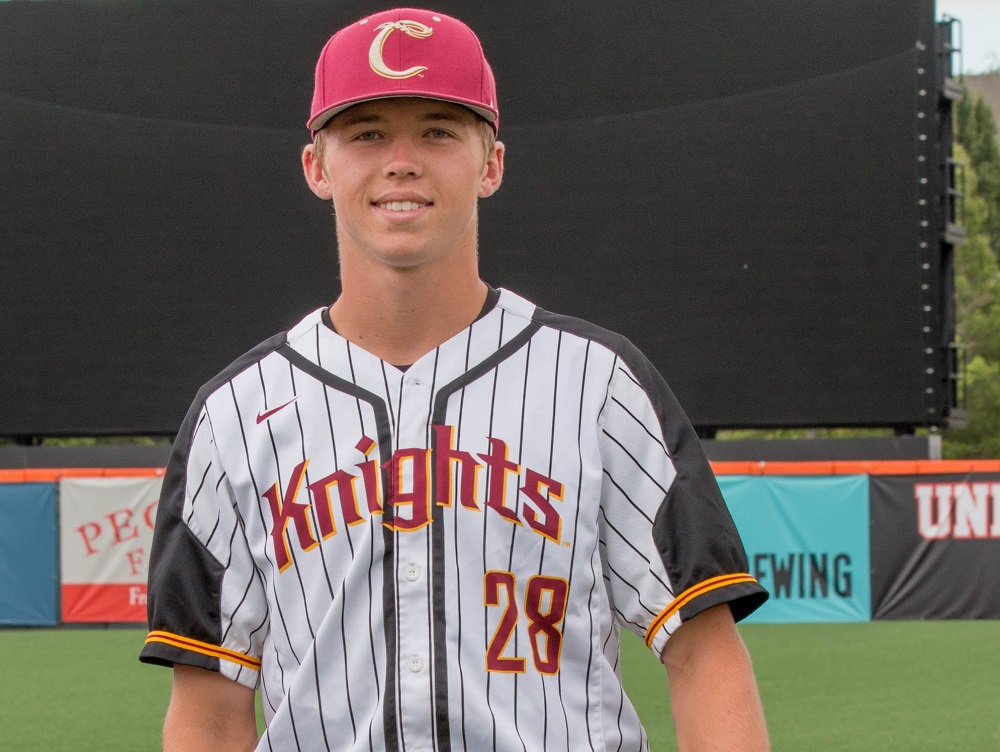 Knights Remain Red-Hot With 9-5 Win Over Yakima Valley in Series Opener
Reliever Jordan McDaniel (pictured, above) pitched 3.1 scoreless innings and the Knights topped Yakima Valley 9-5 in the opener of their final regular-season series.
McDaniel entered the game with runners on the corners and two outs in the fourth, with the Knights clinging to a 4-3 lead. He picked the runner off first to end the threat and then spaced four hits over three more scoreless frames, enabling the Knights to separate.
A Linn-Benton CC graduate who will pitch at Concordia next season, he had one strikeout, did not issue a walk, and benefited from two 6-4-3 double plays.
The Knights (39-19-1, 35-17 WCL, 19-6 second half) improved to 13-1 in their last 14 WCL games and won their 16th consecutive game at Goss Stadium. They moved into first place in the South Division second-half pennant race, one-half game ahead of Portland.
Corvallis and Portland have qualified for the postseason playoffs. The Knights will host Portland at 6:30 p.m. Friday in Game 1 of the best-of-3 South Division playoff series. Game 2 and Game 3 (if necessary) will be at Portland on Saturday and Sunday.
Right fielder Cody Hawken (Portland) singled twice, doubled, scored twice, drove in two and walked while reaching base four times in five at-bats. First baseman Trace Tammaro, a future Pilot, singled, doubled and drove in three while also reaching safely four times.
Tammaro said the Knights are following coach Brooke Knight's admonition to keep playing hard even if they've clinched a playoff berth.
"It's not easy, but that's why we're out here," he said. "It's definitely a grind. It's hard, but at the same time it makes it the most fun, for sure."
Corvallis can now clinch home-field advantage for the WCL Championship Series – if it advances that far – by defeating the Pippins again on Tuesday or Wednesday. That would give the Knights (and Portland) more total wins than Bellingham, whose 35 total victories lead the North Division playoff qualifiers.
Third baseman Zak Taylor (Oregon State) homered, doubled, scored three times and drove in two. Second baseman Chad Stevens (Portland) singled twice, scored and stole a base.
The series continues at 6:30 p.m. Tuesday. The starting pitcher for the Knights is TBA. Wednesday's regular-season finale begins at 7:05 p.m.
Attendance for Monday's game was 1,196. Our total attendance this year stands at 42,253 for 29 dates, an average of 1,457 per opening.