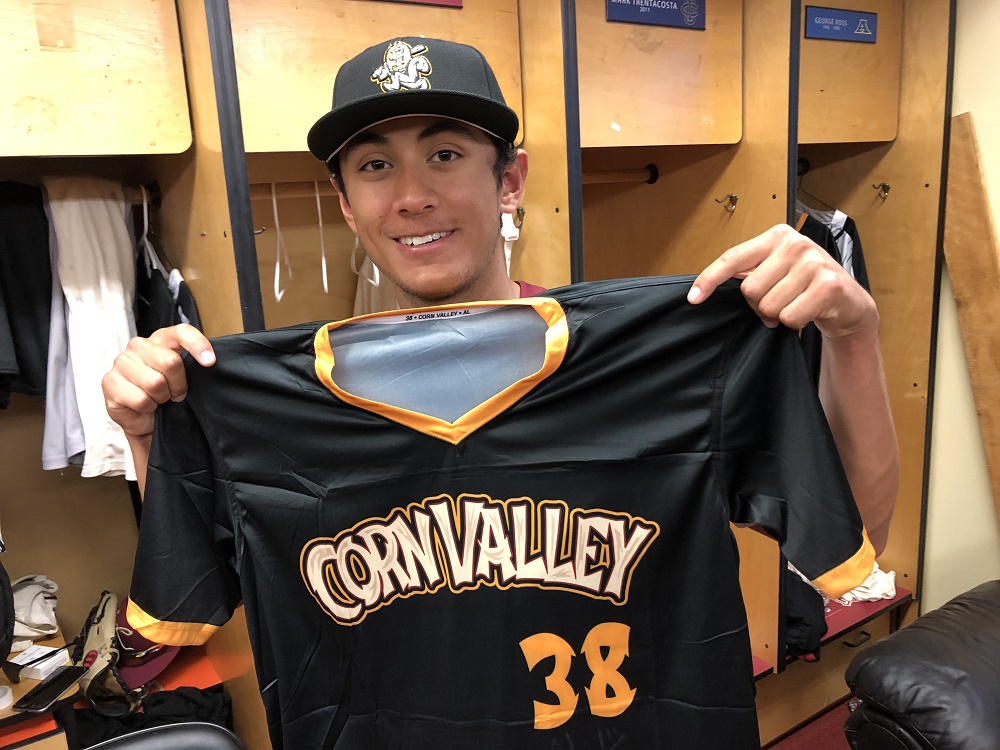 Cowlitz Edges Corvallis 4-3, Snaps Knights' 11-Game WCL Win Streak
LONGVIEW, Wash. – The Cowlitz Black Bears defeated Corvallis 4-3 at David Story Field on Saturday night to snap the Knights' 11-game West Coast League winning streak.
The Knights (37-19-1, 33-17 WCL, 17-6 second half) had not lost since dropping the opener of a three-game series at Portland on July 21. They fell into second place in the South Division second-half pennant race, one-half game behind Portland.
Corvallis and Portland have qualified for the postseason playoffs.
Center fielder Cole Cabrera (pictured, above) of Cal Poly had three RBIs on two sacrifice flies and an infield single to lead the Knights. Second baseman Chad Stevens (Portland) tripled in his first two at-bats and was driven in by Cabrera in both instances.
Cowlitz took a 4-2 lead in the third on a grand slam. The Knights drew within 4-3 in the fifth but could get no closer.
Corvallis had the tying run on at first base in the ninth following a leadoff single by Cody Hawken (Portland) but could not advance him into scoring position. He was also stranded at second base following a one-out double in the sixth inning.
The series concludes at 5:05 p.m. Sunday. Oregon's Kolby Somers (2-1, 3.56) gets the ball for Corvallis, opposed by Jordan Martinson of Dallas Baptist (0-3, 5.78) in a matchup of left-handers.
The Knights finish the regular season on Monday, Tuesday and Wednesday by hosting Yakima Valley at Goss Stadium. They then host Portland at 6:30 p.m.  Friday in Game 1 of the best-of-3 South Division playoff series.