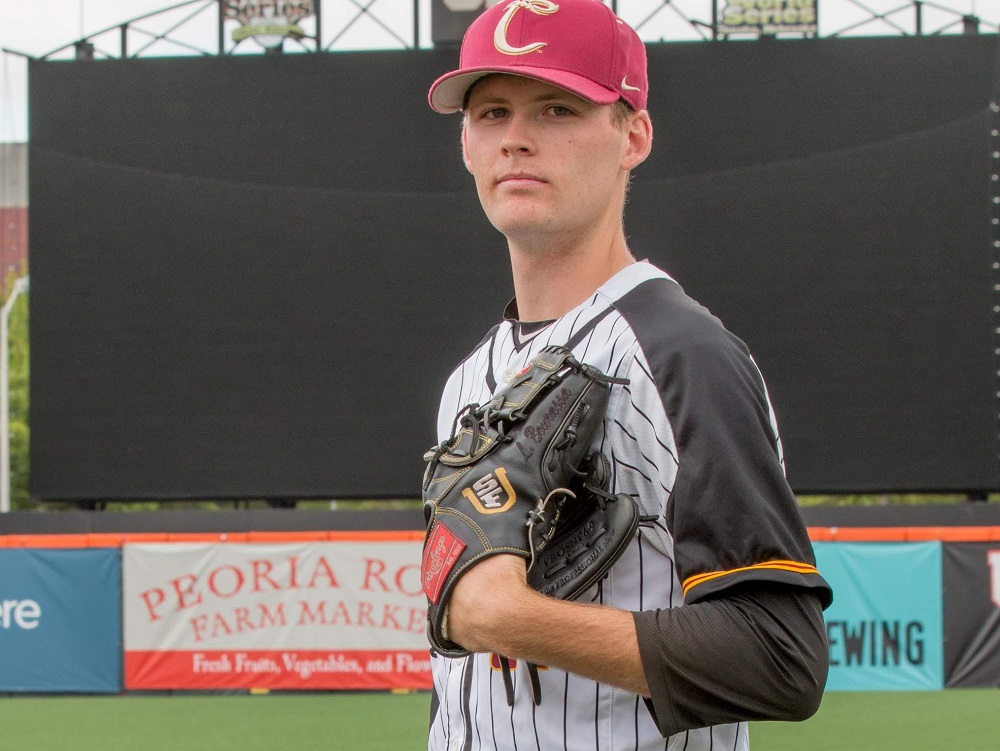 Bourassa, Knights Top Cowlitz 8-1 for 11th Consecutive Victory
LONGVIEW, Wash. – USF senior-to-be right-hander Landen Bourassa (pictured, above) handcuffed Cowlitz on four hits over 6.1 innings  in an 8-1 victory over the Black Bears at David Story Field.
Bourassa allowed four hits and one run and did not allow a run after the first inning. He struck out six, walked one, and improved to 5-1 with his seventh quality start in eight opportunities.
It was the 11th straight win for the Knights (37-18-1, 33-16 WCL, 17-5 second half). They remained one-half game ahead of Portland (17-6) in first place in the South Division second-half pennant race.
Corvallis and Portland have qualified for the postseason playoffs.
Zak Taylor (Oregon State) and Cody Hawken (Portland) homered for the Knights; Hawken scored three times, had two hits and two RBIs. Beau Philip (OSU in 2018-19) doubled twice and drove in a run, Chad Stevens (Portland) had two hits and an RBI and Austin Feist (St. Martin's) doubled and drove in a run for the ninth time in his last 10 WCL games.
Lefty Aaron Shoup (St. Martin's) went the final 2.2 innings, one out short of a save. He struck out one and allowed two hits in another effective appearance. After struggling as a starter, he has allowed no earned runs in 4.2 innings over three appearances, with three strikeouts and three hits allowed.
The series continues at 6:35 p.m. Saturday. Portland right-hander Connor Knutson (4-1, 4.26) will start for the Knights, opposed by Tennessee-Martin righty Seth Rayburn (1-2, 4.75).
Oregon's Kolby Somers (2-1, 3.56) gets the ball for Corvallis in Sunday's 5:05 series finale, opposite Jordan Martinson of Dallas Baptist (0-3, 5.78) in a matchup of left-handers.
Corvallis finishes the regular season next Monday, Tuesday and Wednesday by hosting Yakima Valley at Goss Stadium. The Knights host Portland on Friday in Game 1 of the South Division playoff series.