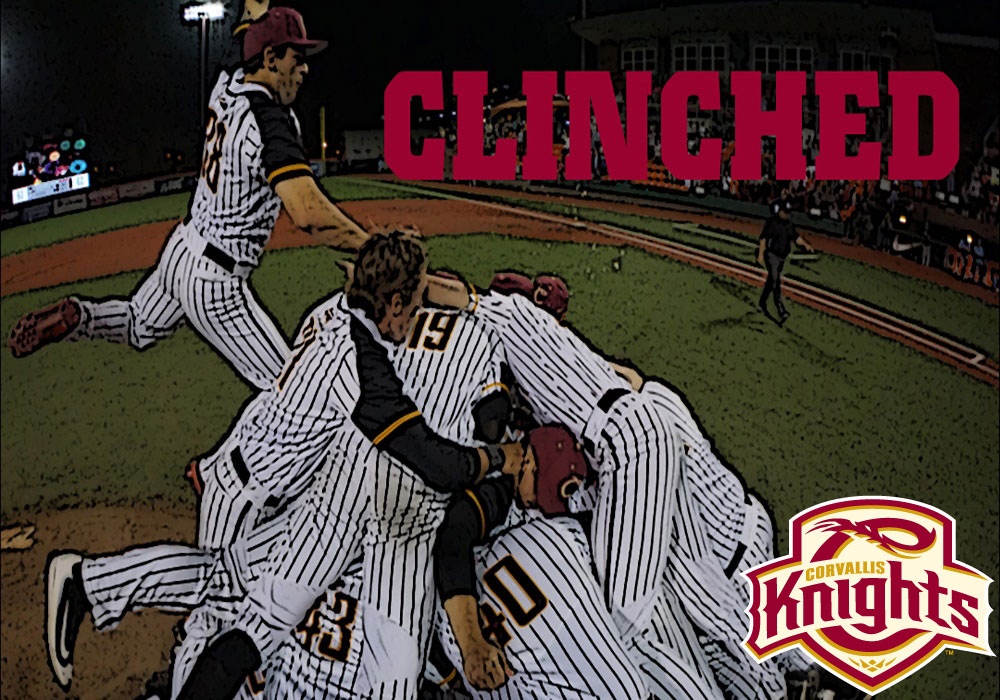 Knights Finish Sweep of Bend, Clinch 12th Straight Playoff Berth
The Corvallis Knights clinched their 12th consecutive West Coast League playoff berth with an 8-5 win over Bend at Goss Stadium.
Designated hitter Austin Feist (St. Martin's) was 2-for-3 and drove in three runs for the Knights, who stretched their home winning streak to 16 games in a row by completing a sweep of the last-place Elks. Corvallis has not lost at home since July 1.
It was the 10th straight win for the Knights (36-18-1, 32-16 WCL, 16-5 second half). They moved one-half game ahead of idle Portland (16-6) in first place in the South Division second-half pennant race. The Pickles have already qualified for postseason play by winning the first half.
Corvallis, Portland and third-place Walla Walla could conceivably still finish in a three-way tie for first place in the second half with 16-11 records. With Portland already in, the Knights would win the tie-breaker with Walla Walla for the second playoff berth because of their better overall season record.
Corvallis had 16 first-half wins and has a total 32 WCL wins. Walla Walla had 15 first-half wins and can't finish with more than 31, even if it wins its final six games of the season.
The Knights will host Portland in Game 1 of the best-of-3 South Division playoff series on Aug. 10. Game 2 and Game 3 (if necessary) would be in Portland on Aug. 11-12.
Coach Brooke Knight said Corvallis will not take its foot off the pedal in tdhe final six games, even with the playoff berth secured.
"I hope we will keep playing hard and with intent because we need to be ready to go on Aug. 10," he said.
Feist has two or more RBIs in 6 of his last 9 WCL games, and at least one in 8 of the last 9. His 37 RBIs lead the team and rank second in the WCL, two behind leader Trent Tinglestad of Kelowna.
The Knights scored six unanswered runs in the first two innings to build a big early lead. Bend got within 6-3 in the fifth but Corvallis scored two more in the home fifth for an 8-3 advantage.
Bend added single runs in the seventh and ninth. Reliever Louie Crow (Cal Poly Pomona in 2018-19) retired three Elks in a row in the ninth after surrendering a leadoff homer to close it out.
Cameron Haskell (Arizona) allowed seven hits and three runs over five innings to record the pitching win. Jacob Fricke (Western Oregon) went two innings, Aaron Shoup (St. Martin's) and Crow one inning apiece to protect the lead.
The Knights open a three-game series against Cowlitz on Friday at Longview, Wash. Portland righty Connor Knutson will start for the Knights.
They finish the regular season next Monday-Wednesday by hosting Yakima Valley at Goss Stadium.
Thursday's crowd of 1,295 raised total attendance to 41,057 for 28 dates, an average of 1,466 per opening.