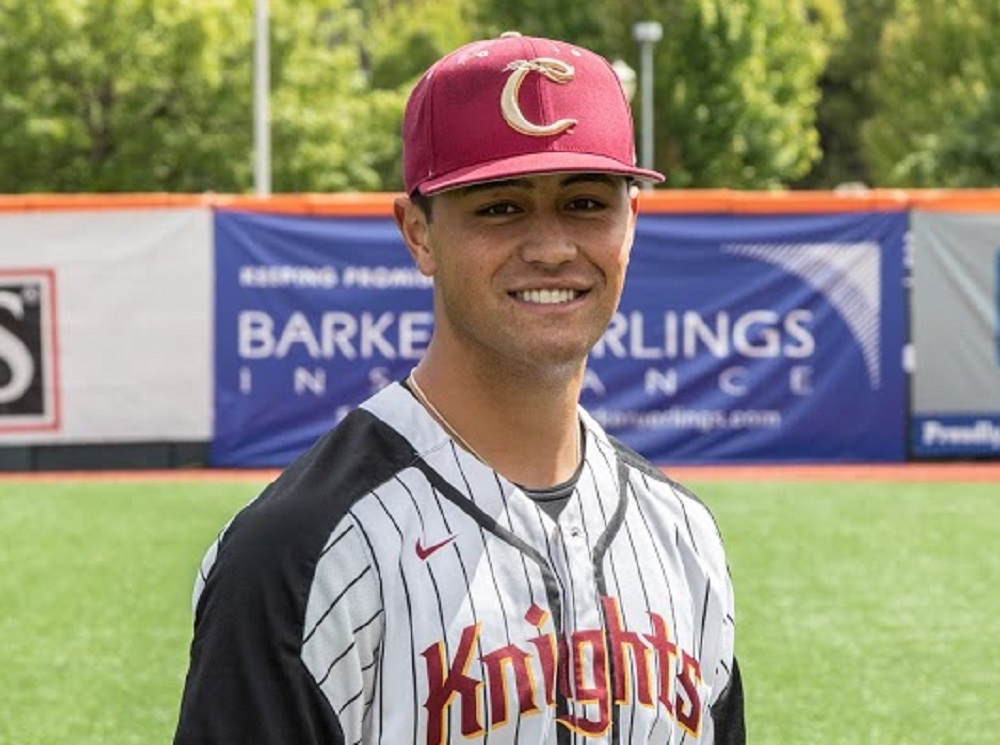 Knights edge Elks 7-5, rebound to win series
BEND – Lefty Tevita Gerber (pictured, above) allowed one run in 6.1 innings and the Knights topped Bend 7-5 to capture the rubber game of their West Coast League South Division game at Vince Genna Stadium.
A rising senior at Dixie State, Gerber spaced seven hits and struck out six in winning his sixth straight game to improve to 6-1. He lowered his ERA to 2.51 from 2.70; he has allowed just one earned run in five of those six victorious starts and is the WCL leader in wins with 6.
The Knights (40-9, 32-9 WCL, 11-3 second half) thus bounced back from a 13-1 loss on Saturday to win the series, their first with the Elks this summer. The Knights also prevailed 11-5 on Sunday.
Shortstop Brooks Lee (Cal Poly) slammed a three-run homer, his second of the summer, in a four-run eighth inning to break open a competitive contest. Michael Gretler (Oregon State) followed with a triple and he scored on a sacrifice fly by Elliot Willy for the 7-1 advantage.
Corvallis broke a 0-0 deadlock in the sixth. Michael Dixon (San Diego) singled, stole second, moved to third on Jake Holcroft's (Portland) single and then scored on an Andy Atwood (Texas Rio Grande Valley) groundout.
Singles by Willy and Nick Yovetich (San Francisco), an error by the pitcher on a pickoff attempt and Dixon's RBI single scored two more runs in the seventh.
Corvallis led 7-1 heading into the bottom of the eighth, but the bullpen gave up three in that inning and another in the ninth before reliever Connor Knutson (Portland) got the final two outs with the tying run at second base to post his fourth save, a four-out save from the Knights' closer.
The teams meet again at Goss Stadium on Tuesday, Wednesday and Thursday, starting at 6:30 p.m. each night. Tuesday's pitching matchup features Iowa Western's Drew Clark (0-1, 9.00) for the Elks, opposed by Linn-Benton CC's Eric Hill (1-0, 4.65).
Corban's Jackson Arnsdorf (4-1, 1.40) will start for the Knights on Wednesday; Bend's probable is undetermined. Thursday's finale matches Mesa CC's Michael Hartsell (1-3, 4.73) for the Elks and UC Riverside's Abbott Haffar (1-0, 2.70) for Corvallis.
The Knights clinched the first-half South Division title on July 6, earning an automatic playoff berth and home-field advantage in the best-of-3 divisional round, which begins on Aug. 13. The best-of-3 Championship Series begins on Aug. 17.
They have qualified for the playoffs every season since the current divisional postseason format began in 2007. They have won six championships, the last three in a row.