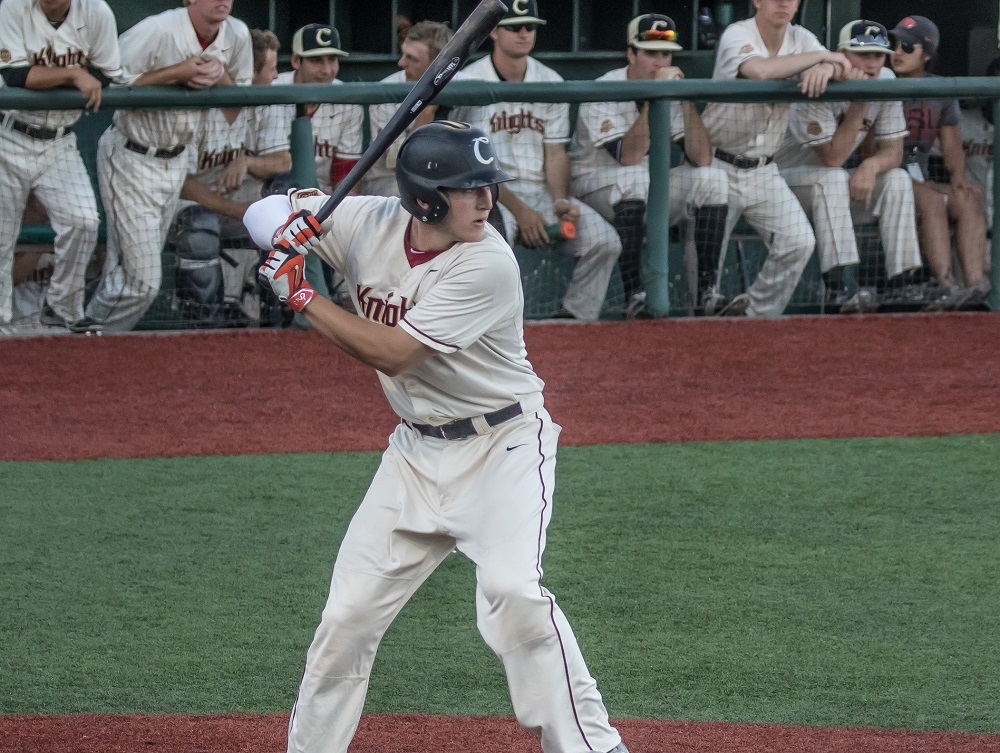 Knights Crush Wenatchee in Finale; on to Yakima Valley on Tuesday
WENATCHEE, Wash.  –  Corvallis crushed Wenatchee 12-1 in a makeup game at Paul Thomas Sr. Stadium that concluded their regular season.
Catcher Zak Taylor (pictured, above) was 2-for-2 and drove in three runs for the Knights (40-20 overall, 34-20 WCL, 17-10 second half), who clinched the outright second-half South Division title with the victory. They also won the first half with an identical 17-10 record, and led the WCL with 34 total victories.
The outcome determined the North Division's final second-half standings. Victoria won the second-half title in a tiebreaker with Bellingham, and earned a playoff berth. Had Wenatchee won, it would have created a three-way tie with Victoria and Bellingham and the Bells would have advanced.
The Knights scored twice in the second on an RBI groundout by Jace Duty (Chemeketa CC/San Jose State)and an RBI single by Chad Stevens (Portland). Corvallis made it 3-0 in the third when Taylor (Oregon State) was hit by a pitch with the bases loaded.
Taylor's two-run single in the fifth made it 5-0. Corvallis scored seven more times in the seventh to break the game open at 12-0; Cole Johnson (Pacific Lutheran) capped the rally with a two-run single.
Outfielder Jordan Qsar (Pepperdine) had an RBI single in the seventh to break the franchise record for season RBIs with 49. The old mark was 48, set by Kevin Kline (Dixie State) in 2014. Qsar also holds the season record for homers (13) and doubles (21).
A trio of Portland Pilots also chipped in big to power a 13-hit attack. Left fielder Henry Cheney doubled twice and scored three times; he has four extra-base hits in his last two games. Shortstop Chad Stevens was 2-for-5 with an RBI and third baseman Matt Kelly had two hits and two runs.
Starting pitcher Darren Nelson (Cal Poly) threw three hitless innings. Johnson went the next four and was credited with the win; Taylor Travess (Oregon) finished up.
The Knights open the best-of-3 South Division playoff series against Yakima Valley at 7:05 p.m. Tuesday at Yakima County Stadium. UC Irvine's Cole Spear (3-1, 4.66) is their projected starter.
The Knights will host Game 2 on Wednesday and Game 3 (if needed) on Thursday. UC Riverside's Trenton Toplikar (2-0, 5.06) is the scheduled starter on Wednesday; Cal Poly's Connor Redmond (1-2, 3.72) will pitch on Thursday, if necessary. Both games begin at 6:40 p.m.
The best-of-3 WCL Championship Series starts on Saturday. If the Knights advance to the finals, they will have the home-field advantage and host Game 2 on Monday and Game 3 on Tuesday.