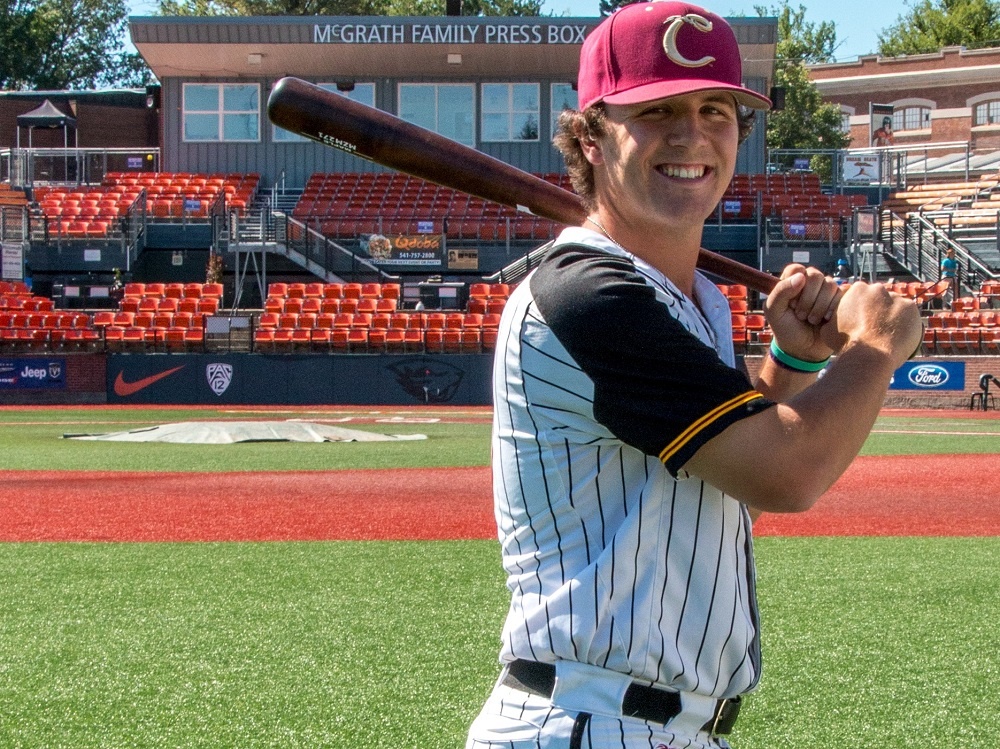 Cheney Doubles, Triples, Scores in 7-3 Victory over Yakima Valley
CORVALLIS, Ore.  –  Corvallis left fielder Henry Cheney (pictured, above) doubled, tripled, walked twice and scored on Sunday in a 7-3 victory over Yakima Valley in the Knights' regular-season home finale.
The Knights (39-20 overall, 33-20 WCL, 16-10 second half) clinched the second-half South Division, bookending their first-half crown. They will have home-field advantage throughout the playoffs, which start Tuesday night.
Cheney (Portland) reached base safely in four of five plate appearances. Shortstop Chad Stevens (Portland) and catcher Jace Duty (San Jose State) had two hits apiece as the Knights won the series 2-1 and the season series 4-2.
The Knights scored six times in the fourth inning to erase a 2-0 deficit; Stevens' two-run triple into the left-field corner was the big blow. Darren Nelson (Cal Poly), Emilio Alcantar (Lewis-Clark State) and Gabe Matthews (Oregon) also had RBIs.
Stevens tripled, doubled, scored once and drove in two. He hit .444 (4-9) in the series, with two doubles, a triple, three RBIs and two walks, raising his average to a season-high .255.
Righty Dom Baker (Corban) gave up three runs in six innings in his first start of the summer. He struck out four, walked three and hit three batters, but he stranded seven Pippins to escape further damage and earn the win.
Relievers Miles Glazier (UC Irvine), Tanner Howell (Dixie State) and Jordan Qsar (Pepperdine) inherited a 7-3 lead and finished up with a scoreless inning each.
The Knights will play a makeup game at Wenatchee tomorrow night, Monday, Aug. 7, since the outcome influences who earns the remaining playoff berth in the North.
The South Division playoffs begin Tuesday at Yakima Valley. The Knights will host Game 2 on Wednesday and Game 3 (if needed) on Thursday. The best-of-3 WCL Championship Series starts on Saturday.