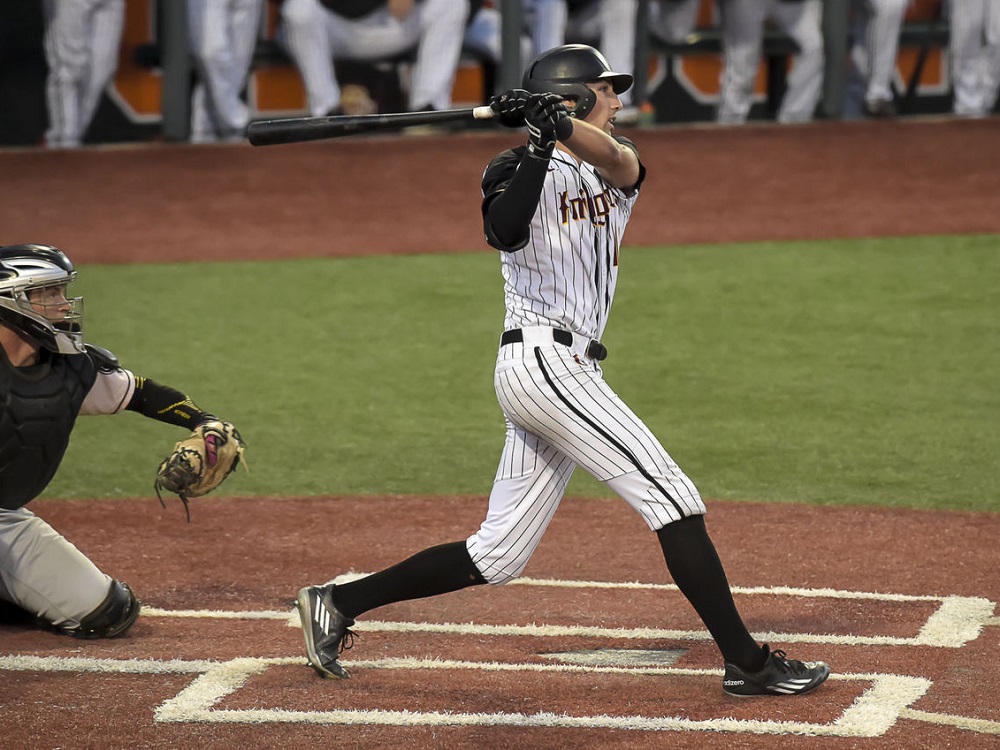 Qsar Homers, Doubles in Game 1 Loss to Yakima Valley
YAKIMA, Wash.  –  Host Yakima Valley defeated Corvallis 9-3 at Yakima County Stadium in Game 1 of their South Division playoff series.
The Pippins scored twice in the first inning, four times in the third and twice more in the fourth to build an insurmountable 8-0 lead. They roughed up Corvallis starter Cole Spear (UC Irvine) for 10 hits and eight runs over 3.1 innings and cruised from there to win their first playoff game in franchise history.
The Knights (40-21) drew within 9-3 in the sixth on a two-run homer by right fielder Jordan Qsar (pictured, above), but could get no closer. A senior-to-be at Pepperdine, Qsar added a double, and extended his team records for the most homers (14), doubles (22) and RBIs (51) in a season.
Third baseman Matt Kelly (Portland) doubled twice and left fielder Elliot Willy (Oregon State) singled twice and added an outstanding diving catch for the Knights. Relievers Jacob Fricke (Western oregon) and Trevor Wells (Linn-Benton CC) combined to allow just one unearned run over the final 4.2 innings.
Game 2 in the best-of-3 series is set for 6:40 p.m. Wednesday at Goss Stadium. Game 3 (if necessary) would be at 6:40 p.m. Thursday, also at Goss Stadium.
The victor advances to the West Coast League Championship Series, where it will face either Victoria or Kelowna of the North Division. Host Victoria won 8-2 on Tuesday night in Game 1 of that series.
UC Riverside's Trenton Toplikar (2-0, 5.06) is the scheduled starter for the Knights on Wednesday. Cal Poly's Connor Redmond (1-2, 3.72) will pitch on Thursday, if necessary. Both games begin at 6:40 p.m.
The best-of-3 WCL Championship Series starts on Saturday. If the Knights advance to the finals, they will have the home-field advantage and host Game 2 on Monday and Game 3 on Tuesday.