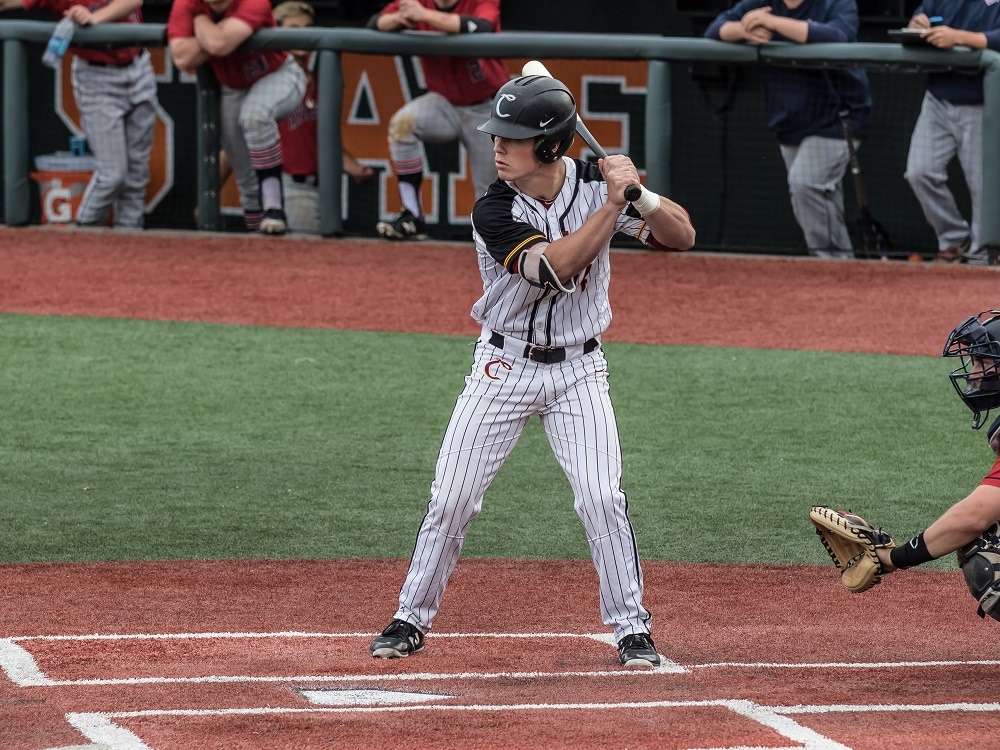 Knight Breaks Out of Slump, Leads 9-5 Win at Kelowna
KELOWNA, B.C. – Catcher Briley Knight (pictured, above) snapped out of a lengthy slump with two doubles and four RBIs to lead Corvallis to a 9-5 victory at Kelowna and a sweep of the two-game West Coast League series.
It was the seventh WCL win in a row for the Knights (33-18-1, 29-16 WCL, 13-5 second half).  They stayed tied with Portland for first place and moved five games ahead of third-place Walla Walla in the race for the second South Division playoff berth.
Corvallis and Walla Walla each have nine games remaining, Portland eight. Portland won the first half and has automatically qualified for the playoffs.
The RBIs were the first since July 13 for Knight, a graduate of Crescent Valley High in Corvallis who will play at Utah in 2018-19. His last multi-hit game before Sunday was July 9 against Victoria, when he also doubled twice, and he was 4-for-32 (.125) in his last 14 league games before breaking out.
Austin Feist (St. Martin's) and Beau Philip (Oregon State in 2018-19) added solo homers. Zak Taylor (OSU) doubled twice, singled twice, scored three times and drove in one.
Feist hit his team-leading sixth homer to give the Knights a 2-0 lead in the first. Knight's two-run double made it 5-0 in the third; Philip's solo homer in the fourth sent the Knights ahead 6-1.
Taylor and Knight added RBI doubles in the fifth for an 8-1 advantage. Knight's final RBI was a sacrifice fly in the seventh.
Feist drove in two runs and leads the team with 31. He has two RBIs in four of his last seven games. Taylor was 6-for-9 in the two-game series and raised his average 45 points to a season-high .298.
Lefty Kolby Somers (Oregon) got the win after striking out four and allowing one run and three hits over five innings in his first start of the summer. Corvallis starters have allowed one earned run or less, and pitched at least five innings, in seven of their last eight games.
Corvallis, which opened the 2018 season with a single-game win at Kelowna on June 6, defeated the Falcons five times in the last six days to sweep the season-series 6-0.  The starting pitchers were 5-0 and allowed four earned runs in 31.1 innings against the Falcons the final five games, a 1.15 ERA.
The Knights are idle on Monday, then begin a three-game home series with Bend starting at 6:30 p.m. Tuesday. Utah Valley University lefty Logan Petet (1-0, 1.80), a recent addition to the staff, will make his second start for Corvallis.