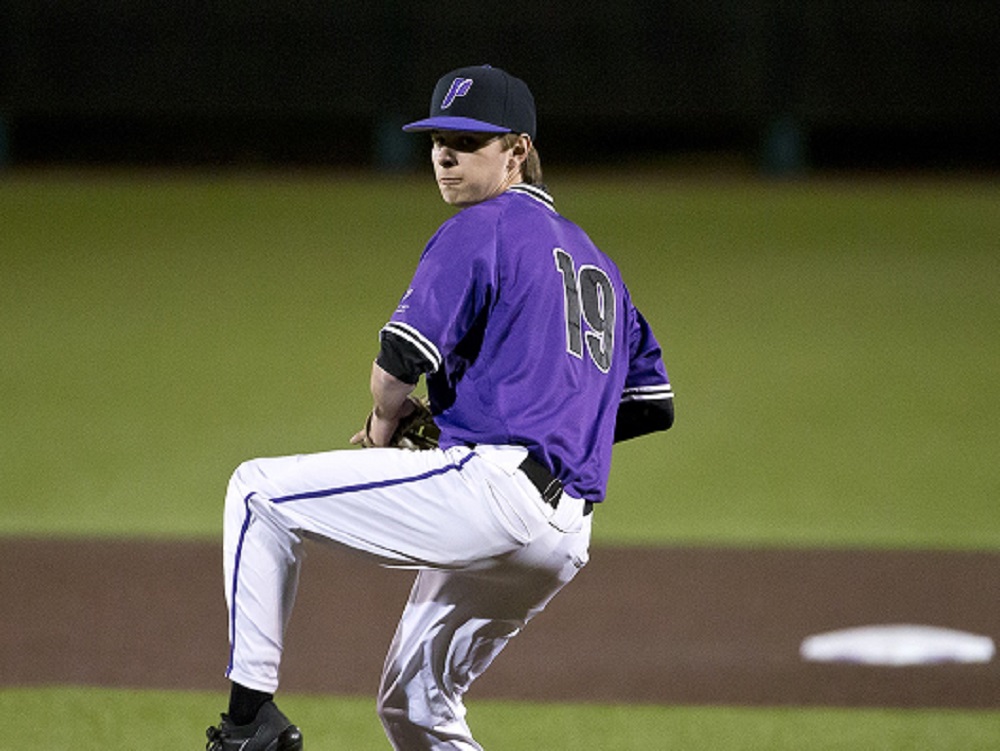 Knutson Grounds Falcons 6-1, Knights Capture Series-Opener at Kelowna
KELOWNA, B.C. – Right-hander Connor Knutson (pictured, above) went seven strong innings and the Knights stretched their West Coast League winning streak to six games in a row on Saturday with a 6-1 victory at Kelowna.
The Knights (32-18-1, 28-16 WCL, 12-5 second half) remained in a virtual tie with Portland for first place in the second-half South Division pennant race. Port Angeles knocked off Walla Walla 3-2 on Saturday and the Knights now lead the third-place Sweets by four games with 10 to play in the battle to join Portland in the WCL South Division playoffs.
A sophomore-to-be at Portland, Knutson allowed one run on five hits over an efficient seven innings. He struck out six, did not issue a walk and threw 53 strikes in 77 pitches.
It was the Knutson's longest outing of the season; his previous best was six innings in an 8-2 win at Port Angeles on June 20. He lowered his ERA from 5.19 to 4.54.
He was sixth Corvallis starter in the last seven games to go five innings or more while allowing no more than one earned run. Knights' starters allowed just two earned runs over 19.1 in three starts in sweeping the Falcons at Goss Stadium on July 24-26.
Cole Hamilton (Linn-Benton); Cody Hawken (Portland), Zak Taylor (Oregon State), Beau Philip (OSU in 2018-19), Austin Feist (St. Martin's) and Trace Tammaro (UP in 2018-19) had two hits each to pace a 14-hit attack.
A Tammaro sacrifice fly gave the Knights a 1-0 lead in the second. Kelowna tied the game in the home half, but the Knights scored twice in the third on a run-scoring hits from Feist and Hawken to go ahead for good.
Taylor capped a three-run sixth with a two-run homer, his first of the summer. That sent the Knights on top 6-1 and that was more than enough support for Knutson and reliever Landen Bourassa (San Francisco), who went the final two frames.
The series concludes at 6:05 p.m. Sunday. Oregon lefty Kolby Somers (1-1, 4.26) making his 2018 starting debut for Corvallis, opposed by Central Washington righty James Brooks (3-0, 4.93).
The Knights are idle on Monday, then host a three-game series with Bend starting on Tuesday.