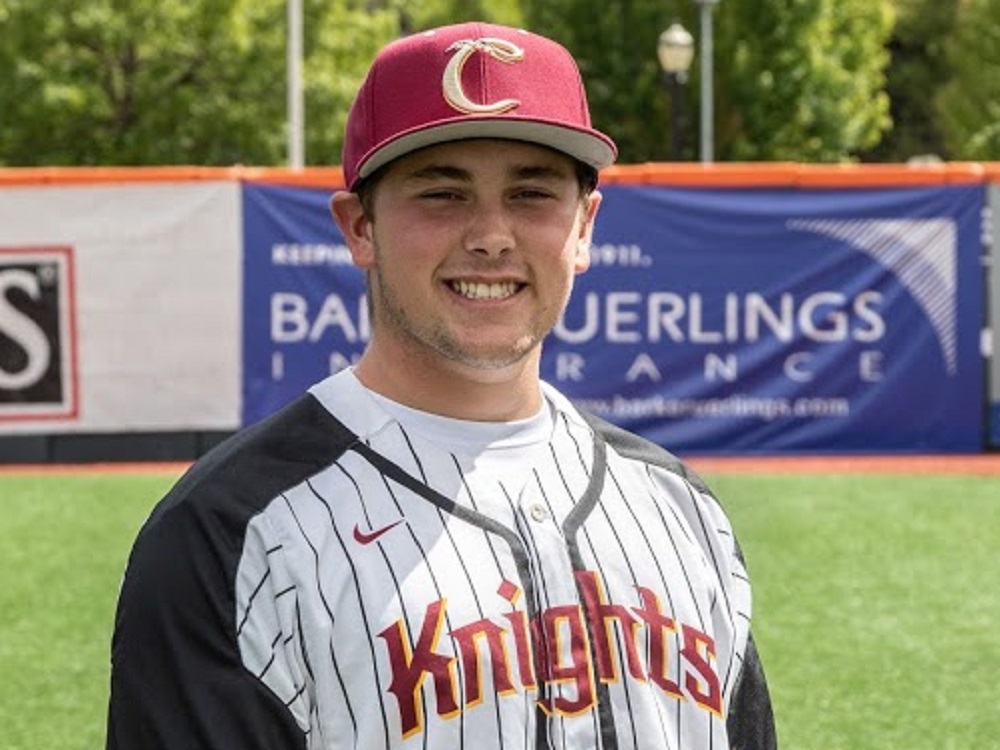 Kempner's clutch performance carries Knights over Raptors
RIDGEFIELD, Wash. – A clutch relief performance by William Kempner (pictured, above) carried the Knights to a 6-2 win over Ridgefield in a West Coast League game at the Ridgefield, Wash., Outdoor Recreation Complex.
The future Gonzaga freshman entered the game in the fifth inning with no outs and the bases loaded. He struck out the first two batters and got the third out on a fly ball to preserve a 4-2 lead.
Kempner then retired the next six batters in order before being relieved to start the eighth inning. He finished with six strikeouts and maintained his 0.00 ERA in 11.2 innings over six appearances.
The Knights (25-6, 19-6 WCL) stretched their WCL winning streak to 13 games in a row. They are unbeaten in 15 games against all competition since their last loss, against Bellingham on June 20.
Corvallis upped its lead in the first-half South Division pennant race to 1.5 games over Walla Walla. The Sweets were rained out at Kelowna on Friday so they have three games remaining, the Knights two.
The first-half champion receives an automatic playoff berth and home-field advantage in the divisional round. Walla Walla has the tiebreaker.
Third baseman Brooks Lee (Cal Poly) had three hits, two runs and two RBIs for Corvallis. Right fielder Elliot Willy (Oregon State) drove in two runs and shortstop Michael Curialle (UCLA) had one RBI.
Starter Brodie Cooper-Vassalakis (Grand Canyon) allowed two runs in four innings but loaded the bases with no outs in the fifth, bringing on Kempner. Cooper-Vassalakis had one strikeout and five walks.
Abbott Haffar (UC Riverside) pitched a scoreless eighth, getting the third out on a diving catch by left fielder Nick Yovetich (San Francisco) after Ridgefield loaded the bases with an infield hit and two walks.
Closer Connor Knutson (Portland) shut the Raptors down in the ninth. It was not a save situation but Knutson still has not allowed a run in four innings over four appearances this summer.
The series resumes at 6:35 p.m. Saturday. Corban right-hander Jackson Arnsdorf (3-0, 0.61) is the projected starter for the Knights.
The Knights conclude their first-half schedule on Sunday with a 3:05 p.m. encounter with the Raptors. Dixie State lefty Tevita Gerber (3-1, 3.73) is the Corvallis probable starting pitcher.
Corvallis begins the second half at Port Angeles, as the Knights visit the Lefties July 8-10. Corvallis next home game is July 11 against the Hayesville Hammers.