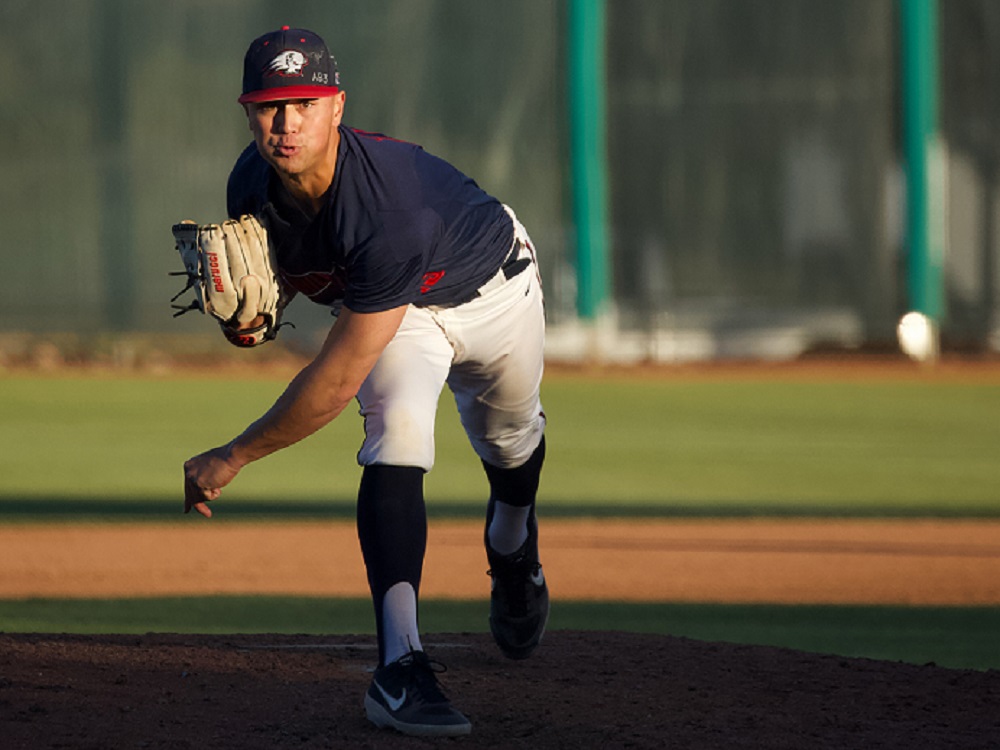 Gerber's Strong Outing Sparks Knights to Sweep of Cowlitz
Dixie State lefty Tevita Gerber (pictured, above) held Cowlitz to one run and three hits over 6.1 innings lead the Knights to a 6-1 victory over the Black Bears and a sweep of their West Coast League series.
Gerber spaced four hits, walked only one and struck out four in an efficient, effective outing, his longest of the summer. His previous best was 3.2 innings, in a 4-1 loss at Victoria on June 9 in his only other start.
"I felt command of (my breaking ball) a lot earlier than I did last appearance," said Gerber, who earned Washington Park Advisors Player of the Game honors for his sterling performance, accomplished before a Father's Day crowd of 1,306 at Goss Stadium.
"That was something that I struggled with in Victoria. I put in a lot of work this week, the coaches helped me out a lot and the teammates were there to pick me up."
Relievers Sean Fekete (Sacramento State) and Colton Meyer (Linfield) finished up. Fekete went 1.2 innings and Meyer finished Cowlitz off by striking out the side in the ninth.
The Knights (9-4, 5-4) improved their all-time record against Cowlitz to 40-12 with the sweep, their first of the summer in league play. They now have won 5 of their last 6 WCL games following an 0-3 start.
UCLA-bound shortstop Michael Curialle celebrated his 18th birthday with a two-run homer in the fourth and an RBI single in the eighth to complete the Knights' scoring. His homer cleared the left-field fence about three feet inside the foul pole.
Zach Moeller (Utah) and Trace Tammaro (Portland) had RBI singles in a three-run first inning, powering the Knights to a fast start. A third run scored on a passed ball and Corvallis was never headed.
Tammaro and Curialle had two hits each. Second baseman Jake Harvey (Oregon State), who became eligible to play on Saturday, doubled, scored and walked twice and new third baseman Matthew Gretler (OSU) had his first hit for the Knights.
Corvallis hosts Bellingham on Tuesday, Wednesday and Thursday, and closes its opening homestand against the Corvallis Gerding Builders American Legion team on Friday. All four games begin at 6:30 p.m.