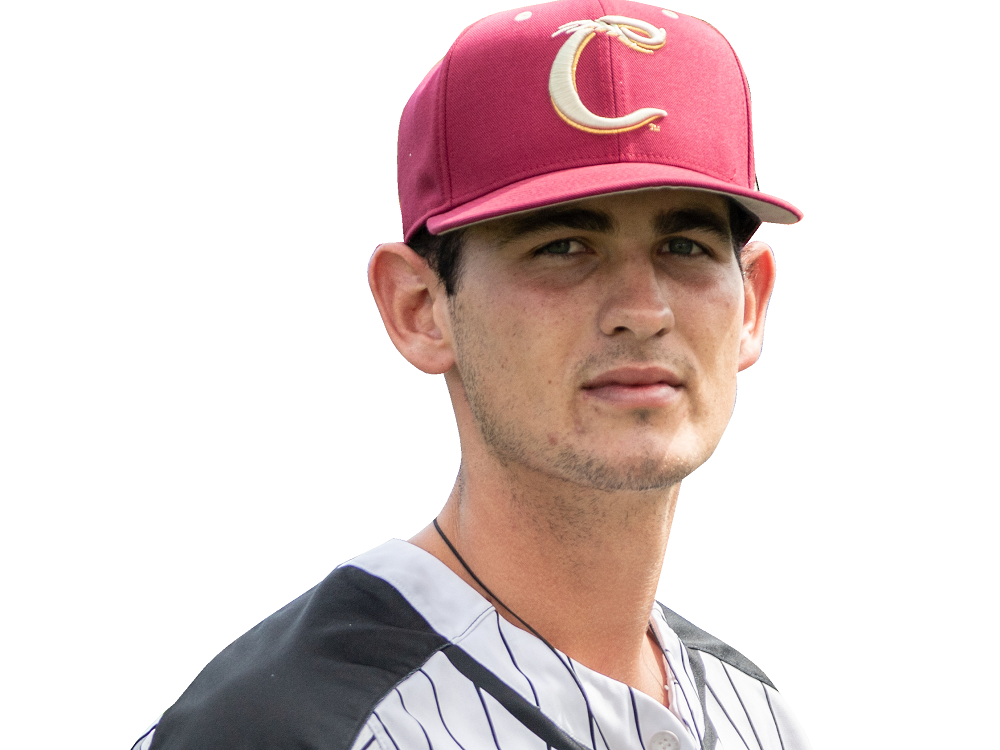 Gem by Watkins Extends Knights' Winning Streak to 12 Straight
Starter Chase Watkins (pictured, above) allowed just two hits over seven innings for the  Knights in a 3-0 victory over the Portland Pickles in a West Coast League game at Goss Stadium.
The rising sophomore left-hander from Cal Poly was perfect through four innings before allowing his first baserunner. He struck out nine and kept his ERA at 0.00 through 14 innings over three appearances this summer.
"I like my fastball and have a lot of trust in it so I threw that the majority of the time," said Watkins, a 6-foot-4, 205-pounder from Watsonville, Calif. "I didn't have my curveball early but got it later, and didn't throw one changeup.
"I like strikeouts. But I'm trying to be a little more efficient, which I feel I've done a good job with" since arriving in Corvallis. "In my school season I had a lot of strikeouts (35 in 36.1 innings) but wasn't efficient at all.
"Tonight I hit two, but walked none. You don't see that normally. I'm just competing and feel like I'm in a pretty good zone."
The Knights (22-6, 16-6 WCL) stretched their WCL winning streak to 10 games in a row. They are unbeaten in 12 games against all competition since their last loss, against Bellingham on June 20.
Corvallis remained tied with Walla Walla for first place in the first-half South Division pennant race. The Sweets defeated Cowlitz on Tuesday; both teams have five games remaining in the first half.
The first-half champion receives an automatic playoff berth and home-field advantage in the divisional round. Walla Walla owns the tiebreaker as they swept Corvallis early in the season at Borleske Stadium.
Corvallis broke a scoreless tie with two runs in the third inning on an error, an RBI double by shortstop Brooks Lee (Cal Poly) and an RBI single by catcher Zack Moeller (Utah). Center fielder Briley Knight (Utah) knocked in the third run with a fifth-inning single.
Watkins (2-0) allowed just one hit in six innings in his previous start, an 11-0 victory over Yakima Valley on June 24. He struck out seven in that game and and now has 16 in 14 innings.
Reliever Kevin West (UC Riverside) pitched a scoreless eighth, aided by a spectacular 4-6-3 DP started by Jake Harvey (Oregon State) and Moeller's backpick of a runner at second base.
Closer Connor Knutson (Portland) earned his second save with a scoreless ninth. He walked the leadoff better, then picked him off; a diving catch by Knight and a strikeout completed the Knights' third shutout in their last eight WCL games.
The series resumes at 7:15 p.m. Wednesday, concluding the homestand with the annual Oregon State Credit Union Fireworks Night game featuring the Famous SD Chicken.
Lefty Tim Josten of Cal State-Fullerton (2-1, 2.89) is the probable starter for Corvallis. Righty Joel Casillas of Santa Ana College (1-1, 3.27) will get the ball for Portland.
Tuesday's crowd of 1,370 raised the season total to 23,391 for 16 dates, a decrease of 850 from 2018 over a corresponding number of openings.