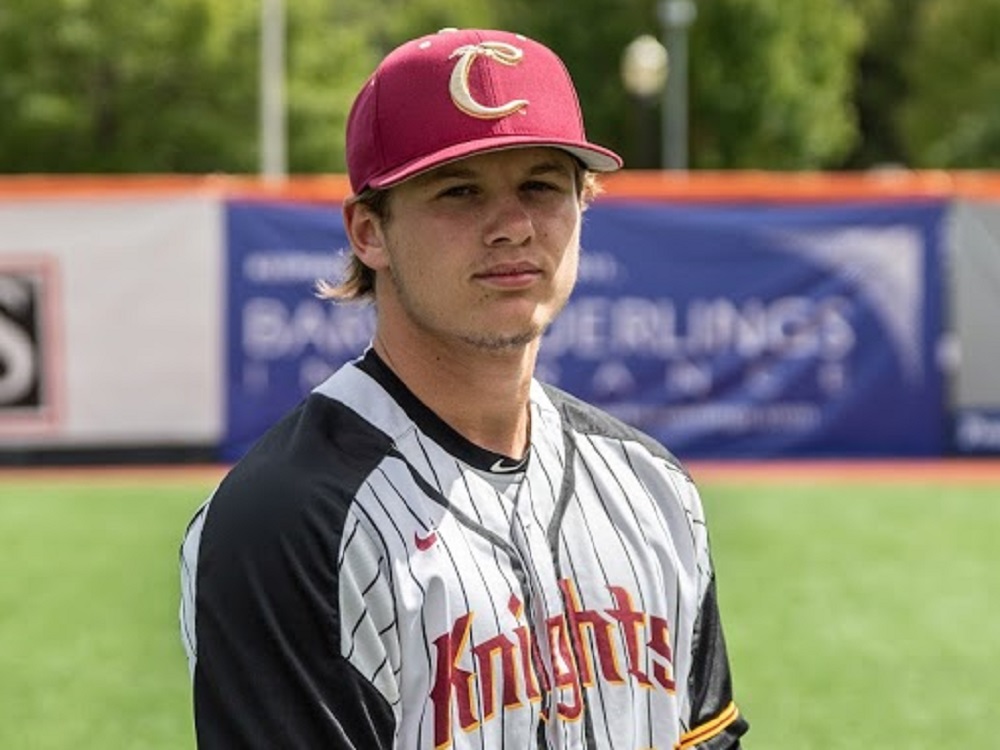 Curialle homers, has four hits in 12-4 victory over Hayesville
Future UCLA infielder Michael Curialle (pictured, above) had four hits and drove in two runs and the Knights remained unbeaten in nonconference play with an 12-4 victory over Hayesville at Goss Stadium.
Curialle blasted a 405-foot homer to left field to cap a three-run, third-inning rally that gave the Knights a 3-1 advantage. His RBI single finished off a five-run fourth inning; he singled and scored in the eighth and singled in the first.
"I was just sitting on some breaking pitches early in the game, I got them and put good swings on them," said Curialle, who has alternated between shortstop – which he played against the Hammers – and third base.
"The homer was a hanging curveball, and I put a good swing on it. I punched that ball pretty well and I knew it was going out right away."
Curialle earned Washington Park Advisors Player of the Game honors but he had plenty of offensive company to help the Knights (29-7, 22-7 WCL, 1-1 2nd half) remain undefeated in nonleague games.
Jake Holcroft (Portland) was 3-for-5 with two runs and an RBI; Jake Harvey (Oregon State) had two runs, two hits and two RBIs and Matthew Gretler (OSU) doubled, singled and had an RBI.
Michael Dixon (San Diego) doubled, singled, scored twice and drove in a pair and Tracye Tammaro (Portland) singled twice, scored and had an RBI.
The Knights had 18 hits. They broke the game open with the five-run fourth. Dixon doubled, Holcroft tripled, Harvey singled, Gretler doubled and Curialle singled to drive in runs with two outs in a five-run outburst that gave Corvallis an 8-1 lead.
Corvallis opens a three-game WCL series with Kelowna at 6:30 p.m. Friday in a rematch of the 2018 WCL Championship Series. OSU lefty Andrew Walling (0-1, 12.00) is the scheduled starter.
The series continues at 6:30 p.m. Saturday and concludes at 3 p.m. on Sunday. Grand Canyon righty Brodie Cooper-Vassalakis (3-0, 2.86) is Saturday's probable; Corban righty Jackson Arnsdorf (4-0, 1.83) goes on Sunday.
The Knights are idle on July 15-17. They host Chaffey Baseball of Seattle in a nonleague game on July 18 and then host Walla Walla in a WCL series on July 19-21, their final games before the All-Star break.
Corvallis clinched the first-half South Division title on July 6, earning an automatic playoff berth and home-field advantage in the best-of-3 divisional round, which begins on Aug. 13. The best-of-3 Championship Series begins on Aug. 17.
"We're not going to change anything," Curialle said of the team's approach to the second half. "We're gonna keep rolling and keep winning."
The Knights have qualified for the playoffs every season since the current divisional postseason format began in 2007. They have won six championships, the last three in a row.
Thursday's crowd of 1,531 raised the overall attendance to 28,242 for 18 home dates, an average 1,569 per night. We are 2,081 fans ahead of last year's pace through a corresponding number of openings.