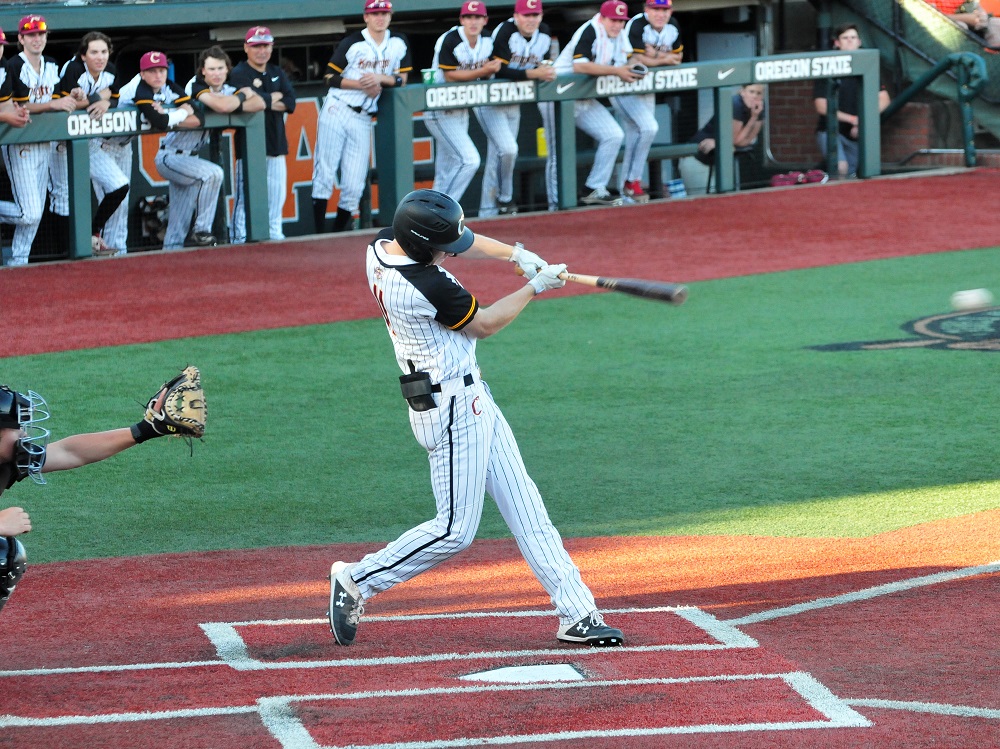 Corvallis Chops Up Walla Walla; Knights Dice Sweets 10-3
The Knights got the best of the Sweets for a second straight night, as the Knights won their 25th out of their last 26 games.
Before a Goss Stadium crowd of 1,587, Andy Atwood of Texas Rio Grande Valley (pictured) smashed his league-leading 6th triple, one of two hits for the senior-to-be utility man from Everett, Washington. Atwood scored three runs.
WCL hits leader Jake Holcroft of University of Portland collected four more hits to push his leading total to 55. He also scored twice to bump his league-leading runs scored figure to 40.
Slugger Briley Knight of Utah played a spectacular center field and doubled, tripled and drove in three more runs to increase his league-leading total to 33 RBIs.
Also shining on offense was WCL All-Star selection Michael Curialle, a future UCLA Bruin, who singled twice and knocked in two.
WCL All-Star southpaw pick Timothy Josten of Cal State Fullerton earned the win out of the bullpen, tossing 1.2 innings of scoreless ball. Josten is now 4-1 on the season, and entered today's game with a 2.93 ERA.
Newport High School grad Jacob Dobmeier, a future UC San Diego Triton, threw 2.1 innings of effective relief. And Corban right-hander Jackson Arnsdorf closed the game with a scoreless ninth.
Corvallis looks to avenge its opening WCL series sweep at the hands of the Sweets at Walla Walla with a sweep of its own on Sunday. Tomorrow afternoon, the Sweets and Knights play for the final time this regular season at 3 pm at Goss Stadium. WCL wins leader Tevita Gerber of Dixie State is the probable starting pitcher for Corvallis.
The Knights improve their overall record to 35-7 and 27-7 in WCL play (6-1 in the second half).