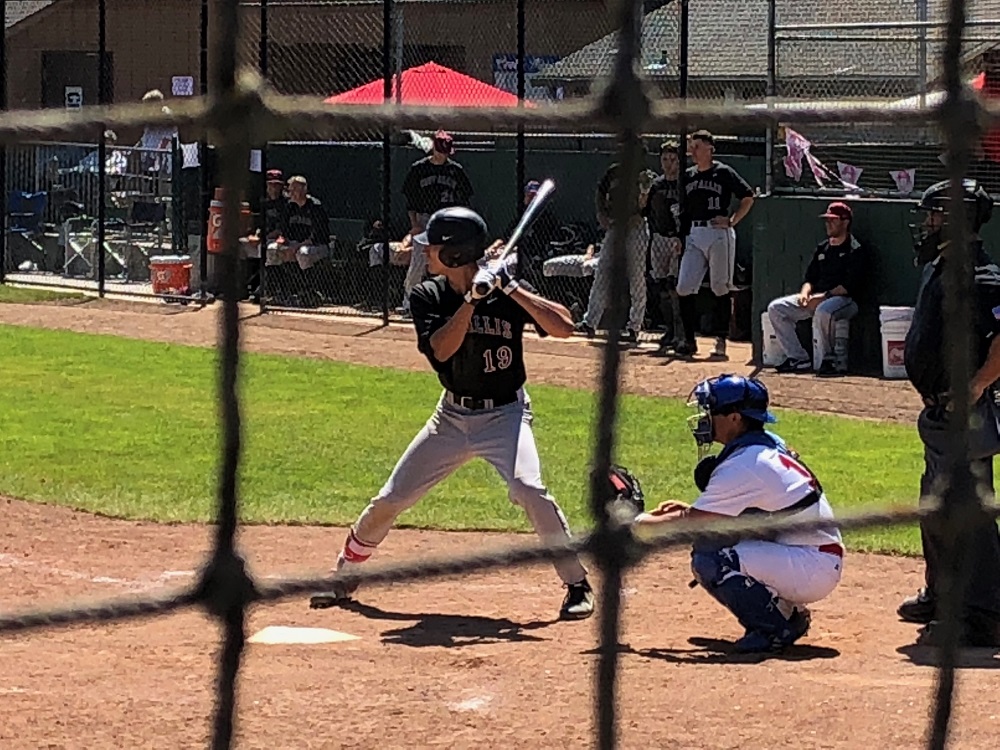 Corvallis Blanks Crabs 5-0 to Split Two-Game Set
The Corvallis Knights salvaged its series finale with the Humboldt Crabs by beating the Crustaceans 5-0 to split the two-game set in front a sun-bathed crowd of nearly 1,000.
Arizona's Cameron Haskell (pictured) starred as a hitter and pitcher, collecting a RBI single in the 5th and throwing a scoreless inning of relief in the 8th. And Haskell made a diving catch at first base to rob the Crabs of a hit to lead off the bottom of the 9th.
Starter Jacob Fricke of Western Oregon tossed 4 1/3 shutout innings while relievers Connor Knutson and Daniel Slominski both put up goose eggs twirling 1 2/3 and 1 innings of scoreless relief, respectively. And University of Portland right-hander Eli Morse closed the game with a hitless 9th.
Knutson earned the win.
The offense scored three in the top of the first to get things going early for the visiting Knights, with Chandler Anderson starting the game with a double and scoring on a single up-the-middle by Austin Feist of St. Martin's. The Knights would tally two more in the inning on RBI singles by Cole Hamilton of Linn-Benton CC and Corey Conklin of Eastern Kentucky.
Feist, Hamilton and Conklin all collected two hits while Anderson recorded three hits including a double and RBI triple.
The Knights, 1-2 in non-conference play, travel home tonight and start league play Wednesday, June 6 at the Kelowna Falcons.