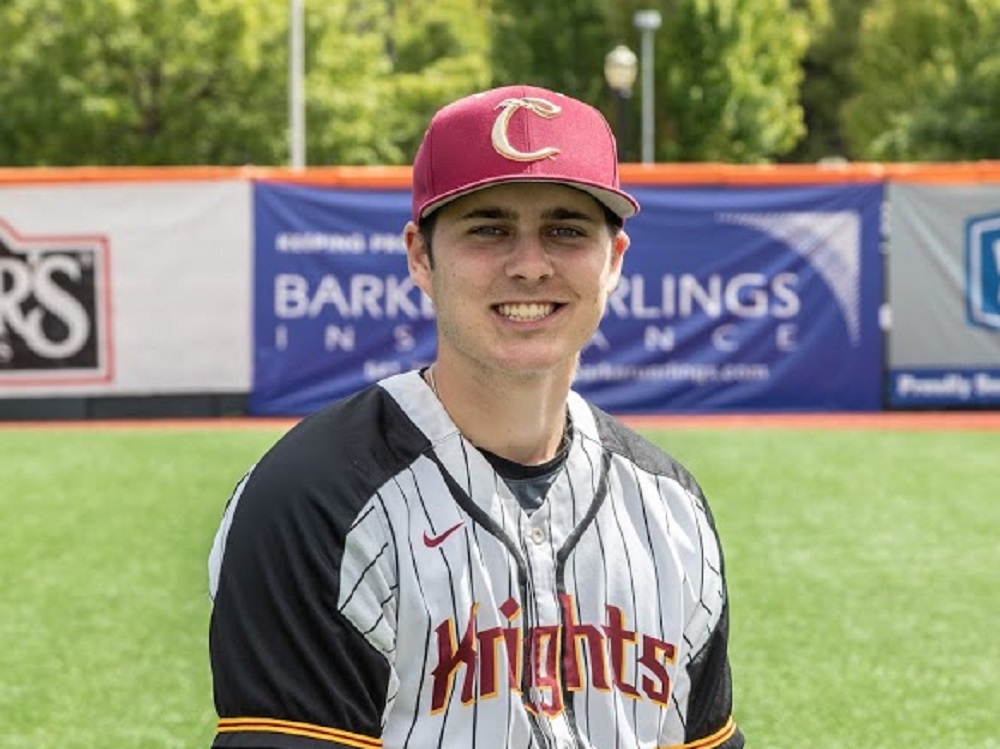 Brooks Hatch Blog: Sean Fekete Back With Knights in 2020
Happy Wednesday, everyone, from the world-wide headquarters (WWHQ) of the Corvallis Knights, your 2016, 2017, 2018 and 2019 West Coast League champions!
————–
Right-handed pitcher Sean Fekete (pictured, above) of Ohlone (jr.) College will return to the Knights for the 2020 season.
Ohlone teammate Zac Patterson, an outfielder/pitcher, will join Fekete in Corvallis. Former Knights' player/assistant coach Billy Clontz is an assistant at Ohlone, located in Fremont, Calif.
Fekete is a 6-foot-3, 215-pound redshirt freshman from Dubai, UAE. He played at the American School of Dubai. A transfer from Sacramento State, he was the first Middle East-based player from the World Baseball Showcase to earn an NCAA Division I scholarship.
Fekete was 3-0, 5.35 in 20.2 innings over 14 games with the Knights in 2019. He redshirted at Sacramento State and did not appear in a game.
He is the fifth returnee from the Knights' 2019 WCL championship team, joining pitchers Jackson Arnsdorf (Corban), Connor Redmond (MSU-Billings), Jacob Dobmeier (UC San Diego) and Eric Hill (LBCC).
Patterson is a 6-foot-3, 205-pounder from Granada High School in Livermore, Calif. He hit .381 with 14 homers, 14 doubles and 53 RBIs as a position player and was 1-1, 0.73 in 19 games as a pitcher, with four saves and 30 strikeouts in 24.2 innings in 2019 as an Ohlone freshman.
Welcome to the team, guys.
————–
We have also signed Washington first baseman Karl Koerper, a 6-foot-4, 240-pound redshirt sophomore from Centennial High School in Las Cruces, New Mexico. He played at Pima Community College in Tucson in 2019 and hit .260 in 50 games, with five homers and 37 RBIs.
Koerper hit .329 and was first-team all-district and all-state as a senior at Centennial. He signed with New Mexico out of high school but redshirted as a freshman in 2018 before transferring to Pima.
Two of his older brothers, Kris and Joseph, played at New Mexico State.
The Knights have also signed three players from Chemeketa Community College to 10-day contracts. They are freshman pitchers Ethan Krupp of Crescent Valley HS and Kaleb Kantola of Central HS, and sophomore outfielder Austin Gerding of Philomath HS.
Krupp and Kantola each earned first-team Mid-Willamette Conference and 5A all-state honors in 2019; Kantola was the MWC co-Pitcher of the Year. Both also played in the Oregon All-Star Series.
Gerding did not play in 2019 but hit .298 in 46 games with Chemeketa in 2018, with no homers and 21 RBIs. He played three games for the Knights in 2018 as a 10-day signee.
Welcome to the Knights, guys.
————–
We have hired former Corban University All-American Jacob Kopra as our new pitching coach for the 2020 season. A former pitcher in the Los Angeles Angels minor-league organization, Kopra has served as the Warriors' assistant pitching coach for the past three seasons.
He succeeds Kellen Camus, who left coaching after spending the past three seasons with the Knights and Central Washington University. For more details, please click here.
————–
Our 2020 schedule has now been finalized. We will open the season against the Portland Sea Dogs on June 2 on Weyerhaeuser Science, Engineering and Art Day. For the complete home schedule, please click here. For the complete schedule, please click here.
The Knights set a franchise record for total attendance in 2019 by drawing 59,357 fans to Goss Stadium in 36 regular-season and playoff games. We averaged 1,721 fans per regular-season game, and 1,071 fans for the four playoff games. Thanks to the best fans in the West Coast League.
————–
Some news from elsewhere in the West Coast League:
The Yakima Valley Pippins have signed infielder Xander Orejudos of Ellensburg, pitcher Reagan Haas of Riverside Christian and pitcher Cort Dietrich of Selah for the 2020 season. Please click here for more details, from Our Sports Central.
————–
That's all for today. See you soon!