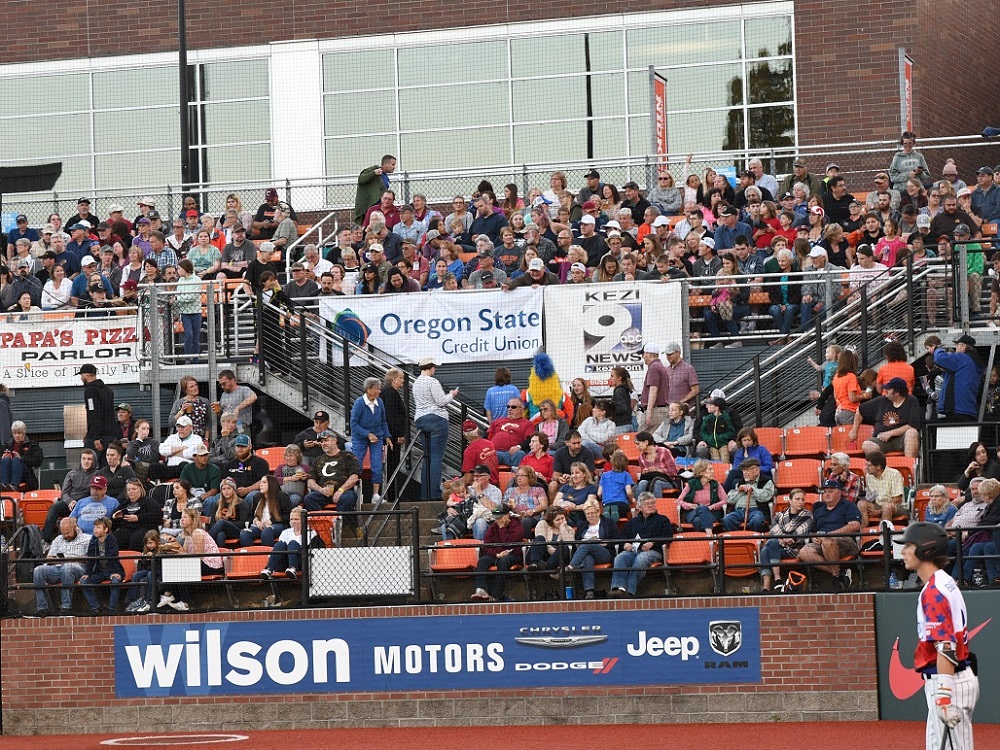 Corvallis Knights Unveil 2020 Home Schedule
The Corvallis Knights are pleased to release the hometown team's 2020 Goss Stadium schedule, as announced by team president/gm Bre Miller.
OSU's Goss Stadium at Coleman Field will host 32 home games this summer, as the four-time defending WCL champion Knights welcome nine West Coast League opponents for a total of 27 league dates and 4 non-league opponents for a total of 5 out-of-conference games.
The Knights home schedule opens with its 9th annual Weyerhaeuser Science, Engineering & Art Day presented by the OSU Colleges of Science and Engineering on Tuesday, June 2. Corvallis will once again welcome elementary schools from the area and treat them to a wood-bat baseball game vs. the Portland Sea Dogs as well as interactive exhibits positioned outside and inside Goss Stadium.
Following a soft home opening night on Thursday, June 11 vs. the new Portland Gherkins (a Portland Pickles affiliate), the Knights WCL home opener is set for Friday, June 12 vs. longtime rival the Bend Elks. The 2020 Elks are managed by former Knight & Beaver Kyle Nobach.
Corvallis will host three pyrotechnic displays, one on Saturday, June 21; another on the team's annual Oregon State Credit Union July 3rd Fireworks Night; and a finale on Saturday, August 1.
On Thursday, June 25, the 2019 Summer Collegiate Team of the Year will host the always tough Corvallis American Legion team – the Gerding Marketmen.
To check out the complete West Coast League schedule, click here.
The Knights 2020 home schedule features the following dates/teams:
June 2 vs. Portland Sea Dogs – WEYERHAEUSER SCIENCE, ENGINEERING & ART DAY, 10 am start
June 11 vs. Portland Gherkins
June 12-14 vs. Bend Elks
June 19-21 vs. Ridgefield Raptors
June 22-24 vs. Portland Pickles
June 25 vs. Gerding Marketmen
June 26 vs. Portland Gherkins
July 3-5 vs. Victoria HarbourCats
July 10-12 vs. Port Angeles Lefties
July 14-16 vs. Walla Walla Sweets
July 21-23 vs. Yakima Valley Pippins
July 31-Aug 2 vs. Kelowna Falcons
Aug 3 vs. NW Star Academy
Aug 4-6 vs. Cowlitz Black Bears