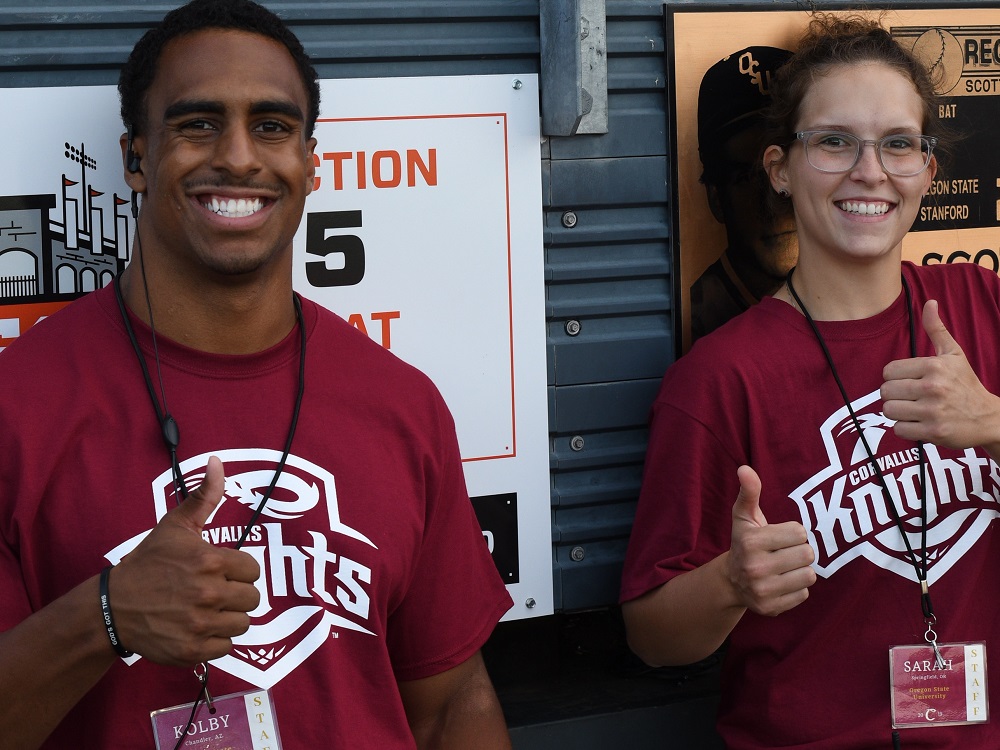 OSU Football Wide Receiver Kolby Taylor Shined as Intern with Knights
Kolby Taylor (pictured with 2019 Staffer of the Year Sarah Hoechlin) knew how athletics events worked from the player's perspective.
However, his 2019 internship with the Corvallis Knights gave the Oregon State football standout a behind-the-scenes look at everything that must be done before the first pitch is thrown.
"My favorite part was doing a little bit of everything," said Taylor, a redshirt sophomore marketing major from Chandler High School in Chandler, Ariz. "I enjoyed seeing all the work that gets done behind the scenes.
"I've always been an athlete, the one playing," he added. "So I never understood what goes into putting the game on. I really gained an appreciation of all the work it takes to run an organization and a sports team like the Knights.
"There's a lot of work that goes into it, a lot of moving parts" he wasn't previously aware of. "There's a lot of work that goes unnoticed."
Taylor had several other internship opportunities besides the Knights. However, they did not give him the flexibility to train and take classes at the same time, two prerequisites for a Pacific-12 Conference football player.
Taylor said he worked out every morning at 6 a.m., took a class from 11 a.m. until 1:30 p.m., and then headed to the office or Goss Stadium, depending on if the Knights were playing at home or on the road.
He had no specific, cut-and-dried responsibilities.
"I was an all-around intern," Taylor said. "I got to do a little bit of everything: promotional work for the games, helping out with on-field activities, selling merchandize, helping in the box office and ticketing.
"I even worked in the office running the front desk, answering phones and selling tickets to customers. My favorite part was getting to do everything.
"A lot of the other interns were focused in one area, either promotions, merchandising" etc., Taylor added. "I liked the aspect of doing a little bit of everything, I didn't know what I was going to be doing" every night.
"It helped me learn how to adapt. There were always different things coming up to adapt to.
"I liked that part of it. It wasn't always the same thing every night. You had to adapt fast," and quickly find a way to get the job done.
Taylor did not play baseball as a youth or in high school. But he interacted with the Knights athlete-to-athlete and learned how their sport differed from what he was used to as a football player.
"I was impressed on how they handled the schedule, playing three or four home games then going on the road, playing seven days a week," he said. "I got a break on away games, but they didn't.
"So I was impressed with all the travel they had and how they kept playing, kept playing" without a break. "The grind they went through was definitely impressive."
Taylor played sparingly as a redshirt freshman in 2018 but he has emerged as a solid No. 2 target behind star receiver Isaiah Hodgins for the 2019 Beavers. He has started four games, played in seven, and has 20 catches for 205 yards a touchdown.
That production has helped the surprising Beavers win three of their last five games. They are 4-5 overall and 3-3 in the Pacific-12 Conference heading into Saturday's home game with Arizona State at Reser Stadium.
"We had a lot more confidence going this season," their second under coach Jonathan Smith, he said. "Everyone is owning his role; we're working as a unit and everyone is doing their one job.
"Once you get that going and get some momentum, things can change. Everybody is working hard. It takes times for everything to start clicking, and now it's starting to show."