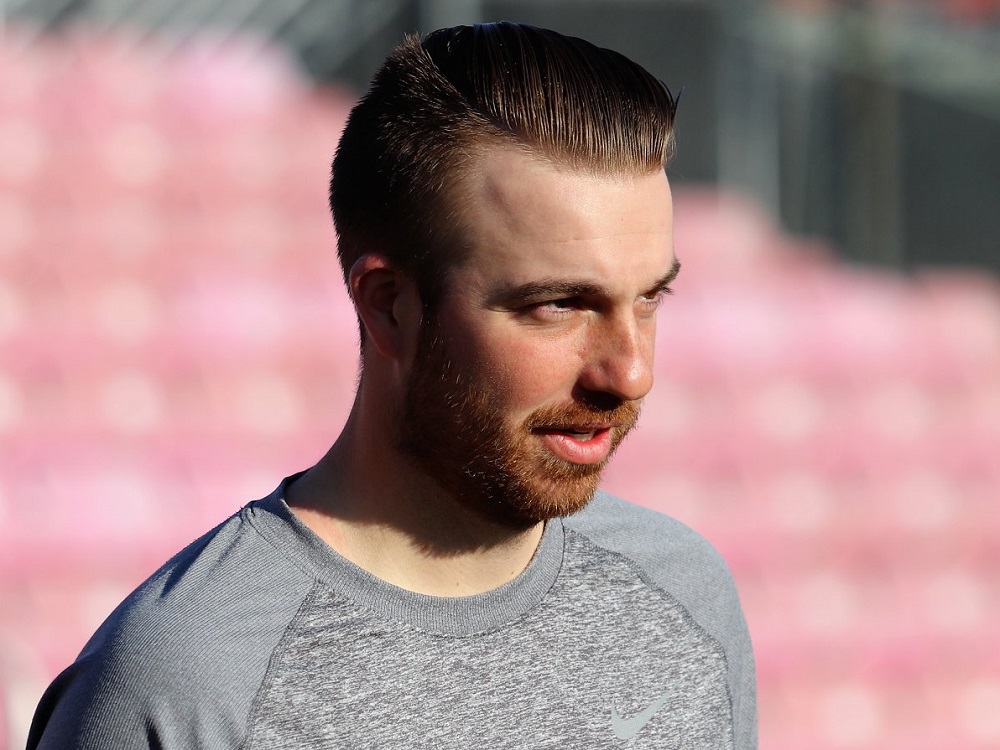 Knights Name Jacob Kopra of Corban New Pitching Coach
The Corvallis Knights have named former Corban University All-American Jacob Kopra as their new pitching coach for the 2020 season, head coach Brooke Knight announced.
A former pitcher in the Los Angeles Angels minor-league organization, Kopra has served as the Warriors' assistant pitching coach for the past three seasons. He succeeds Kellen Camus, who left coaching after spending the past three seasons with the Knights and Central Washington University.
"I am extremely excited to be hired by the Corvallis Knights," Kopra said. "It's humbling to be offered an opportunity to be a part of one of the best collegiate summer teams in the country.
"I'm grateful to [Knights CEO] Dan Segel and coach Knight, along with [assistant coach] coach Ed Knaggs, for giving me this opportunity. I've heard great things about [assistant] Youngjin Yoon, and I can't wait to work with him.
"I'm really looking forward to working with all of the coaches, staff, and players and learning as much as possible."
This will be his first position in the West Coast League. He has previously coached in the Oregon Collegiate Baseball League.
Kopra is a Gresham native and starred at Barlow High School before enrolling at Corban, where he was a teammate of former Knights' standout Marc Gallegos. A four-year letterman, Kopra earned NAIA second-team All-American and Cascade Conference Pitcher of the Year honors as a senior in 2014.
He then signed with the Angels as a free agent and pitched in the Arizona Rookie League, the Pioneer League, the Midwest League and the California League in 2014 and 2015 before being released in March, 2016.
Kopra is Corban's all-time leader in season ERA (1.33), wins (10) and shutouts (3), and the career leader in wins (21), innings (309.1) and shutouts (6). He ranks second all-time in games started (48), fourth in ERA (3.02) and seventh in strikeouts (174).
He was the first baseball All-American in school history.
Kopra said he will emphasize the "mental aspect" of pitching.
"The first step to success when you're on the mound is believing in yourself and your stuff," he said. "We spend a lot of time developing mental strategies and approaches to help our pitchers feel successful before they step on the mound.
"On the physical side, I'm a big fan of fastball command. Everything else will play off your ability to successfully locate your fastball whenever and wherever you want to."
He will also emphasize strength and conditioning, which is part of his job at Corban.
"Two key things I focus on are core and yoga," he said. "Core strength and flexibility are key components to explosiveness, durability, and longevity.
"I'm excited to use my experience with strength and conditioning to help each individual guy become a better pitcher."
One of Kopra's players at Corban, Jackson Arnsdorf, will return in 2020 for his second season with the Knights. Otherwise, he won't be familiar with the rest of his staff.
"I'm really excited to work with such a variety of players from different schools," he said. "I'm eager to learn what they do at their school, how their program is run, what their coaches' philosophies are, etc.
"I'm looking forward to learning from the players, and what has made them successful thus far. My experience in the game as a player and a coach has taught me to be a sponge and learn as much as possible.
"I enjoy interacting with different people from different places and learning about them as both people and players. My goal is to help players grow and develop as young men and as baseball players, but I'm also going into this as a learner."
Kopra and his wife, Caitlyn, live in Gresham. He graduated from Corban in 2013 with a history degree and earned his MA in education from Corban in 2017. He teaches history at Columbia Christian High School in Portland during the school year.