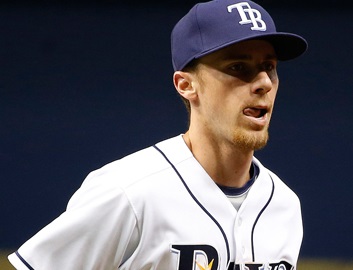 Brooks Hatch Blog: Tampa Bay Rays Release Alum Matt Duffy
Happy Wednesday, everyone, from the world-wide headquarters (WWHQ) of the Corvallis Knights, your 2016, 2017, 2018 and 2019 West Coast League champions!
————–
The Tampa Bay Rays have released third baseman Matt Duffy (pictured, above), one of three 2010 Knights alums to play in the majors last season.
The Long Beach State product returned from leg injuries to hit .252 in 46 games, with a homer and 12 RBIs, in his third season in Tampa. Matt is a .282 lifetime hitter in 452 MLB games, with 22 homers and 169 RBIs, so he shouldn't have much problem finding a new team for 2020.
He was selected in the 18th round of the 2012 draft by San Francisco, and then traded to Tampa Bay midway through the 2017 season.
Duffy, Detroit pitcher Matt Boyd and Seattle outfielder Mitch Haniger were teammates on the 2010 Knights, who lost to Bend in the divisional round of the playoffs.
Duffy, Haniger and Boyd were three of 12 Knights alums to appear in an MLB game in 2019. The other were New York Mets' pitcher Stephen Nogosek (2013); Arizona pitcher Jimmie Sherfy; Los Angeles Dodgers catcher Rocky Gale; Chicago White Sox pitcher Josh Osich; Colorado pitchers Tyler Anderson (2009) and DJ Johnson (2008-09); Chicago White Sox pitcher Jace Fry (2011); Toronto pitcher Sam Gaviglio (2009), and Arizona pitcher Matt Andriese (2009).
————–
We have signed future University of Washington pitcher Dylan MacLean and UC Riverside freshman pitcher Zach Jacobs for the 2020 season.
MacLean is a 6-foot-3, 175-pound left-hander who is a senior at Central Catholic High School in Portland. He was 10-1, 0.51 in 16 games as a junior, with two saves, 128 strikeouts, 16 walks and only 39 hits allowed in 78 innings.
He was named the Prep Baseball Report Oregon Player of the Year and also earned first-team Mt. Hood Conference and first-team 6A all-state honors.
Jacobs is a 6-1, 155-pound right-hander who played at San Dimas HS in Pomona, Calif. He was 10-2, 1.62 in 15 games as a senior in 2019, with a non-hitter, three shutouts, nine complete games and 78 strikeouts in 82.1 innings.
A four-year letterman, Jacobs was 35-8, 1.88 in 58 career games, with three saves, eight shutouts and 220 strikeouts in 289.2 innings.
"He has a hard, heavy run on his pitches that really explodes those last few feet," UCR coach Troy Percival said.
Jacobs pitched for the WCL's Kelowna Falcons in 2019 following his senior season in high school and was 1-2, 7.87 in 10 games, with 19 strikeouts in 24 innings.
Welcome to the Knights, guys.
————–
Alum Zak Taylor (2016-8) has signed with the Lincoln Saltdogs of the independent American Association. A catcher/infielder, Zak played with the Frontier League's now-defunct Gateway Grizzlies in 2019 and hit .246 in 59 games, with a homer and 19 RBIs.
Zak won three West Coast League titles with the Knights and an NCAA championship with the Beavers.
————–
Our 2020 schedule has now been finalized. We will open the season against the Portland Sea Dogs on June 2 on Weyerhaeuser Science, Engineering and Art Day. Our WCL opener is June 5 at Yakima Valley; our WCL home opener is June 12 vs. Bend.
For the complete home schedule, please click here. For the complete WCL schedule, please click here.
The Knights set a franchise record for total attendance in 2019 by drawing 59,357 fans to Goss Stadium in 36 regular-season and playoff games. We averaged 1,721 fans per regular-season game, and 1,071 fans for the four playoff games. Thanks to the best fans in the West Coast League.
————–
Some news from elsewhere in the West Coast League:
The Yakima Valley Pippins have signed infielder Xander Orejudos of Ellensburg, pitcher Reagan Haas of Riverside Christian and pitcher Cort Dietrich of Selah for the 2020 season. Please click here for more details, from Our Sports Central.
————–
 That's all for today. See you soon!