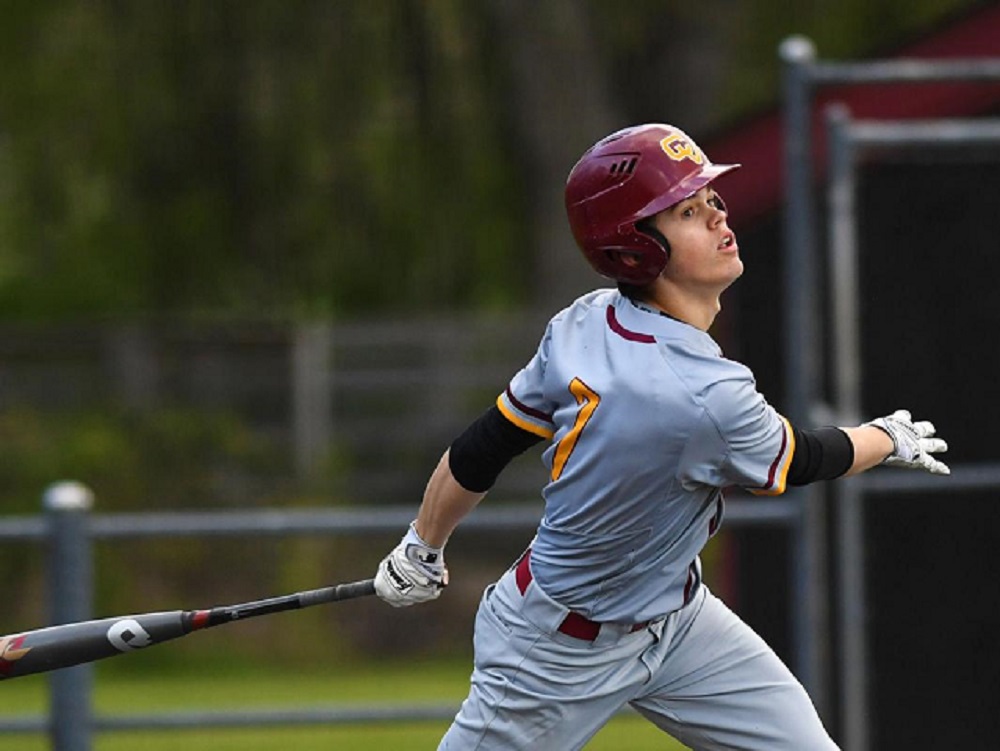 Brooks Hatch Blog: Crescent Valley catcher Ben Leid signs 10-day Deal
Happy Wednesday, everyone, from the world-wide headquarters (WWHQ) of the Corvallis Knights, your 2016, 2017, 2018 and 2019 West Coast League champions!
————–
We have signed Crescent Valley graduate Ben Leid (pictured, above) and George Fox University shortstop Brandon King to 10-day contracts for the 2020 season.
Leid is a 6-foot-2, 185-pound catcher/outfielder who is a freshman at Wenatchee Valley College. He was a two-time Class 5A all-state and a two-time Mid-Willamette Conference all-star with the Raiders.
He also played for the South team in the 2019 Oregon All-Star Series.
King is a 6-2, 175-pounders from Archbishop Murphy High School in Arlington, Wash. He was a first-team Class 2A Wesco League all-star as a senior and junior and s second-team selection as a sophomore.
Players are signed to 10-day contracts to add depth early in the season before many of the full-time players arrive. They have a chance to stick with the team for the entire season.
Welcome to the Knights, guys.
————–
We have also signed two University of Utah freshman who were selected in the 2019 Major-League Baseball draft, catcher Brock Rudy and shortstop Kayler Yates. Rudy was selected by Houston in the 39th round, Yates by the Los Angeles Dodgers in the 31st round.
Rudy is a 6-foot-2, 202-pounder from Northgate High School in Walnut Creek, Calif.  A four-year letterman, he was first-team all-league as a junior and senior.
He hit .292 in 24 games in 2019, with six RBIs. A career .283 hitter at Northgate, he had a homer, 36 RBIs and was 15-for-16 in steals in 91 lifetime games.
Yates is a 6-1, 155-pounder from Dixie High School in St. George, Utah. Another four-year letterman, he hit .489 in 30 games as a senior, with 11 doubles, four triples, nine homers, 38 RBIs and 19 stolen bases. Dixie took second in the state.
Yates hit .437 his junior season and had a walk-off hit to win the 2018 state championship. He was also a big part of the team that won the 2017 state title.
Welcome to the Knights.
————–
Our 2020 schedule has now been finalized. We will open the season against the Portland Sea Dogs on June 2 on Weyerhaeuser Science, Engineering and Art Day. For the complete home schedule, please click here. For the complete Knights and WCL schedule, please click here.
The Knights set a franchise record for total attendance in 2019 by drawing 59,357 fans to Goss Stadium in 36 regular-season and playoff games.
We averaged 1,721 fans per regular-season game, and 1,071 fans for the four playoff games. Thanks to the best fans in the West Coast League.
————–
Some news from elsewhere in the West Coast League:
Wenatchee has hired 2015 alum Nick Brooks as an assistant coach for the 2020 season. Brooks graduated from Gonzaga in 2018 and played for the AppleSox in 2014. He currently is an assistant coach for Spokane Falls Community College, specifically working with catchers and hitters. Please click here for more details, from Our Sports Central.
Right-handers Adam McKillican (2017) and Dakota Hawkins (2019) both recently team Pitcher-of-the-Year award-winners, will return to the Victoria HarbourCats in 2020. Please click here for more details, from Our Sports Central.
————–
 That's all for today. Have a great Thanksgiving holiday weekend! See you soon!