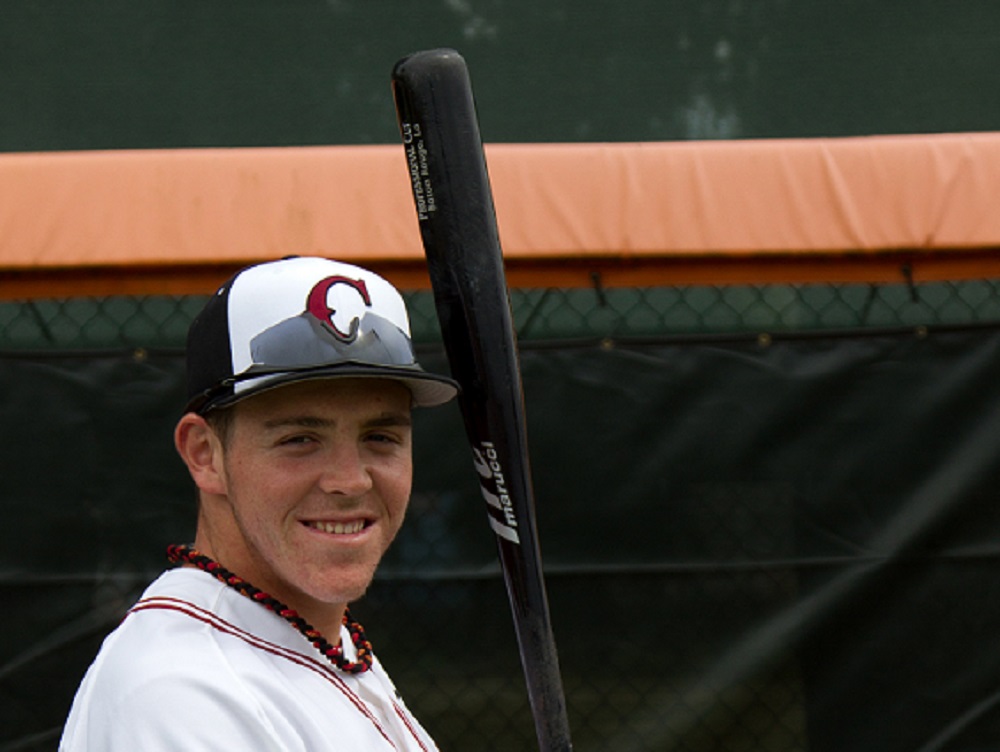 Brooks Hatch Blog: Angels Release 2012 MVP Greg Mahle
Happy Wednesday, everyone, from the world-wide headquarters (WWHQ) of the Corvallis Knights, your 2016, 2017, 2018 and 2019 West Coast League champions!
————–
The Los Angeles Angels have released left-handed pitcher Greg Mahle (pictured with the Knights in 2012), a UC Santa Barbara product who was our 2012 MVP. He made it to the majors in 2016 and was 1-0, 5.40 in 24 mid-season appearances.
Greg was selected in the 15th round of the 2014 draft and spent most of the last six seasons in their minor-league organization. He was 25-22, 4.46 lifetime in 218 career games and had pitched in triple-A Salt Lake or double-A Mobile since 2015.
St. Louis released infielder Cole Kreuter (2015-16) after two seasons in their organization. Drafted in the 36th round in 2018 out of UC Irvine, Cole hit .168 in 59 games in single-A, with a homer and 21 RBIs.
————–
We have signed Gonzaga pitcher/infielder Gabriel Hughes for the 2020 season. He is a 6-foot-4, 210-pound right-hander from Rocky Mountain High School in Eagle, Idaho. He was 7-1, 0.91 as a senior, with 65 strikeouts in 53.2 innings pitched; he also hit .365, with seven homers and 39 RBIs.
He was named the 5A Southern Idaho Conference co-Player of the Year, and the Gatorade Idaho Baseball Player of the Year for the second time in a row. He also was named the Idaho Press' Sports Stars Baseball Athlete of the Year.
Hughes was also first-team all-Southern Idaho Conference and SIC Player of the Year in 2018, when he went 7-1, 1.84 as a pitcher and hit .461, with four homers and 31 RBIs as a position player.
A three-year letterman, he was 20-2, 1.19 with 186 strikeouts in 84 career games for Rocky Mountain. He also hit .400, with 12 homers and 81 RBIs and his team went 66-18.
Hughes pitched for the Bellingham Bells in 2019 following his senior season in high school and was 1-1, 7.33 in 13 games, with 23 strikeouts in 27 innings.
His grandfather, Donald Hughes, played first base in the Detroit Tigers' minor-league system from 1960-62.
Welcome to the Knights, Gabriel.
————–
Minor-league alums Andrew Susac (2009), Chase Johnson (2011) and Rocky Gale (2007, 2009) became free agents five days after the end of the World Series. They are now eligible to sign with any team.
An Oregon State product, Susac spent 2019 with Omaha, Kansas City's franchise in the triple-A Pacific Coast League. He is a catcher.
A right-handed pitcher from Cal Poly, Johnson played most of 2019 with Sacramento, Sacramento's PCL affiliate. He also played with Richmond in the double-A Eastern League.
And Gale, a catcher from Portland, finished the season at Durham, Tampa Bay's affiliate in the triple-A International League. He started the season with Oklahoma, the Dodgers' affiliate in the PCL.
————–
Our 2020 schedule has now been finalized. We will open the season against the Portland Sea Dogs on June 2 on Weyerhaeuser Science, Engineering and Art Day.
For the complete home schedule, please click here. For the complete schedule, please click here.
The Knights set a franchise record for total attendance in 2019 by drawing 59,357 fans to Goss Stadium in 36 regular-season and playoff games.
We averaged 1,721 fans per regular-season game, and 1,071 fans for the four playoff games. Thanks to the best fans in the West Coast League.
————–
Some news from elsewhere in the West Coast League:
The 2020 WCL All-Star Game will be played in Wenatchee on July 20. Please click here for full details, from the WCL website.
————–
That's all for today. See you soon!