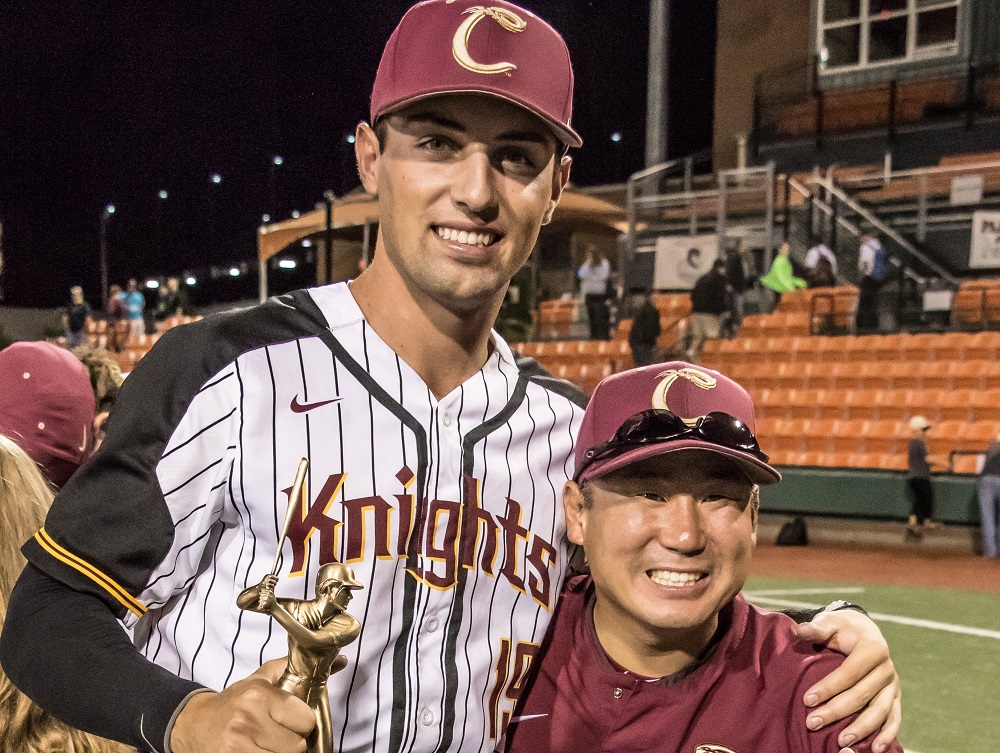 Brooks Hatch Blog: 2017 MVP Jordan Qsar to Play in Perth
Happy Wednesday, everyone, from the world-wide headquarters (WWHQ) of the Corvallis Knights, your 2016, 2017, 2018 and 2019 West Coast League champions!
————–
Former Pepperdine star Jordan Qsar (pictured above, with assistant coach Young Jin Yoon), our 2017 MVP, is one of seven Tampa Bay farmhands assigned to coach Brooke Knight and the Perth Heat for the 2020 Australian Baseball League season.
Selected by the Rays in the 25th round of the 2018 MLB draft, Jordan has played for three teams in two seasons with the organization. He spent the 2019 season with Bowling Green in the Class A Midwest League and hit .208 in 60 games, with nine homers and 28 RBIs.
Jordan had a monster season for us in 2017, hitting an even .300 in 56 total games, with a franchise-record 14 homers and 53 RBIs. He was a first-team WCL all-star.
————–
The Southern Illinois Miners of the independent Frontier League have traded alum Andy Cosgrove (2014) to the Windy City ThunderBolts.
Andy hit .256 (50-193) in 57 games for Southern Illinois in 2019, with no homers and 21 RBIs. He started his college career at Washington, transferred to a JC, then played at North Carolina State.
He was selected by Minnesota in the 17th round of the 2017 MLB draft and played two seasons in their farm system before being released.
————–
Linn-Benton Community College sophomore right-handed pitcher Eric Hill will return to the Knights for the 2020 season. He is a 6-foot-3, 210-pounder from West Linn, Ore., who played at Wilsonville High School.
Originally a 10-day signee in 2019, he made the club on a full-time basis and was 2-0, 2.95 in eight regular-season appearances, with 14 strikeouts in 24.1 innings.
He was 4-4, 4.15 in 10 games at LBCC in 2019, with 32 strikeouts in 52 innings. He was a first-team Southern Division all-star.
Hill was an honorable-mention Northwest Oregon Conference all-star in 2018 as a Wilsonville High senior, when he was 1-0 with a 3.62 ERA in five games, with nine strikeouts in 9.2 innings.
Welcome back, Eric.
————–
Our 2020 schedule has now been finalized. We will open the season against the Portland Sea Dogs on June 2 on Weyerhaeuser Science, Engineering and Art Day. Our WCL opener is June 5 at Yakima Valley; our home WCL opener is June 12 vs. Bend.
For the complete home schedule, please click here. For the complete Knights/WCL schedule, please click here.
The Knights set a franchise record for total attendance in 2019 by drawing 59,357 fans to Goss Stadium in 36 regular-season and playoff games.
We averaged 1,721 fans per regular-season game, and 1,071 fans for the four playoff games. Thanks to the best fans in the West Coast League.
————–
Some news from elsewhere in the West Coast League:
The Victoria HarbourCats have signed five more players for 2020. Please click here for full details, from Our Sports Central.
Cody Miller, a three-year member of the Walla Walla Sweets front office, has been named general manager. Please click here for full details, from Our Sports Central.
Several  West Coast League alums could have the opportunity to capture Olympic gold in 2020. Spencer Howard, Wyatt Mills and Andrew Vaughn were selected to USA Baseball's roster for the World Baseball Softball Confederation (WBSC) Premier12. Brandon Marklund and Will McAffer were chosen to play for Team Canada. Please click here for more info, from the WCL website.
————–
That's all for today. See you soon!