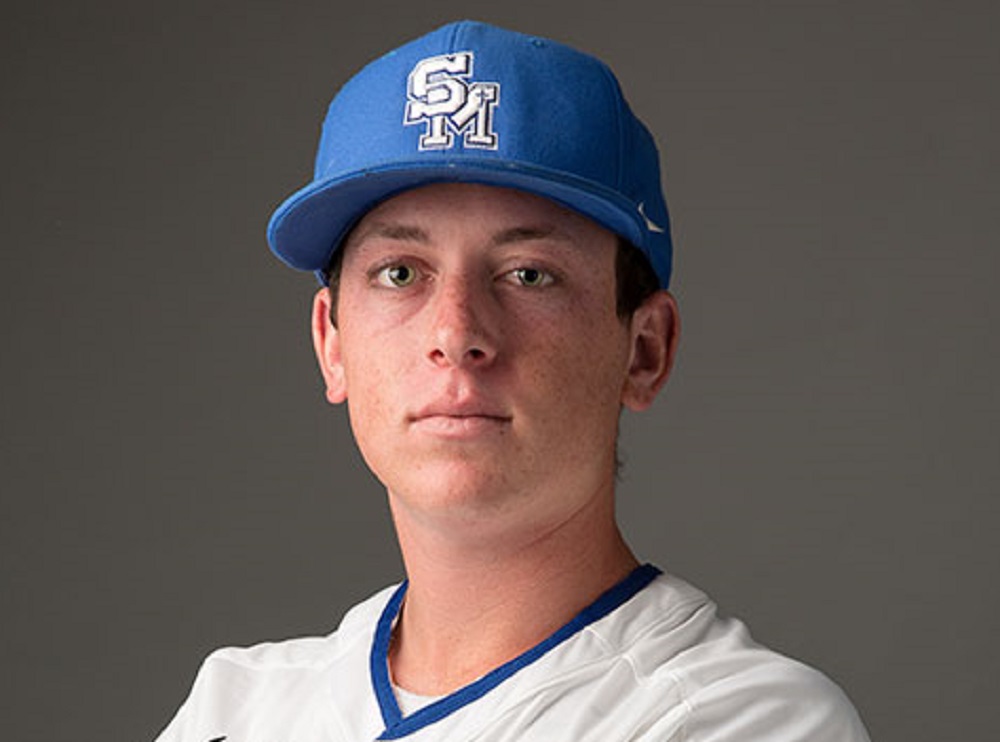 Brooks Hatch Blog: Knights Sign UCSB Pitcher Alex Schrier
Happy Wednesday, everyone, from the world-wide headquarters (WWHQ) of the Corvallis Knights, your 2016, 2017, 2018 and 2019 West Coast League champions!
————–
We have signed UC Santa Barbara pitcher Alex Schrier (pictured, above) for the 2020 season. He is a 6-foot, 185-pound freshman right-hander from Santa Margarita High School in San Clemente, Calif.
He was a first-team Trinity League all-star in 2019 after going 2-3, 1.81 in six starts, with 23 strikeouts in 27 innings. He also lettered as a sophomore but did not play as a junior.
Schrier also played for the NCTB Bald Eagles club team.
Welcome to the Knights, Alex!
————–
The Knights have also signed pitcher Michael Knorr of Cal State-Fullerton.  He is a 6-foot-6, 215-pound sophomore right-hander from Carlsbad High School in Carlsbad, Calif.
He was 4-4, 5.90 in 14 appearances for the Titans in 2019, with 34 strikeouts in 61 innings. He had 11 starts.
Knorr was Carlsbad's Pitcher of the Year in each of his three varsity seasons. He was a first-team Avocado West League all-star as a junior and senior.
Welcome to the Knights, Michael!
————–
Alum Josh Osich (2008), a left-handed pitcher from Oregon State, is now with the Boston Red Sox. They claimed him on waivers from the Chicago White Sox on Halloween.
Josh was 4-0, 4.88 with the ChiSox in 2019, with a sparkling 1.14 WHIP and 61 strikeouts in 67.2 innings. He has also played with the Giants and Orioles and is 10-5, 4.88 in 217 lifetime games, with 166 strikeouts in 188 innings.
————–
Left-handed pitcher Tyler Anderson (2009) was claimed by the San Francisco Giants on Oct. 30 after being placed on waivers by Colorado. He was their first-round selection in the 2011 draft and was the first Knight to go in the opening round.
Anderson was 0-3, 11.76 for Colorado in an injury-plagued 2019 season. Overall he was 18-24, 4.69 in 73 career games for the Rockies, with 367 strikeouts in 397 innings. He made his MLB debut in 2016.
————–
Our 2020 schedule has now been finalized. We will open the season against the Portland Sea Dogs on June 2 on Weyerhaeuser Science, Engineering and Art Day.
For the complete home schedule, please click here. For the complete schedule, please click here. For the complete home schedule, please click here. For the complete schedule, please click here.
The Knights set a franchise record for total attendance in 2019 by drawing 59,357 fans to Goss Stadium in 36 regular-season and playoff games.
We averaged 1,721 fans per regular-season game, and 1,071 fans for the four playoff games. Thanks to the best fans in the West Coast League.
————–
Some news from elsewhere in the West Coast League:
The Victoria HarbourCats have signed five more players for 2020. Please click here for full details, from Our Sports Central.
————–
That's all for today. See you soon!