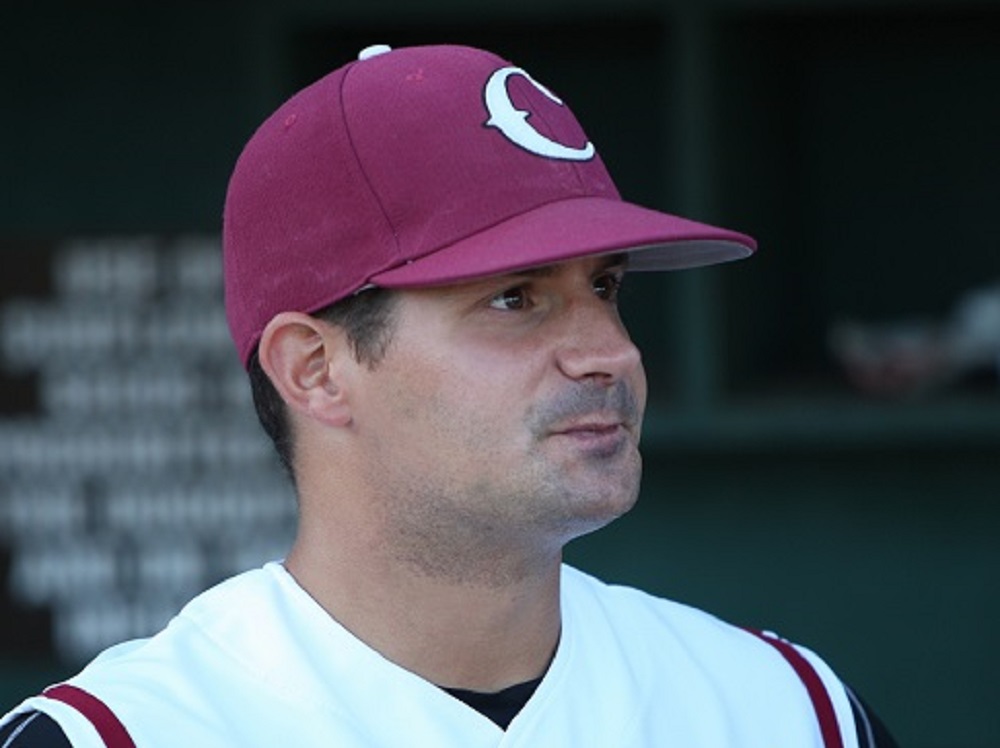 Brooks Hatch Blog: Cubs Promote Alum Skipper Matt Dorey
Happy Tuesday, everyone, from the world-wide headquarters (WWHQ) of the Corvallis Knights, your 2016, 2017, 2018 and 2019 West Coast League champions!
————–
We have some news about Knights' alums in major league baseball.
The Chicago Cubs have promoted former Knights' manager Matt Dorey (pictured, above) to their senior director of player development. He had been their director of amateur scouting for the past six years.
Matt managed the Knights in 2007, our first season in Corvallis. We advanced to the playoffs and defeated Kitsap 2-1 in the South Divisional series, then lost 2-0 to Moses Lake in the WCL Championship series.
He then joined the Boston Red Sox as a scout and subsequently was hired by the Cubs after GM Theo Epstein left Boston for Chicago.
Congrats to Matt!
————–
The Colorado Rockies released pitcher DJ Johnson (2008-09) on Oct. 23 after parts of two seasons with the team.
DJ was 0-2, 5.04 in 28 games in 2019, with 24 strikeouts in 25 innings. He also played for Colorado in 2018 and was 1-0, 4.26 in seven games, with nine strikeouts in 6.1 innings.
So he was 1-2, 4.88 in 35 career appearances, with 33 strikeouts in 31.1 innings. He waited eight years and played in six organizations before making the majors; here's hoping he gets another opportunity someplace.
Johnson was one of 12 Knights' alums to appear in an MLB game in 2019.
The others were Arizona pitcher Jimmie Sherfy (2011); Mets pitcher Stephen Nogosek (2013); Los Angeles Dodgers/Tampa Bay catcher Rocky Gale (2007, 2009); Chicago White Sox pitcher Josh Osich (2008); Colorado pitcher Tyler Anderson (2009); Detroit pitcher Matt Boyd (2010); Seattle outfielder Mitch Haniger (2010); Tampa Bay infielder Matt Duffy (2010); Chicago White Sox pitcher Jace Fry (2011); Toronto pitcher Sam Gaviglio (2009), and Arizona pitcher Matt Andriese (2009).
————–
We have signed Kiko Romero of Central Arizona College for the 2020 season
A freshman catcher/outfielder, Romero is a 6-foot, 170-pounder from Canyon del Oro High School in Tucson, Ariz. He bats left and throws right. Romero hit .413 in 28 games as a senior, with 11 doubles, three triples, five homers, 21 RBIs and six stolen bases.
Romero was named the Chris Moon Co-Player of the Year for Southern Arizona by AllSportsTucson.com. He was ranked as the No. 11 prospect in Arizona for 2019 by prepbaseballreport.com. He was also named to the all-tournament team at the Horizon, Ariz., "Between The Lines" National Invitational Tournament after hitting two homers for the Dorados team.
Welcome to the team, Kiko!
————–
We have also signed UC Riverside redshirt sophomore pitcher Jake Lachemann and Mt. Hood CC sophomore catcher Ezra Samperi for the 2020 season. Lachemann is a 6-foot-7, 230-pound right-hander from San Juan Hills High School in Ladera Ranch, Calif. Samperi is a 5-7, 160-pounder from Gresham High in Gresham.
Lachemann pitched at UC Irvine in 2018 and was 2-1, 6.38 in 16 games, with 134 strikeouts in 24 innings. He transferred to Fullerton JC for the 2018 season and was 0-0, 8.31 in three games, with four strikeouts in 4.1 innings.
He was a two-time second-team Sea View Conference all-star at San Juan Hills High. He is also related to former major league player/coach Marcel Lachemann.
Samperi hit .288 in 44 games at Mt. Hood in 2019, with 11 doubles, three homers and 25 RBIs. He played for the WCL's Kelowna Falcons in 2018 and 2019. He hit a combined .208 in 36 games, with two homers and 19 RBIs.
————–
Some news from elsewhere in the West Coast League:
Victoria coach Todd Haney announced that infielder Parker Bramlett, a West Coast League all-star in 2019, and catcher Tyler Pettit will return for a second season with the HarbourCats in 2020. Please click here for more details, from Our Sports Central.
Victoria has hired MLB veteran Mark Petkovsek as pitching coach for the 2020 season. Petkovsek, 53, is a former first-round MLB draft pick out of the University of Texas who went on to pitch for Texas, Pittsburgh, Anaheim and St. Louis. Please click here for more details, from Our Sports Central.
 ————–
That's all for today. See you soon!