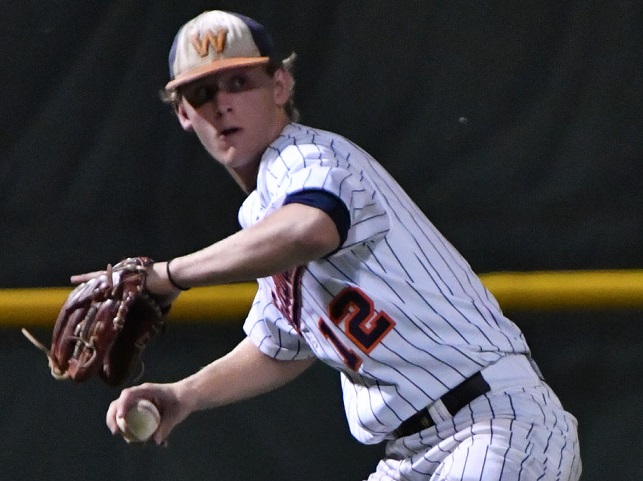 Brooks Hatch Blog: Pepperdine RHP Chandler Cooper Signs for 2018
Happy Tuesday, everyone, from the world-wide headquarters (WWHQ) of the Corvallis Knights, your 2016-2017 West Coast League champions!
————–
Pepperdine University freshman pitcher Chandler Cooper (pictured, above) has signed with the Knights for the 2018 season, coach Brooke Knight announced Monday.
He is a 6-foot-2, 190-pound right-hander from Wakeland High School in Frisco, Texas. He was a three-year letterman who also played four years for the Frozen Ropes Club team.
Cooper was 5-2, 2.02 in seven games as a senior, with 51 strikeouts in 34.2 innings in 2017, when Wakeland advanced to the state-tournament semifinals. He was 12-2, 1.45 lifetime.
He also hit .321 (25-94) in 27 games, with a homer and 17 RBIs. He was the Pitcher of the Year in District13-5A, earned second-team all-state honors, and earned academic All-State honors as a senior.
Welcome to the club, Chandler!
————–
As you may have read on our homepage, Knights' chief operating officer Holly Jones is leaving the team after three seasons. Her last day on the job will be Jan. 26. Please click here for more on Holly's decision.
————–
Thirteen current, former of future Knights were named as Top Players to Watch in their respective conferences in Collegiate Baseball Newspaper's annual college baseball preview issue.
Included in that list is southpaw Hazahel Quijada of UC Riverside, who was on the mound for the final out in our Game 3 victory over Victoria in the 2017 West Coast League Championship Series. For more on that story, please click here.
————–
Our 2018 season tickets are now on sale! For more details or to order your tickets online, please click here.
Tickets may also be purchased by calling us at 541-752-5656 or by visiting our office at 4th Street and Jefferson Avenue in downtown Corvallis. See you at the ballpark in 2018!
————–
Recent Indiana University graduate Brandon Pavlina has been named the Walla Walla Sweets' new play-by-play broadcaster and media relations manager for the 2018 season. Please click here for more details, from the Ballpark Digest website.
————–
That's all for today. Have a great week; we are away on a family visit for the remainder of the week so we will see you again on Tuesday.