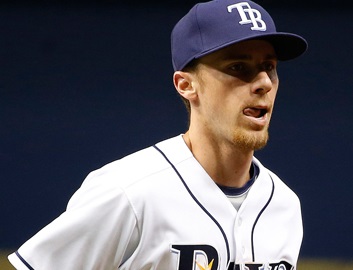 Brooks Hatch Blog: Matt Duffy Signs With Tampa Bay Rays for 2018
Happy Monday, everyone, from the world-wide headquarters (WWHQ) of the Corvallis Knights, your 2016-2017 West Coast League champions!
We were away for a quick trip to the East Coast last week for a short family reunion, and didn't write our customary Friday Blog. So instead of waiting another day until Tuesday, we'll go a day early this week to end the drought of Knights' news.
————–
Former Knights' star shortstop Matt Duffy (2010, pictured above) has agreed to a one-year contract with the Tampa Bay Rays, avoiding arbitration. The Long Beach State product missed the entire 2016 season while recovering from Achilles tendon surgery. He hit .276 (21-76) with Tampa Bay in 21 games in 2016 after being acquired in a trade with San Francisco.
Matt is projected to be Tampa Bay's starting third baseman, with the trade of longtime Rays' star Evan Longoria to San Francisco. Here is more on that story from MLB.com. He will be the second alum on the 2018 Rays, joining pitcher Matt Andriese (2009).
Duffy is a lifetime .281 (271-966) hitter in 234 career MLB games, with 17 homers and 113 RBIs. He was runner-up for the National League's Rookie of the Year Award in 2015, his first full season in the majors.
Best of luck to Matt, and here's to a full, healthy season.
————–
Alum Nick Madrigal (2015) of Oregon State, the 2017 Pac-12 Conference Player and Defensive Player of the Year, was named a preseason first-team All-American by Perfect Game last week. It is his second such honor this season; he also earned first-team honors from Collegiate Baseball.
A junior infielder from Elk Grove, Calif., Madrigal was the second player in the last two decades to earn Pac-12 Player of the Year and Defensive Player of the Year honors in the same season. He was also named a unanimous All-American in 2017, earning recognition from all six teams.
Madrigal takes a .359 career batting average into the 2018 season after hitting .380 as a sophomore. He has 31 doubles, seven triples, five home runs, 69 RBIs and 19 steals in 24 attempts in 109 career games.
Nick  was also the first Beaver to earn an ABCA/Rawlings Gold Glove, an honor he received in 2017. Best of luck to Nick in what is probably his final season in college baseball. He was our MVP in 2015.
————–
As you may have already read on our homepage, Knights' chief operating officer Holly Jones is leaving the team after three seasons. Her last day on the job will be Jan. 26. Please click here for more on Holly's decision.
————–
A total of 63 West Coast League alums were named as Top Players to Watch in their respective conferences in Collegiate Baseball Newspaper's annual college baseball preview issue.
Headliners were former Cowlitz Black Bear and current University of Oregon closer Kenyon Yovan and former Corvallis Knights utility man Nick Madrigal of Oregon State. They each earned CBN pre-season first-team All-America honors.
Pitcher Michael Clark of Cal Poly (Gresham) and catcher Mason Fishback of New Mexico State (Bend) were named second-team preseason All-Americans. Former Bellingham pitcher Jon Olsen of UCLA was named to the third team.
The list included players from the Pac-12, Big West, WCC, WAC, America East, American Athletic, Atlantic 10, Conference USA and Missouri Valley. Please click here for more on that story.
————–
Our 2018 season tickets are now on sale! For more details or to order your tickets online, please click here.
Tickets may also be purchased by calling us at 541-752-5656 or by visiting our office at 4th Street and Jefferson Avenue in downtown Corvallis. See you at the ballpark in 2018!
————–
That's all for today. Have a great rest of your week, and we will see you again on Friday.