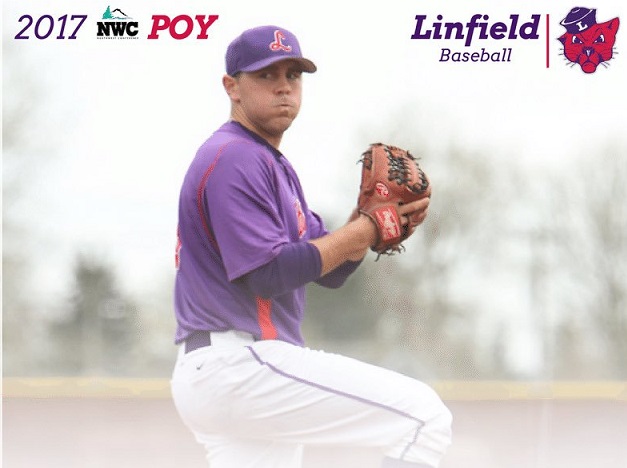 Brooks Hatch Blog: Linfield LHP Cason Cunningham Returning for 2018 Season
Happy Friday, everyone, from the world-wide headquarters (WWHQ) of the Corvallis Knights, your 2016-2017 West Coast League champions!
————–
Good news on the roster front. We have signed junior left-handed pitcher Cason Cunningham (pictured, above) of Linfield College for the upcoming season.
Cason is a returnee from the 2017 WCL championship team. Cunningham was 1-0, 1.61 in seven games, with 28 strikeouts in 22.1 innings before being shut down for the balance of the season in late July. He was an honorable-mention WCL all-star and a South Division all-star despite pitching just two innings after July 3.
A graduate of Sheldon High School in Eugene, he was 5-1 with a 2.13 ERA in 15 games for Linfield in 2017 and earned Northwest Conference Pitcher of the Year honors. He had 104 strikeouts in 84.1 innings and held opponents to a .154 batting average.
Cason earned honorable-mention all-Northwest Conference honors in 2016, when he went 5-1 with a 2.73 ERA in 13 games, with 66 strikeouts in 56 innings.
A 6-foot, 195-pounder who served in the Marines before enrolling at Linfield, Cason lettered five times in baseball and wrestling at Sheldon. He was a second-team Southwest Conference all-star as a senior and an honorable-mention choice as a junior.
Welcome back!
————–
Time to catch up with former Knights' pitching coach/assistant head coach Connor Lambert, who left us last summer after seven years to become the new pitching coach at the University of Portland.
Check out what Lambo's been up to on The Bluff since leaving the Knights by clicking here.
Good luck this spring, Connor!
————–
The Victoria HarbourCats have signed seven players for the 2018 season.
Catcher Ty Haselman of UCLA is the son of former Montreal Expos catcher Bill Haselman. Infielder Tanner Haney, who is headed to the Texas Longhorns, is the son of ex-MLB player Todd Haney, a member of the HarbourCats coaching staff.
Also signing were OF Rowdey Jordan of Mississippi State, OF Cole Roederer of UCLA, LHP Connor Nantkes of Washington State, and University of San Diego pitchers Cade Brown and Nathan Walker, both right-handers.
For more details, please click here for a story from Our Sports Central.
————–
Our 2018 season tickets are now on sale! For more details or to order your tickets online, please click here.
Tickets may also be purchased by calling us at 541-752-5656 or by visiting our office at 4th Street and Jefferson Avenue in downtown Corvallis. See you at the ballpark in 2018!
————–
That's all for today. Have a great weekend, and we will see you again on Tuesday.