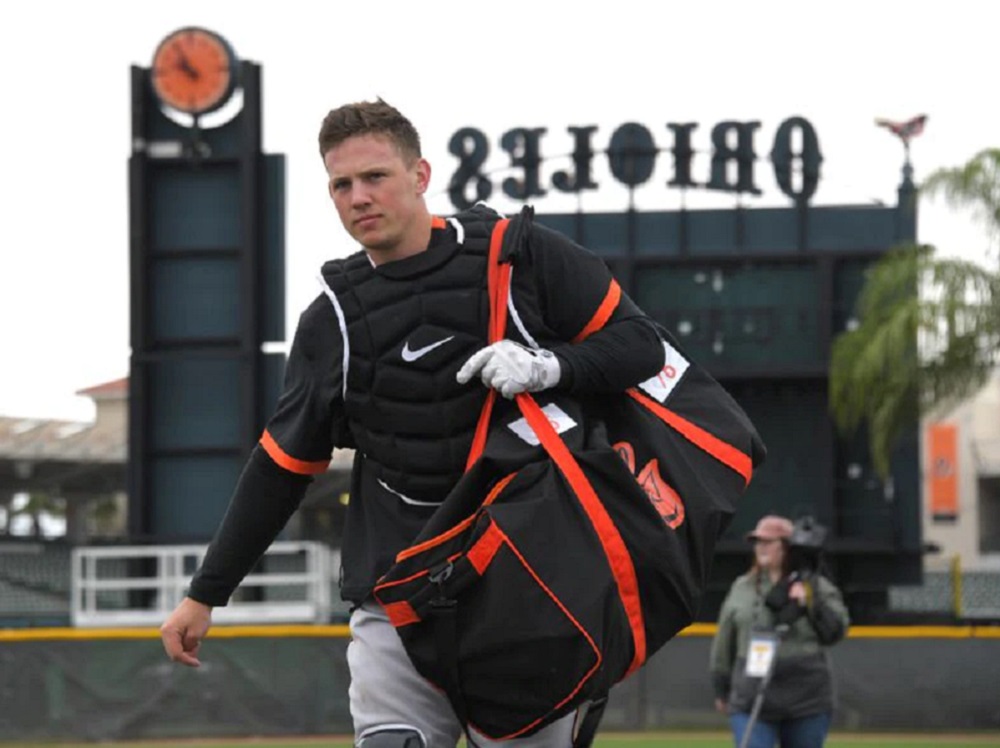 Brooks Hatch Blog: Rutschman Plays First Game at Catcher for O's
Corvallis, Ore., February 26, 2020 – Alum Adley Rutschman (2016, pictured above), the No. 1 overall pick of the 2018 MLB draft, played four innings for the Baltimore Orioles on Tuesday in an exhibition appearance with the big-league team.
It was the first time the former Oregon State star had played in the field with the Orioles. He was hitless in his lone at-bat before being subbed out of an eventual 15-2 loss to Tampa Bay.
"I want him to experience major league camp and got him in the game for four innings," Baltimore manager Brandon Hyde told the Baltimore Sun newspaper. "I really like his presence behind the plate.
"He really sets up well. He's just got every tool. For his first full year in pro ball, to get some major league camp at-bats and innings behind the plate, I think is really beneficial for him."
Rutschman should be sent down to minor-league camp soon, and is expected to start the season in Maryland, at high-A Frederick in the Carolina League or double-A Bowie in the Eastern League. Please click here for more on Adley at spring training, from Baltimore Sun reporter Peter Schmuck.
————–
Right-handed pitcher Alex Williams (2019) of Stanford was nominated for Pacific-12 Conference Pitcher of the Week honors for Feb. 17-23 but was not selected.
————–
Our 2020 schedule is finalized. We will open the home season against the Portland Sea Dogs on June 2 on Weyerhaeuser Science, Engineering and Art Day. For the complete schedule, please click here.
The Knights set a franchise record for total attendance in 2019 by drawing 59,357 fans to Goss Stadium in 36 regular-season and playoff games. We averaged 1,721 fans per regular-season game, and 1,071 fans for the four playoff games.
Thanks to the best fans in the West Coast League.
The WCL All-Star Game is scheduled for July 20 at Paul Thomas Sr. Field in Wenatchee. New AppleSox head coach Ian Sanderson and staff will coach the North Division's team and the 2019 West Coast League champion Corvallis Knights coaching staff led by Brooke Knight will coach the South Division. For more details, please click here.
————–
Some news from elsewhere in the West Coast League:
Bellingham has signed left-handed pitcher Quinn Mathews from Stanford and University of Washington first baseman Cole Fontenelle and right-handed pitcher Logan Gerling. Please click here for more details on that story, from Our Sports Central.
Walla Walla has signed two-right handed pitchers, brothers Jake Dahle and Nathan Dahle. With these additions, the Sweets roster now sits at nine players, six of whom are pitchers. Please click here for more details on that story, from Our Sports Central.
————–
That's all for today. See you soon!