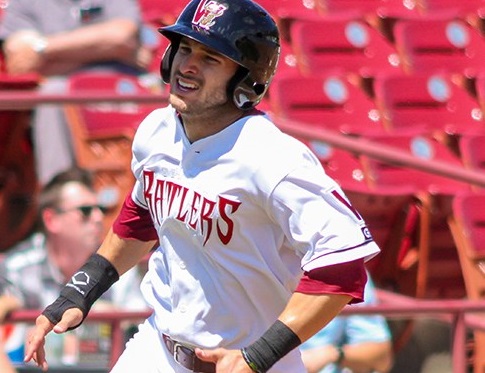 Brooks Hatch Blog: Milwaukee Releases Alum Caleb Whalen
Happy Friday, everyone, from the world-wide headquarters (WWHQ) of the Corvallis Knights, your 2016-2017 West Coast League champions!
————–
Former Knights' infielder Caleb Whalen (2012, pictured above while playing for the Wisconsin Timber Rattlers) has been released by the Milwaukee Brewers after two years in the minor-league organization.
A University of Portland product, Whalen signed with Milwaukee after being selected in the 38th round of the 2016 MLB draft. He hit .212 (59-278) in 88 career games, with three homers and 28 RBIs.
He was ranked as the West Coast League's No. 22 pro prospect by Perfect Game following the 2012 season.
Best of luck to Caleb, wherever he lands.
————–
Alum Jordan Poyer (2010) of the Buffalo Bills was named the AFC Defensive Player of the Month for December. For more on that story, please click here.
————–
Our 2018 roster is almost finalized. It features many returnees from our 2017 WCL champions (Zak Taylor, Jacob Fricke, Kolby Somers, Miles Glazier, Trevor Wells, Chad Stevens, Elliot Willy, Connor Redmond, Cole Spear, Darren Nelson), and a couple (Taylor, Fricke, Aaron Pope) who played for the 2016 title team as well.
Please click here to check out our 2018 team.
————–
Time to update the stats of our alums playing in the Australian Baseball League and in the Venezuelan Winter League.
Adelaide (ABL) pitcher Max Beatty (2010-12) has been re-assigned and is no longer on the active roster. He was 1-3, 6.65 in five games, with 21 strikeouts in 23 innings. Max played at Pacific Lutheran.
Brisbane (ABL) outfielder Carter Bell (pictured above, 2009) has been activated and is hitting .000 (0-2) in two games. He played at Oregon State.
Right-hander Trevor Frank (2012) is pitching for the Aguilas de Zulia (VWL).  He is 1-1, 3.00 in 24 games, with a save and 11 strikeouts in 21 innings. He played at UC Riverside.
————–
Our 2018 season tickets are now on sale! For more details or to order your tickets online, please click here.
Tickets may also be purchased by calling us at 541-752-5656 or by visiting our office at 4th Street and Jefferson Avenue in downtown Corvallis. See you at the ballpark in 2018!
————–
The Portland Pickles have signed pitcher Brad McVay and outfielder Gabe Skoro of the University of Portland for the 2018 season. Please click here for more details, from the Pickles' website.
————–
That's all for today. Have a great weekend, and we'll see you on Tuesday.